Joe Biden's victory in the US presidential election was met with a sigh of relief across the vast majority of European capitals. In the eyes of most, Donald Trump's presidency saw the European Union's most important ally vacillate between uninterest and outright aggression.
However, the prospect of an incoming administration willing to reengage with Brussels, as well as the circumstances in which Biden won, has also given the world's largest economic bloc cause for introspection.
"No one is under any illusion that under Biden things are going to suddenly be amazing," a senior EU diplomat told CNN. "Under Trump, many of us had to admit that we rely too heavily on America. That will probably inform how far we go in terms of rebuilding bridges under Biden."
All of the EU sources contacted in this piece spoke under the condition of anonymity for a variety of reasons. Some were not authorized to speak on the record, others were concerned they could create diplomatic problems within the bloc at a very sensitive time.
In some respects, Trump's presidency presented Europe with a single problem vis-à-vis the alliance: the man in the White House. The fact that the most powerful person on Earth was genuinely willing to question the transatlantic alliance forced Europe to consider several uncomfortable realities.
"The relationship was not perfect before Trump took office. Both [Barack] Obama and [George W.] Bush before him had shifted their geopolitical focus to the Middle East and China," said Tyson Barker, a former State Department official under Obama. "What Europe must accept is that Trumpism wasn't defeated in this election and someone like him could come again in four years. Brussels should think carefully about specific areas it can build durable trust and mechanisms that could endure Trump 2.0."
The sense in Brussels that America was pulling away from Europe worsened during Trump's presidency. "Over the four years Trump was in office, there was a feeling that an ugly version [of] America that Europeans always feared existed had finally been revealed," said Cathryn Cluver Ashbrook, executive director of the Project on Europe and the Transatlantic Relationship at the Harvard Kennedy School.
"Europeans have been talking a lot about strategic autonomy because they are suspicious as to how much they can really trust the US to invest in the relationship with the EU and beefing up things like NATO," she added.
How Biden differs from Trump's 'America First' mentality
The loosely defined catchphrase "strategic autonomy" has been thrown around in Brussels for the past couple of years. In short, it is part of the EU's drive to be more self-reliant in areas ranging from security, economics, supply chains and climate change, to name a few.
Perhaps most controversially, it also plays into Brussels' desire to adopt a common European foreign policy. One of the EU Commission's priorities for 2019-2024 is "strengthening the EU's voice on the world stage by enhancing our global standing as champions of strong, open and fair trade, multilateralism and a rules-based global order," while also "building up the EU's ability to manage crises through civilian and military capabilities."
The problem with that, as Cluver Ashbrook points out, is that "with the best will in the world, there is no way the EU is in a position to go anywhere near toe-to-toe with the US or China in most of these arenas, especially when you consider there is no common understanding of priorities across the EU geopolitical agenda."
Multiple EU diplomats and officials explained to CNN that even the term "strategic autonomy" means a different thing to every member state.
"The French talk a lot of European sovereignty and becoming a serious global power player, heavily influenced by Paris. They especially want European autonomy in areas like security and defense. The Germans and the Dutch take a more balanced view. They want autonomy, but don't want to cut off the benefits the continent currently gets from US interest in Europe," said a Brussels official.
A diplomat from a Western European member state said that, "we have to be honest with ourselves. France alone cannot defend Europe, and there is serious unease at the idea of Germany spending 2% of its GDP on militarizing. There is not really an alternative to depending on the security guaranteed by the US. Frankly, I am not seeing the investment required to actually take independent rule on security."
Here's how a Joe Biden presidency could impact the world
Similar differences of opinion exist when it comes to areas like digital technologies and economic stability.
"The commission wants to be a digital leader, but we can't delude ourselves," the diplomat continued. "We have not made much progress on a European patent or venture capitalism. We are not in a position to challenge America, so we should champion a multilateral system where different blocs play different roles."
On trade, inward investment and broader economics, the EU's 27 nations hold a range of opinions that are far from uniform. Countries that have a long tradition of championing free trade worry that strategic autonomy will be used as a cover for protectionism. China hawks worry that member states slated to benefit from Chinese investment projects like One Belt, One Road will have euros in their eyes and veto any moves to take a harder line on Beijing.
Yet, for all the negativity, the necessity for some form of autonomy still exists. The instability caused by Trump has if nothing else sharpened thinking. When Biden takes office, it's likely we will see Brussels tread with cautious optimism.
"If Biden rejoins the Paris climate accord and the WHO, reconsiders the withdrawal of US troops from Germany and starts his presidency more or less hitting the reset button, there is a window for Europe," said Barker.
If the institutional foundations underpinning European stability fall back into place, then the EU has some space to think more about the other elements of "strategic autonomy."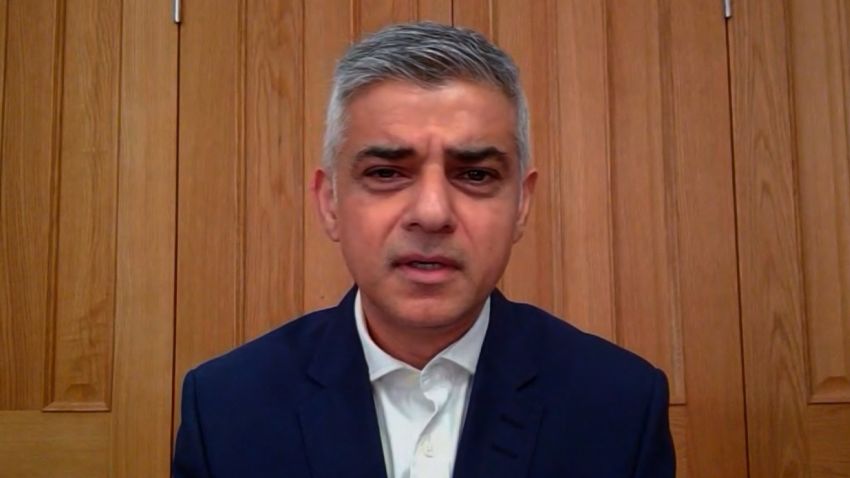 London mayor: Who becomes the US president matters
"The EU historically has not had a common foreign policy, rather been guided by our alliances, including with the US. But Trump revealed the need for one," said an EU foreign policy official. "We now have a President who we respect, who respects us and respects the project we are trying to build. We are hopeful we can convince him a more geopolitical Europe is good for the US."
If a 27-nation bloc like the EU, with its economic heft and enormous population of almost 448 million, truly becomes a geopolitical player, it would be a formidable force. Officials and diplomats have differing levels of optimism.
Some claim that the bloc has never been more united on external matters thanks to Trump and the coronavirus crisis, accepting that the world has changed a lot. Others worry that certain member states, especially those where Trumpian populism has succeeded, will be reticent to buy into projects that talk about pan-European sovereignty.
In many respects, the 21st century has not been kind to the EU. However, with Brexit finally done, a friendly US President in office and support for the bloc higher among its citizens following the way it's handled Covid-19, 2021 presents Brussels with an opportunity to reinvent itself. Whether it succeeds or not, as ever, will come down to whether the member states are able to get on the same page and put national interests aside for the interest of the union.
That – and the reality that Brussels must address the structural problems that have existed in the union for decades – is something the EU has historically found easier to do in principle than in practice.