Maneuvering around household furniture or slicing bread for breakfast are tasks that most of us do without thinking.
But many people with physical disabilities rely on technological help with essential activities like eating, washing laundry or moving from one room to another.
Cybathlon is a global championship, organized by ETH Zurich, which brings together people with physical disabilities to compete in performing everyday tasks using state-of-the-art assistance technologies.
"Cybathlon is a competition and there are international teams, but it is not a sport," Annegret Kern, head of communication at Cybathlon told CNN. "We use the competition for technology developments, to showcase what is needed for people with disabilities and to promote inclusion."
The first Cybathlon was held in 2016 in Zurich, Switzerland, and the second took place last week with a new format. Because of coronavirus, over 50 participating teams across the world performed the events in their home bases instead of traveling to Zurich. Under the supervision of a referee and timekeeper, races were filmed and then reviewed by judges.
The teams consisted of researchers from universities and private companies, who developed the technology, as well as a "pilot" who performed the task. They competed in six disciplines including the Powered Leg Prosthesis Race, Powered Exoskeleton Race, Functional Electrical Stimulation Bike Race and the Brain-Computer Interface Race.
Eye-controlled wheelchair
An estimated 1% of the world's population needs a wheelchair, according to the World Health Organization. Wheelchairs are often manually operated, but these don't offer the best experience for all users. Scientists from Imperial College London (ICL) have developed an affordable semi-autonomous wheelchair which operates based on the user's eye movements, and which featured in Cybathlon's Powered Wheelchair Race.
The A.EYE.Drive wheelchair detects surrounding objects and is able to plan routes around stationery obstacles to reach its destination.
The team, led by Mahendran Subramanian, has worked on the model for three years using eye-tracking technology and algorithms to help people who are paralyzed below the hip or neck.
"A big advantage of this technology is its low cost," said Subramanian. "The wheelchair uses less than £500 ($660) worth of sensors but can decode high-level intentions such as, 'I want to go to the door' or 'I want to go to the television.'"
The team's pilot was Paul Moore, who has been paraplegic for 40 years. His own wheelchair is operated manually, but he says that can be problematic – for example, when it's raining, his hands aren't free to hold an umbrella.
"Years ago, I dislocated one of my left elbows in a skiing accident," said Moore. "I had my arm in a cast and a brace for three months and I couldn't extend my arms to push my wheels. To be able to look into a room and direct the chair just by blinking and winking at the computer system is an amazing benefit for people with these disabilities."
Bionic arm
Another team from ICL has created a bionic arm prosthetic that includes "sensory feedback which enables the recognition of certain objects that feel rough," explained PhD student Irene Mendez. "Then it gives feedback to the user to improve the control or recognition of the object."
The prosthesis is activated by "muscle activity, recorded by sensors on the skin, to give intuitive control of the hand and wrist," Mendez said.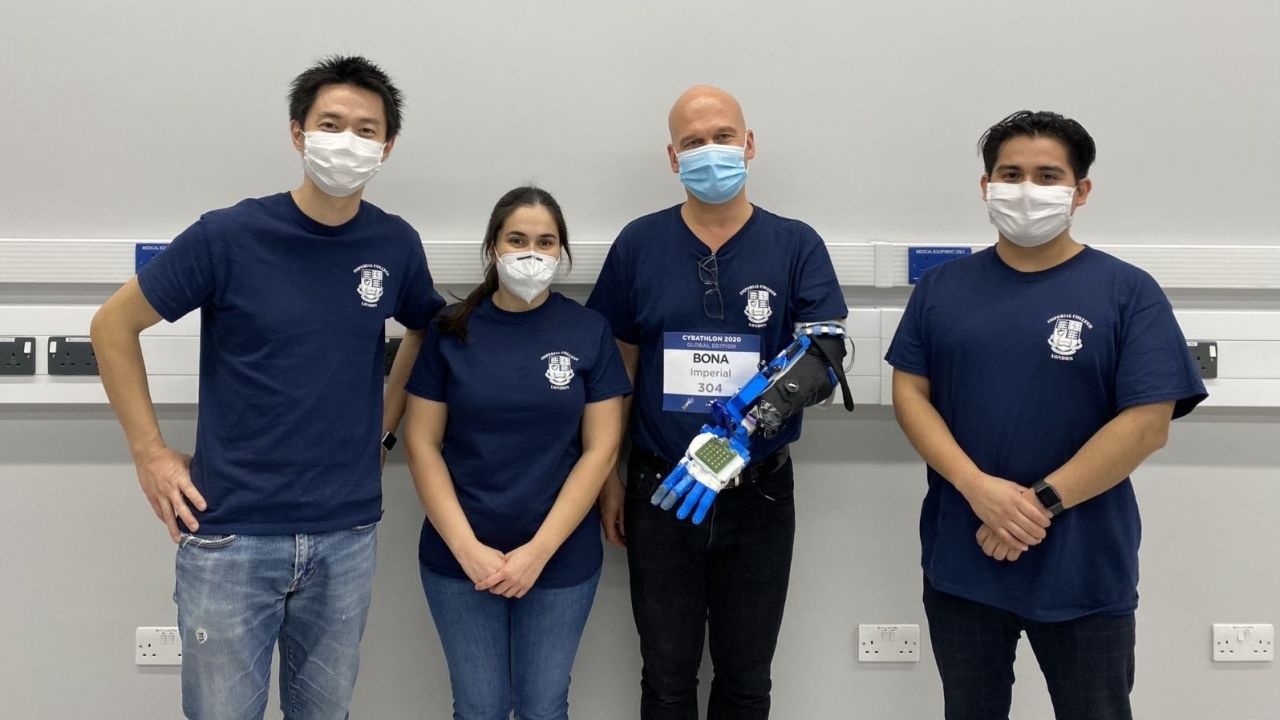 It competed in the ARM discipline, which included a challenge where contestants were required to showcase their technology's sensitivity skills by identifying different objects and materials in a "Haptic Box" using the prosthesis alone, and without visual aids.
But during the competition, events did not go as planned for either ICL team.
The thumb on the bionic arm broke just before it was due to take part, and the team was forced to use a prototype instead. Sensors in the prototype still worked, said Mendez, but the team placed 13th. The event winner was a 3D-printable arm prosthesis called "Maker Hand," created by Croatian industrial design student Andrej Đukić.
The ICL wheelchair team competed in the powered wheelchair race, but was unable to be included in Cybathlon's official results due to a technicality involving the race set-up. The HSR Enhanced team, from Switzerland's University of Applied Sciences Rapperswil, took first place.
Despite the setbacks for the ICL teams, the true ethos of Cybathlon triumphed – to develop technologies that help people with disabilities.
Marianne Lucien, Cybathlon's International Communications Officer told CNN that the competition can accelerate the commercial development of the technologies, citing a team that competed at both the 2016 and 2020 events.
"At ETH Zurich a wheelchair team started out as two students doing their degree haphazardly getting their tech to work – but now, they're a full-blown spin-off company and have a commercial wheelchair product rolled out to the market," she said.