Earlier this year, amid growing global anger over China's initial handling of the coronavirus pandemic, Australia was among the first countries to call for an official investigation into the virus' origins.
That was met with an angry response from Beijing, which accused Canberra of a "highly irresponsible" move that could "disrupt international cooperation in fighting the pandemic." And while China succeeded in watering down language in an eventual resolution at the World Health Assembly calling for an independent probe, it has not forgotten the slight.
In recent months, China has hit Australia with trade tariffs, targeted Australian journalists, and issued angry missives regarding Canberra's dealings with other regional powers. Speaking this week, China's Foreign Ministry spokesman Zhao Lijian said Canberra should take full responsibility for a "series of wrong moves related to China, which is at the root cause of China-Australia relations taking a sharp downturn."
Zhao had even more strong words Thursday, after the Five Eyes alliance – of which Australia is a member – criticized Beijing's recent expulsion of several Hong Kong lawmakers. "No matter how many eyes they have, five or 10 or whatever, should anyone dare to undermine China's sovereignty, security and development interests, they should be careful not to get their eyes poked out," Zhao said.
Hear from Australian journalists after evacuation from China
Also this week, Chinese diplomats distributed a document to Australian media listing Beijing's grievances with Canberra. These include unfairly blocking Chinese investment, spreading "disinformation" about China's coronavirus response, falsely accusing Beijing of hacking, and engaging in "incessant wanton interference" in Xinjiang, Taiwan and Hong Kong, according to the ABC.
Australia's Prime Minister, Scott Morrison, said Thursday he had seen the document, but added Australia "will continue to be ourselves."
"We will set our own laws and our own rules according to our national interest," Morrison said. "Not at the behest of any other nation, whether that's the United States or China or anyone else."
Many observers were surprised by the document, with one calling it "ham-fisted diplomacy," reflective of a Chinese intolerance for criticism from even Australian media and think tanks – let alone the government.
"All can be repaired if we are willing to muzzle our media, shut down our think tanks, sell off strategic assets and shut up about the origins of Covid-19," said Chris Uhlmann, political editor for Nine News, the organization that received the document. "Simple."
A number of the grievances Beijing has with Australia also involve behavior that China itself engages in, such as limiting foreign investment, erecting visa barriers, and restricting the work of foreign journalists and diplomats.
Reacting to the document on Twitter, a representative of the White House National Security Council said "the Chinese Communist Party used to be more subtle in its attempts to interfere in the internal affairs of nations. Their 'Wolf Warrior' diplomacy is backfiring; more and more nations worldwide have Australia's back."
Just six years ago, Chinese President Xi Jinping hailed a "vast ocean of goodwill between China and Australia." This has soured since, however, as Beijing increasingly flexed its muscles – pressuring the smaller nation diplomatically and economically, and allegedly interfering in Australian politics.
Michael Shoebridge, a national security expert at the Australian Strategic Policy Institute, said Canberra's approach with Beijing – which previously focused "wholly on the mutual advantage of economic engagement" – shifted as Xi "aggressively used Chinese strategic, military, cyber, technological and economic power against Australia's and others' interests, not just internationally, but also inside our own nations."
Yet while there may be legitimate concerns about China in a number of countries, such as the role of telecoms manufacturer Huawei in 5G networks, Australia has become more hawkish than most, said Bob Carr, Australia's former minister for foreign affairs.
"We could have expressed our differences with China without burning the relationship," he said. "The current government in Canberra believes it is imperative to get close to Washington and they believe the way to do that is to be the most anti-China of America's allies."
This resulted in Australia taking the lead on issues such as 5G and the coronavirus investigation – even ahead of the US itself, such as when Canberra banned Huawei ahead of a similar move by Washington.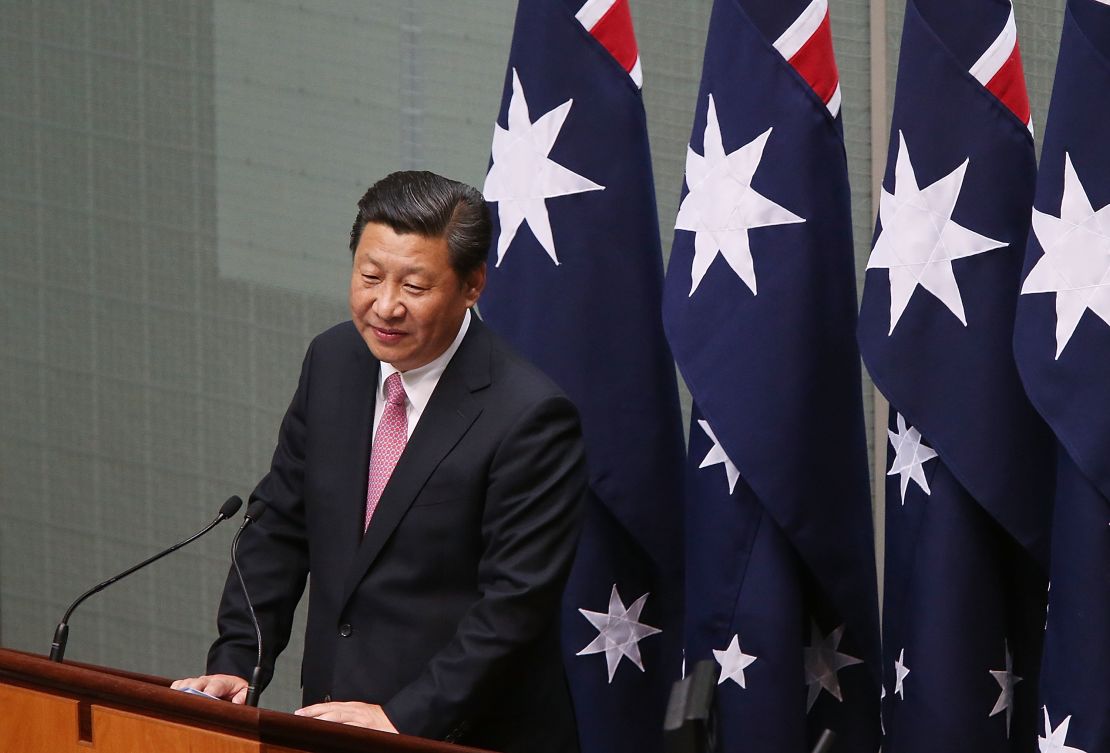 As ties with Beijing have frayed, the two countries have entered a spiral of worsening relations: the more China pressures Australia, the closer Canberra moves to other regional powers – particularly India and Japan – and doubles down on its relationship with the US, in part through the increasing militarizing of the Quad, an alliance between all four countries.
All such actions further anger China.
"For all the years of engagement with Australia, Beijing doesn't understand the place or the people," Shoebridge said. "Bullying Australians achieves the opposite of acquiescence and subservience. And Beijing's coercion of Australia, now using our trade as a weapon, is helping collapse hard-won soft power gains Beijing had made here and internationally in the last 20 years."
He predicted that China's aggressive trade policy in particular could backfire, "because our high levels of trade will wane the more Beijing uses trade as a weapon." And while Chinese officials have bemoaned attempts by Washington toward decoupling, this is exactly what they're driving with regards to Australia.
But ultimately it will be Australia that pays the greater price, Carr said. He pointed to the "cruel irony" that the big winners from Australian businesses being excluded from Chinese markets could be Canberra's allies in New Zealand, Japan, and – particularly – the United States.
"We inflicted self harm to impress Washington, but under its phase one trade agreement with China, it's US farmers, wine makers and fishers who will fill the gaps in the supermarket shelves vacated by Australian produce," Carr said, adding that Canberra will look "even more foolish if (President-elect) Biden opens up partnerships with China on climate and pandemic management even as he maintains pressure" on other issues such as the South China Sea, Hong Kong, and cyber security.
This story has been updated to include Zhao Lijian's Five Eyes comments.