Editor's Note: Kent Sepkowitz is a CNN medical analyst and a physician and infection control expert at Memorial Sloan Kettering Cancer Center in New York. The views expressed in this commentary are his own. View more opinion at CNN.
It appears that the seemingly too good to be true data on the Moderna Covid-19 vaccine actually is as good as advertised. Meanwhile, it was announced Wednesday that its rival vaccine from BioNTech and Pfizer has been approved for use in the UK, with a plan to begin vaccinating the public next week.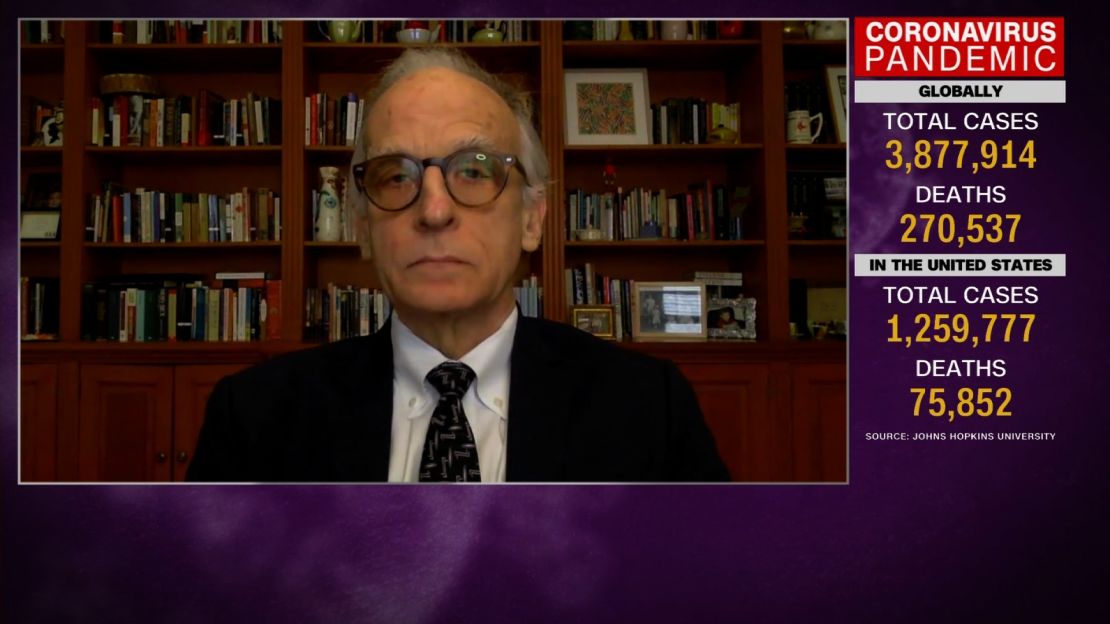 These two vaccines, along with a few others – including those from Russia and China – are speeding us to the next complicated moment in pandemic history: Answering the vaccination questions of who, how, where, which and when.
Thankfully, many groups, led by the US Centers for Disease Control and Prevention (CDC), have been wrestling with the selection and distribution issues for months. In addition, moving lots of vaccine quickly to a large population has been done before, however imperfectly. The 2009 H1N1 vaccination program is a recent and well-studied example.
That said, there are many issues that remain unresolved. First, the political: right now, three distinct expert groups at various virtual conference "rooms" are working on the most efficient vaccination plan.
One is the federal government, led by the White House Coronavirus Task Force (soon to be led by a new task force under the Biden Administration) in collaboration (we hope) with the CDC.
The second includes various other experts in each state planning what to do when they receive a large federal allotment of vaccine.
And finally, at the hospitals I am in contact with there is a third group of different experts in each health care system working to figure out how best to use whatever number of vaccines they receive to benefit their patients and staff.
The problem is that no one quite knows the exact rules of the road. It is one thing to make a federal recommendation and another entirely to implement it. Health care systems cannot finalize local plans until the state can finalize regional plans. And this cannot happen until the federal government settles on plans for distribution of the first US vaccine allotment, which US Health and Human Services Secretary Alex Azar expects to be about 40 million doses by the end of the year. In addition, President Donald Trump's statement a few weeks ago that New York state might have a delay in the receipt of its vaccine allotment adds a political chill to the already complex discussions.
But let's assume this works out somehow. After a maximum of posturing and a minimum of hard decisions, Washington, DC, finally must actually do something. Of note in this regard, it was assuring to see Dr. Anthony Fauci take the podium recently at the White House Coronavirus Task Force briefing even as we received news of the resignation of neuroradiologist Dr. Scott Atlas from the group.
The next difficult issue is to decide whether those at highest risk for exposure to Covid-19, such as health care workers, should be prioritized over those at high risk for severe outcomes or the elderly. From a public health perspective, the decision is easy: vaccinating those at highest risk for acquisition of new infection, such as emergency room personnel, serves to not only protect that person, but also any secondary infections related to the original case. That's why the federal guidance has placed them at the front of the line, or in CDC-speak, in Phase 1a along with long-term care facility residents.
The other groups prioritized for early receipt include "essential workers" such as police, food and agriculture workers, and teachers, indicating a near front of the line or Phase 1b status and, finally, the millions of seniors not in long term care facilities, along with those who have high risk medical conditions, who are assigned Phase 1c prioritization for vaccine administration a little later in the first wave.
The last thorny issue is even more complex: what to do about high rates of new infections in populations that are neither essential workers nor at particular risk for severe outcomes. For example, at least 10% of the US prison population has already become infected and given overcrowding and fragmented health care, incarcerated individuals remain at extremely high risk for infection. They might be viewed as a logical target for vaccination in the name of public health.
But some in the US may view prisoners as being less worthy of resources. Thus, societal attitudes may supersede the epidemiologic imperative.
A related issue is whether to prioritize not particularly Covid-19 rules observant 20-somethings (the age range with the most cases) in order to prevent secondary cases. For the well-being of all, this makes perfect public health sense; but the implications of "rewarding" a group for sidestepping basic public health guidelines by moving them to the front of the line creates friction and disagreement.
So, here we are awaiting shipments of up to 40 million doses by the end of the month, enough for 20 million people (about 6% of the US population) to receive a potential lifesaving and history-altering vaccine, with potentially 100 million Americans receiving the vaccine by February, according to a chief adviser on the issue. The excitement around the moment is well-earned, as are the kudos to daring scientists who imagined several altogether novel approaches to a vaccine.
But the moment also will depend on millions of people agreeing to go to the back of the line because, in the view of experts, their access to a limited and valuable resource must be delayed in favor of someone else.
There is, of course, the issue of the vaccine averse, those who will choose not to be vaccinated for whatever reason. Whether this group is large enough to affect the development of herd immunity remains to be seen. But in an odd twist, their hesitancy will make the vaccine available for others who will move up in line. And probably sooner than later, there will be enough vaccine to go around and sufficient confidence with the vaccines to assure many of the hesitant that it is safe to join in.
Get our free weekly newsletter
Sign up for CNN Opinion's new newsletter.
The challenge of a runaway pandemic is not solved by just developing a vaccine. In a certain sense, that was the easy part. The real challenge is upon us now: to distribute this crucial product under both President Trump and then President Biden to an already fissured American public in a way that will diminish rather than inflame existing national grievances. And that is a very tall order.