Editor's Note: Thomas Balcerski teaches history at Eastern Connecticut State University. He is the author of "Bosom Friends: The Intimate World of James Buchanan and William Rufus King" (Oxford University Press). He tweets @tbalcerski. The opinions expressed in this commentary are his own. View more opinion at CNN.
This week, the nation reached "safe harbor," the point six days before the vote of the Electoral College, when, according to the Electoral Count Act of 1887, states' results presumptively can no longer be challenged in the courts or on Capitol Hill. In response, the Trump campaign dismissed the concept altogether – and is instead gearing up for a floor debate when Congress tallies the final ballots on January 6, 2021.
At the same time, President Donald Trump has hinted at his intention to run again in 2024. "It's been an amazing four years," he reportedly told guests at a White House Christmas party. "We're trying to do another four years. Otherwise, I'll see you in four years." With fundraising efforts ongoing, Trump's potential for a 2024 bid cannot be entirely dismissed.
Former presidents running again were once a surprisingly common feature of political life. However, only one, Grover Cleveland in 1892, managed to obtain the nomination of his party after losing an election. Three other former presidents ran as third-party candidates after their time in office: Martin Van Buren in 1848, Millard Fillmore in 1856 and Theodore Roosevelt in 1912.
What does this long history have to say about Trump running again in 2024? Yes, Trump has a strong and devoted following among Republicans but he is unpopular among Americans overall. The outgoing president courts political disaster by declaring his candidacy for 2024. Unless he can be absolutely certain that he will win the Republican nomination once more, history suggests he is likely to lose again.
Let's start by looking at the sole president who successfully ran for a non-consecutive second term.
Win again: Grover Cleveland (1892)
In 1884, Grover Cleveland became the first Democrat elected president since James Buchanan in 1856. As governor of New York, he had earned the nickname "Grover the Good" for his reform efforts. However, Cleveland was not without his flaws. Damning reports surfaced emerged on the eve of the election that he had illicitly fathered a child, leading to the infamous taunt "Ma, ma, where's my pa?" from opponents.
Still, Cleveland secured a narrow victory over James G. Blaine in both the popular vote and Electoral College. But four years later, Republican challenger Benjamin Harrison won by close margins in the key states of California, Indiana, Illinois, New York and Wisconsin and defeated the incumbent by 65 electoral votes, even as Cleveland retained the popular vote by a margin of nearly 1%.
The election was not without controversy, however. With cries of vote buying, the contest in Indiana proved especially contentious, so much so that it led to the widespread adoption of the secret ballot by 1892.
Defeated but certain that a political future yet lay before her husband, first lady Frances Cleveland told White House staff, "I want you to take good care of all the furniture and ornaments in the house, and not let any of them get lost or broken, for I want to find everything just as it is now, when we come back again four years from today."
In deciding on its candidate in 1892, the Democratic Party debated running Cleveland for a third time. The great issue of the day – whether to tie the money supply to gold, silver or a combination of the two known as bimetallism – once more dominated the party's decision. Cleveland, an advocate of the gold standard, faced a serious challenge from the bimetallist David B. Hill, who had run with Cleveland as lieutenant governor of New York in 1882 and succeeded him as governor in 1885.
At the national convention, the majority of the delegates chose Cleveland on the first ballot. The wisdom of the selection became obvious in November. Cleveland took the popular vote for a third time, and benefiting from a third-party populist challenge that bled votes away from Harrison in five swing states, he gained the needed electoral votes to win a second term.
Cleveland won again in 1892 for a number of reasons, but chief among them was his continued popularity with the American people. Positive associations, rather than negative ones, impelled the majority of voters to choose Cleveland time and time again.
Fail again: Martin Van Buren (1848)
Not every former president has had as much luck as Cleveland.
Martin Van Buren's rise and fall was particularly notable. The Democrat overcame a smattering of Whig presidential candidates in 1836, only to be soundly defeated by one of them, William Henry Harrison, in 1840. Due to the economic depression afflicting the nation, he left office with a different kind of nickname: Martin Van Ruin.
Still, Van Buren became the presumed Democratic frontrunner in the 1844 election. Yet when Van Buren came out against the annexation of Texas in the short-term, the delegates chose James K. Polk as the first "dark horse" candidate in American history.
Not to be deterred, Van Buren ran on the third-party Free Soil ticket in 1848, garnering a respectable 10% of the popular vote but winning no electoral votes. Still, he played spoiler by handing key states in the mid-Atlantic to Whig Zachary Taylor at the expense of Democratic candidate Lewis Cass.
Fail again: Millard Fillmore (1856)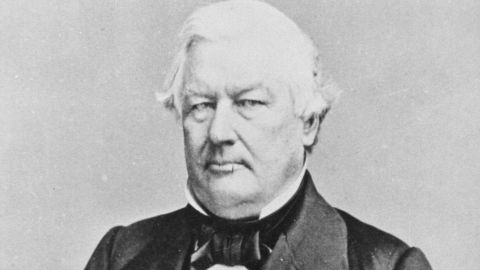 Vice President Millard Fillmore became president in 1850 upon Taylor's death. Fillmore filled out Taylor's term, signing the divisive Compromise of 1850 that admitted California, settled the Texas boundary and authorized the return of fugitive slaves, among other issues.
At its national convention in 1852, the Whig Party passed over the incumbent Fillmore in favor of General Winfield Scott. The electoral landslide of Democrat Franklin Pierce that November signaled the end of the Whigs as a national political party.
But Fillmore did not close the door entirely to future political office. In 1856, he accepted the nomination of the nativist American Party (the so-called "Know Nothings") to run against the Democratic standard-bearer James Buchanan and Republican candidate John C. Frémont. Like Van Buren, Fillmore lost the election, but he took votes away from the Republican candidate in the key states of Illinois, Indiana and Pennsylvania.
Fail again: Theodore Roosevelt (1912)
Theodore Roosevelt followed a fate not unlike his predecessors. In 1912, unhappy with the performance of his successor, William Howard Taft, he tried once more for the Republican nomination. Despite his popularity with voters, Roosevelt faced stiff internal resistance from the party establishment.
Undeterred, Roosevelt bolted from the GOP and formed his own Progressive Party (dubbed the "Bull Moose" Party). Roosevelt won an impressive 88 electoral votes – the most of any third-party candidate in American history – but he could not overcome the divisions created by his larger-than-life personality.
Instead, the split among Republicans and Progressives left the door open for a Democratic Party victory. Woodrow Wilson became the first Democrat elected president since – you guessed it – Grover Cleveland in 1892.
Get our free weekly newsletter
Sign up for CNN Opinion's newsletter.
Taken together, this trio of former presidents reveals that political parties tend not to renominate candidates who are unpopular within the party or the electorate, even if they have once served as president. By contrast, third-party runs by past presidents have been unsuccessful and often prove greatly divisive for the candidates' former parties.
Trump has twice failed to win the popular vote. In 2020, Joe Biden's share of the popular vote was greater than any challenger to an incumbent president since Franklin D. Roosevelt defeated Herbert Hoover in 1932. Indeed, of all the former presidents who tried again, Trump appears most similar to Van Buren. Like the unpopular Van Buren, Trump may be the presumed frontrunner for a time, but history reveals his chances for reelection may be smaller than he thinks. Trump can try, try again – even running on a third-party ticket – but he likely won't succeed.
An earlier version of this article included an incorrectly-worded measure of Donald Trump's defeat in the 2020 election. It should have noted that Joe Biden's share of the popular vote was greater than any challenger to an incumbent president since FDR defeated Herbert Hoover in 1932.