Editor's Note: Call to Earth is a CNN initiative in partnership with Rolex. Some of the people featured in this article are Rolex Awards Laureates.
The new year is a time for resolutions, and few could be more important than choosing to do better by nature.
We all have a part to play but knowing where to start can be the hardest step. Luckily, there are plenty of inspirational people out there waiting to light a fire in all of us.
Over the past year, through its series Call to Earth, CNN has highlighted environmental heroes who are protecting the planet. Here we present a selection of green champions who could inspire you to follow their path.
Pablo Garcia Borboroglu
Millions of penguins protected thanks to this man
As founder of the Global Penguin Society, Argentine Pablo Garcia Borboroglu has helped millions of the seabirds throughout the southern hemisphere.
Around half of penguin species are threatened and ocean plastic, pollution, overfishing and climate change are all to blame. Through his work he's educating a new generation in penguin conservation and enlisting countless people to help their local environment in Argentina. Borboroglu also has a hand in improving conservation policy, and has worked with others to protect 13 million hectares of marine and coastal habitat, including the 3.1 million hectare Patagonia Azul Biosphere Reserve.
"When we work in conservation, the goal is to change the behavior of people," he says. "The behavior of wildlife? You cannot (change) that."
Charlie Burrell and Isabella Tree
The British farm where the animals rule
In West Sussex, England, Charlie Burrell and Isabella Tree have let their property become overrun – and the results are spectacular. The 3,500 acre-Knepp Estate was once a traditional farm, but poor agricultural land and a "pretty bleak" financial future forced a change of direction from the couple.
Over the last 20 years they have let their livestock roam free, and nature has flooded back in alongside the pigs and deer. Species that were never previously seen in the area, like the turtle dove and the purple emperor butterfly, have set up in Knepp and thrived. "To see the landscape of your own country, and what you've been missing, suddenly come to life has been this extraordinary revelation," says Burrell.
Beth Neale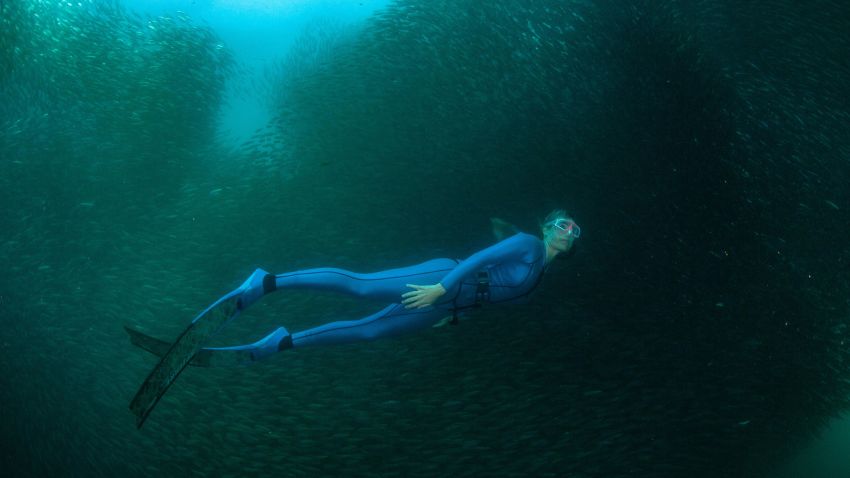 Protecting South Africa's sardine run
A freediving champion, Beth Neale filmed the sardine run in South Africa in 2020. Taking place between May and July, this migration of billions of sardines is one of nature's greatest shows and proof that sometimes the best thing we can do is bear witness to the majesty of the natural world – and in this case, share that wonder with others.
Overfishing not only impacts sardine stocks, it also affects larger fish like sharks that prey on them. Less than 8% of the world's marine areas are protected, and the International Union for the Conservation of Nature is calling for an increase to 30% by 2030.
"Seeing the beauty of the underwater world, people start to understand how connected everything is," Neale says. "When you see something so beautiful, you're going to want to do more to protect it."
Valerie Akuredusenge
The woman teaching Rwandan children to love nature
Working in the shadow of Volcanoes National Park, Valerie Akuredusenge has been connecting Rwanda's youth with nature for the past six years through her non-profit Conservation Heritage-Turambe. One of the world's most charismatic species, the mountain gorilla, lives nearby, and Akuredusenge provides opportunities for schoolchildren to visit them in their tightly controlled habitat.
Akuredusenge's program isn't limited to Rwanda's flora and fauna; she also teaches children about animals from around the world. It has spurred on a new generation to dream about becoming conservationists themselves. "I feel so proud," she says.
The students who held their own COP26
These students are taking our future into their own hands
With the coronavirus pandemic preventing COP26 – the largest climate summit in the world – from taking place this year, an international coalition of students filled the void. Staging their own mock COP 26 across a two-week online conference, they shared stories of how climate change was impacting their countries, from hurricane evacuations to shifting seasonal changes.
At the end of the event, the youths delivered a statement to world leaders, urging them to get on board with their ideas. The official conference may have been held back by the Covid-19, but "climate change was not postponed," says Kenyan Kevin Mtai.
Arun Krishnamurthy
The environmentalist cleaning up India's lakes
Arun Krishnamurthy is on a mission to restore freshwater lakes and ponds across India. He quit a job at Google to found the Environmentalist Foundation of India, and in his thirties now enlists volunteers in their tens of thousands to remove trash choking ecosystems around the country.
Approximately 70% of India's surface water – rivers, lakes and ponds – is polluted, according to the Asian Development Research Institute, and reversing humanity's impact (often intensified by climate change) is not a quick process. It takes years of hard work and extensive community engagement, but the results are there to see across the 100 or so lakes the Foundation has worked on in the past 13 years.
These water bodies are sick, he says, and there is a cure: "It is possible for common citizens to come together, work together and get something done."
Emily Penn
The all-female crew sailing the world to study plastic pollution
Emily Penn was already a successful sailor when she took up the cause of tackling ocean plastic. Combining her two great passions, she launched a series of voyages shining a spotlight on the impact of plastic pollution in even the remotest corners of the world.
Penn co-founded eXXpedition, and with an all-female crew set sail on a multiyear mission through five of the planet's giant ocean gyres. These are locations where ocean plastic collects, and the crew's route and onboard tech has allowed it to sift and study water as it goes. The pandemic halted the circumnavigation, but they plan to set sail again as soon as possible.
"Our ocean doesn't know political borders or cultural boundaries," Penn says. "The great news is that there are … hundreds of solutions, and the reality is we need all of them to be able to change this issue."
João Campos-Silva
Joao Campos-Silva is on a mission to save a river giant
The arapaima is a remarkable fish; a river giant of the Amazon that was nonetheless pushed to the brink by overfishing. Working hand in glove with local communities throughout Amazonas state, Brazil, João Campos-Silva helped implement a grassroots program to cultivate and ultimately revive the species.
Read: How Amazonians saved a 'Terminator' of the fish world
In the past decade numbers have more than quadrupled in lakes with programs in place. At the same time, villages are sustainably harvesting the fish (which can grow to three meters and weigh 200 kilograms) in a way that's increasing their income, allowing investment in education, and boosting gender equality in communities by finding employment for women.
"Here we have a very positive case that clearly shows that we can pull it together by diverse conservation and social needs," says Campos-Silva.