At first glance, veteran ventilator technician and self-professed hoarder Robin Whittle looks like any other homeowner tinkering away in his two-car garage on a sunny afternoon in Durban – surrounded by mounds of paper, and piles of plastic and metal parts.
While most items here are destined to remain on these dusty shelves, one in particular has helped make a big impact on South Africa's fight against Covid-19.
Whittle is part of a homegrown non-profit initiative known as the South African Ventilator Emergency Project (SAVE-P). Consisting of roughly 90 volunteers ranging from engineers to medical professionals, the group was formed early last year with the goal of shoring up South Africa's supply of medical ventilators.
According to SAVE-P founder Justin Corbett, South Africa had a total of 3,800 ventilators at the start of the pandemic to cover a population of over 58 million.
By comparison, the UK, with a population of 66 million, had nearly 11,000 ventilators by mid-April; by the end of June, that number had risen to 30,000.
How South African ingenuity helped propel ventilator manufacturing
It was part of a global scramble to acquire lifesaving equipment. But for most countries across Africa, including South Africa, obtaining medical equipment is often complicated and cost prohibitive.
As South Africa experienced its first wave of cases – the most of any African country – Corbett and SAVE-P decided to look inward and tap into local experts like Whittle.
Backed by the Solidarity Fund – a network of public and private donors formed in SA as a response to the Covid-19 crisis – the group has since produced 2,000 ventilators. All of these are currently in use in hospitals around the country as South Africa simultaneously battles a second wave of cases and the emergence of a new variant from within its own borders.
Piecing the puzzle together
Working with ventilators is in Whittle's blood. His father was a ventilator tech who owned his own business repairing medical equipment. Whittle took over at 18 and has been working with the machines ever since. He credits his collecting habit to his father, who told him that there was always a use for everything.
Today, you can ask Whittle about any one of the multitudes of metal machines stacked upon each other and he turns into a veritable museum curator, excitedly detailing the name of the machine, where it was made, if it's still in production, and what it was meant for.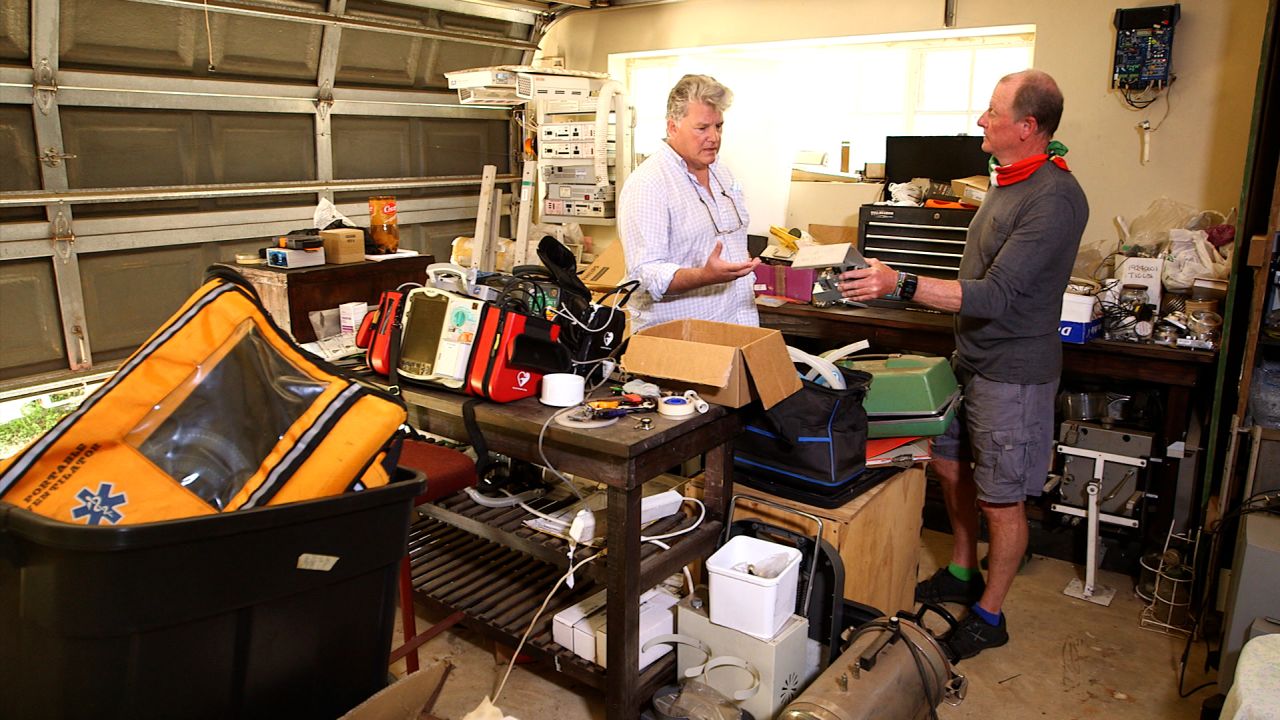 A deeper exploration into these piles unearths everything from radios used in the 1970s and spare ventilator parts from the 1950s to old oxygen regulators. When SAVE-P reached out last March for his expertise on suitable ventilators to use as a model for its device, he knew the exact one he had to find.
"I immediately thought of the Penlon Nuffield 200. I worked with these ventilators from the seventies and eighties," he says, adding "it was a military ventilator made in the UK."
He says he zeroed in on this particular model because it was pneumatic, meaning it could operate without electricity – a feature that increases the ventilator's usability beyond established hospitals to include rural regions and field hospitals.
Corbett acknowledges the group took inspiration from the Penlon machine and tweaked features from the original model to make the SAVE-P CPAP 100, a high flow CPAP (continuous positive airway pressure) unit that keeps patients' airways open without obstruction.
South African ingenuity shifts into high gear
With international supply chains disrupted, South African automakers and manufacturers played a key role in making the ventilator. According to Corbett, that sector was the ideal candidate to transition into creating the parts.
"The automotive sector has the right DNA, and it's absolutely safety critical," he says. "When we started looking at the documentation that we have for the automotive industry and what you require for the medical industry, the two are almost identical."
For Pretoria-based automaker MCR Manufacturing, the transition made economic sense. Their assembly lines had gone quiet as the demand for their goods dropped during the pandemic.
"I think we just approached it as another automotive device, or just another component that we make," says Claudio Maccaferri, MCR CEO. "As long as you've got the blueprint that you're working to, you can make anything. That was the hallmark of our whole cohort, where everyone was just willing to do it."
MCR Manufacturing also collaborated with Dowclay Products and Thistledown Manufacturers to create all 500 individual parts used within the ventilator.
The challenge, says Dowclay Products owner Lionel McCaul, was to create everything from scratch. "We had to source raw material, we had to find people who made springs, (and) we found people to make specialized seals, bearings and rubbers."
For more stories like this one, visit Marketplace Africa
Precision in medical grade equipment is of paramount importance. According to Whittle, being off even a hundredth of a millimeter in the milling of a piece would change the entire dynamics of the machine.
A model for the future
Probing corruption allegations, an audit by South Africa's Special Investigating Unit revealed that throughout 2020, the South African government spent $26 billion on relief efforts, of which $632 million was spent to source PPE internationally.
The ventilators made by SAVE-P cost just over $1,000, a fraction of the price of similar ventilators on the market, according to Corbett. He adds that the group also created a mobile medical oxygen machine, an integral piece of equipment that takes oxygen and air and converts it for ventilator use.
Another South African group, Akacia Medical, has also manufactured ventilators for use within the country.
Despite the recent rise in Covid-19 cases across South Africa, Corbett says there are no plans for SAVE-P to make additional ventilators at this time, but that the warehouse stands ready and willing if asked to help.
As the second wave continues to hit, he hopes the experience of locally producing ventilators could serve as a model for the future.
For Whittle, that means looking no further than his dusty old garage.
"We know for a fact now that we can manufacture products here that don't have to be imported," he says. "We have the infrastructure. We have the engineers. And if we can't buy them? We'll manufacture them ourselves."
CNN's Eleni Giokos and Daniel Renjifo contributed to this report.