Novak Djokovic put on a defensive masterclass against Aslan Karatsev to advance to the Australian Open final.
The world No. 1 looked impressive on his way to his straight-set 6-3 6-4 6-2 victory on Rod Laver Arena on Thursday.
While Karatsev showed great resolve in his first career grand slam semifinal, Djokovic's experience and class shone as the Serbian reached his third successive Australian Open final.
Djokovic will face either Daniil Medvedev or Stefanos Tsitsipas, who face off on Friday, in Sunday's final.
Having suffered an injury earlier in the tournament, Djokovic admitted afterwards he is the fittest he's been all tournament.
"I felt as best as I felt so far in the tournament tonight," he told the media after his win. "Physically, mentally.
"I was hitting the ball very well, mixing the pace. [I] didn't give him the same looks at all. [I] always kind of kept him guessing and served well when I needed to get out of trouble, late in the second set.
"I'm just very pleased with the performance. It came at the right time, before [the] last match in a Grand Slam [tournament]. Being in this situation many times [before] I think helps kind of gather all the necessary elements for me to peak at the right time, which is happening again. I'm very obviously happy about. I'm also happy that I have two days off now. Recovery is still the priority."
READ: Naomi Osaka denies Serena Williams a shot at record-tying 24th major title at Australian Open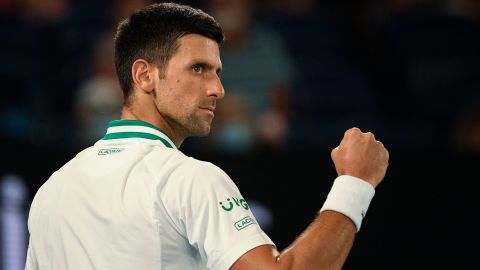 The wall
Playing in their first meeting, Djokovic does what he often tends to do when coming up against a new opponent – prioritizing his defense.
Djokovic made just one unforced error in the entire set. If Karatsev looked the Serbian's equal during the opening games, the world No. 1 eventually capitalized on the eventual mistakes made by Karatsev to break and then hold his serve to take a set lead.
The eight-time Australian Open was in complete control, breaking once again early in the second set to assert his dominance.
Another break extended Djokovic's lead and although Karatsev broke back to suggest a comeback could be on the cards, Djokovic held off multiple break points to clinch the second set.
Karatsev was broken in his first service game of the third set and 17-time grand slam winner Djokovic went on to comfortably close out the match.
However, after making the semifinals in his first grand slam and showing courage in going up one of the sport's best, Karatsev can go home with his head held high.
Djokovic will now look to seal an 18th grand slam title and move to within two of Roger Federer and Rafael Nadal who jointly lead the way for the most men's singles grand slams with 20 titles apiece.
Visit CNN.com/sport for more news, features, and videos
"Regardless of who I face on Sunday, I'm ready for the toughest match of the tournament, without a doubt," Djokovic explained.
"I mean, both of these guys are in great form. Medvedev is playing [at] an extremely high [level]. He's on a winning match streak. He's just the man to beat. On the other hand, Tsitsipas produced some phenomenal tennis last night against Rafa. Coming back from two sets down against Rafa [at] a Grand Slam, any Grand Slam, is a huge effort."