If you haven't bought a used car in a while, you might be surprised at how much the shopping experience has changed. While used car sales were already making their way to the web, the pandemic spurred the industry to accelerate its move online.
Now, for example, instead of going from one lot to the next searching for the make or color of car you want, business is booming for those that easily enable shoppers to cast a wider net on the web, get a 360˚ view of the car, hear the sound of its engine and have it shipped to you – without ever leaving your home.
"Covid, as bad as it's been, it's basically been the boom for these online used car sellers," said Ivan Drury, an industry analyst with the auto website Edmunds.com.
The market for used cars has become red hot because a growing number of people have grown wary of getting on trains, buses or airplanes as a result of the pandemic. Also, supply chain disruptions mean there are fewer new cars on the lots so more shoppers are turning to used cars instead.
Fox Dealer, a company that provides software for online car sales, has seen a 40% increase in online used car shopping activity since the start of the pandemic, CEO GianCarlo Alabastro said.
Carvana, a company that sells used cars only online, has seen its unit sales increase 37% in the last year compared to 2019. Smaller online-only used car sellers like Vroom.com and Shift.com have also seen large increases.
CarMax, the nation's largest used car retailer, has seen its sales shifting online, too, and has, in recent months, taken steps like offering at-home or curbside test drives and delivery to help its customers be more comfortable buying used cars online.
Likewise, selling cars online has helped even local car dealers gain customers, especially from farther away. Kyle Mountsier, marketing and business development director for Nelson Mazda in Franklin, Tennessee, said his dealership now fairly regularly draws in customers from distant cities who found a used car online.
"Our pricing strategy is a part of that," he said, "but the Internet has opened us up to the whole nation."
Average prices paid for used cars increased by 11% over the course of the year, according to data from Edmunds.com. That's up from between 2.3% and 4.3% each year since 2015.
The supply of used cars is closely tied to the supply of new cars. New car manufacturing was disrupted by the pandemic and by problems with supplies of computer chips, said Drury. Fewer new cars being sold meant fewer used cars being traded in. Besides that, the reduced availability of new cars also meant more people started shopping for used cars as an alternative.
Online shopping allows customers to search across the country, to find the exact make, model and color they want – even if it means not being able to see the car in person.
"You're rolling the dice a little bit," he said, "but the pressure to find that perfect used car just ramped up."
Kicking the tires virtually
Compared to buying a new car online, used car shopping entails another layer of complexity. When shopping for new vehicles, customers are looking at the make, model, colors and features. As long as those things are the same, any given example is just like another. One burgundy Jeep Grand Cherokee Laredo will be just like the next. Each is fresh from the factory, free from dings and dents.
With used vehicles, each car or truck has had a life outside the factory, whether it has been well cared for or not. Some have been smashed in fender benders (or worse), while others have never suffered a scratch. And that's why, with used cars especially, people want to inspect and even test drive the exact vehicle they're considering.
That's why the secret to selling used cars online is "transparency," said Ben Ellencweig, a partner in McKinsey & Company's automotive consulting practice.
The idea is there should be no surprises when the car is delivered. Many used car dealers now pinpoint every flaw online so shoppers can see them. Extreme closeups of paint scratches and upholstery damage are common.
New York-based Spincar helps automakers create detailed interactive views of their vehicles for sale online. Among the things some dealers provide are panoramic 360˚ camera views from each of the rows in a three-row SUV and virtual test drives with 360˚ views. Some dealers also provide engine sound recordings, said co-founder Devin Daly.
"You can hear it rev up," he said. "You can hear if there's knocking. That's especially popular on classic vehicles."
With all this detailed information now available, Ellencweig recommends dealers create a simple scoring mechanism so shoppers can easily understand the relationship between a car's quality and its price.
The hybrid buying experience
Even though most of his used car customers start the process online, looking at detailed 360˚ photos and watching walkaround videos, Mountsier said they often still want to come in and experience the vehicle themselves.
"I may be bursting some people's bubbles, but very few cars are actually bought online," agreed Alex Vetter, CEO of Cars.com, a website that offers new and used cars from a variety of different dealerships.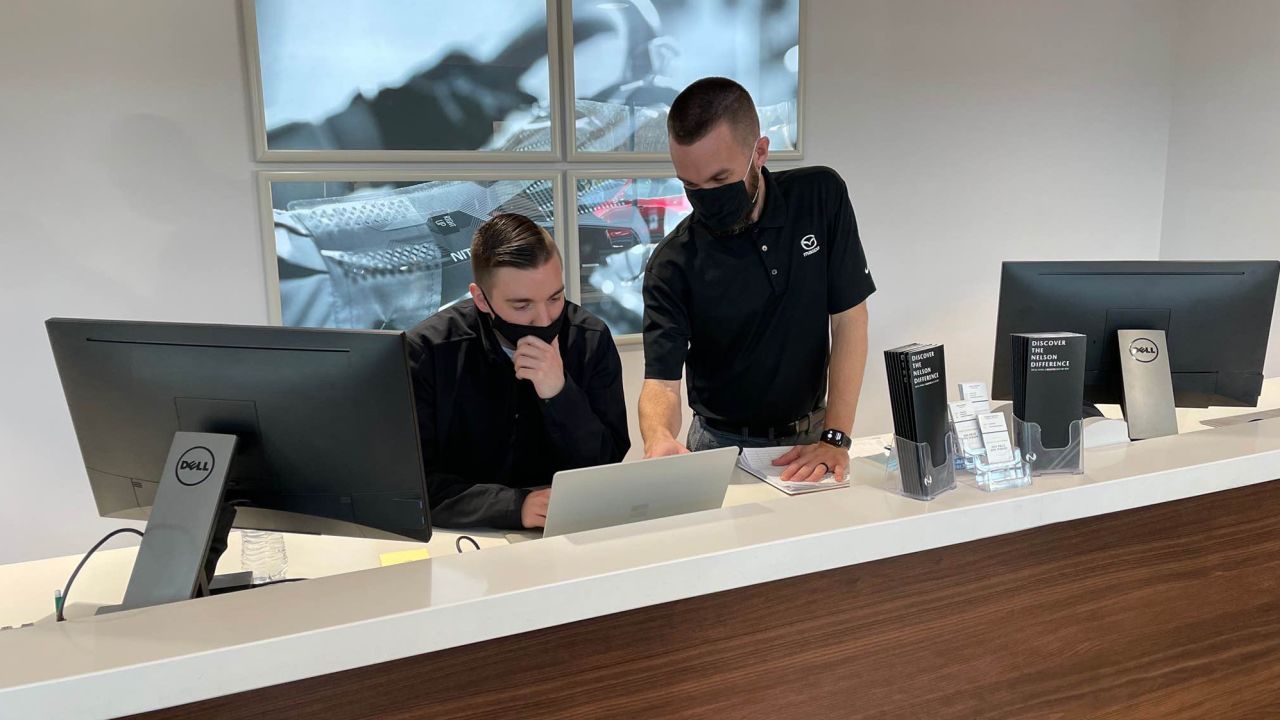 Researchers at Deloitte found the same thing in their research, with 71% of Americans saying they didn't even want a fully online experience.
"There's still a large part of the consumers who still value the in-person experience," said Deloitte's Masa Hasegawa, "You look the dealers in the eye, the proverbial kick the tires, see the vehicle. It is an emotional purchase after all."
Even as online car purchasing of all sorts, both new and used, has picked up, the proportion of people buying fully online, from beginning to end, has remained the same at about about one in five, said Fox Dealer's Alabastro.
Ryan Keeton, co-founder of the online car seller Carvana, believes his company's advantage in terms of convenience and the size of its available inventory, makes it an attractive option for customers who are comfortable with that experience.
But Jim Lyski, who heads product strategy and marketing for CarMax, said most customers seem to want a hybrid process that starts out online then, at some point, shifts to an in-person meeting and vehicle inspection. The large majority of CarMax's customers first interact with the company through the web site.
To ease the process of online shopping, CarMax has recently started offering "24 hour test drives" that allow people to live with the car for a day before buying. The company also now offers a 30-day, 1,500-mile money back guarantee.
There is one part of the process of the process Lyski hopes customers won't give up.
"They don't have to, but we really encourage the test drive," he said. "It just makes everybody feel better about the deal."