Editor's Note: Call to Earth is a CNN initiative in partnership with Rolex. Sarah Toumi is a Rolex Awards Laureate.
The world's largest desert is growing. In the last century, the Sahara Desert expanded by more than 10%, now covering an area of more than 3.3 million square miles (8.6 million square kilometers) and spanning 11 countries in the north of Africa.
The Sahel region, a semi-arid belt that acts as a buffer zone just south of the desert, is most affected. Water, already scarce, is becoming scarcer. Soil quality is deteriorating, and a lack of vegetation is leading to food insecurity. The UN estimates roughly 135 million people who depend on these degraded lands are at risk.
But an ambitious plan, launched by the African Union in 2007, could help to hold back the hot sands and protect the Sahel communities. Within the next decade, the Great Green Wall initiative hopes to restore 100 million hectares of land between Senegal in the west and Djibouti in the east, creating a 15-kilometer-wide (9 miles) and 8,000-kilometer-long (5,000 miles) mosaic of trees, vegetation, grasslands and plants.
Having previously struggled with insufficient and unpredictable funding, the project received a major boost in January: $14 billion in new funding from France, the World Bank and other donors – contributing nearly half of the $33 billion the UN estimates is needed to achieve the 2030 goal.
If completed in full, the wall will be more than three times the length of the Great Barrier Reef, currently the largest living structure on Earth.
Fresh shoots
Nine years away from its deadline, there is still a long way to go. So far, 4 million hectares of land has been restored – just 4% of the overall goal – though this rises to almost 20 million hectares when counting areas outside of the official Great Green Wall zones.
Countries have tried a variety of conservation measures, such as reforestation, agroforestry, creating terraces, and dune fixing – a technique that prevents the movement of sand long enough to let natural vegetation establish itself. They are also taking steps to protect water supplies, by drilling bore holes and building irrigation systems.
Ethiopia is reported to have restored the most so far, producing 5.5 billion plants and seedlings, and planting more than 150,000 hectares of reforested lands and 700,000 hectares of terraces – which together make up an area more than five times the size of London.
"It took us more than a decade to set up the countries and all the strategies," says Elvis Paul Tangem, coordinator of the Great Green Wall initiative at the African Union Commission. "But now we have laid the groundwork, we have seen what has worked and what has not worked, and we are on the highway to achieve our objectives."
Among the biggest lessons learned is the importance of community collaboration, says Tangem. "We went back to the frontline communities and looked exactly at their needs and the indigenous knowledge and practices that have been going on for centuries," he says.
Community value
Sarah Toumi, a French-Tunisian environmentalist involved in the initiative's recent fundraising push, agrees that such an ambitious project will only be possible if local residents are fully behind it.
"It's very easy to plant a tree, but it's not easy to grow one," she tells CNN. "It's expensive in arid areas: you have to water it, you have to take care of it, you have to prevent animals from eating it."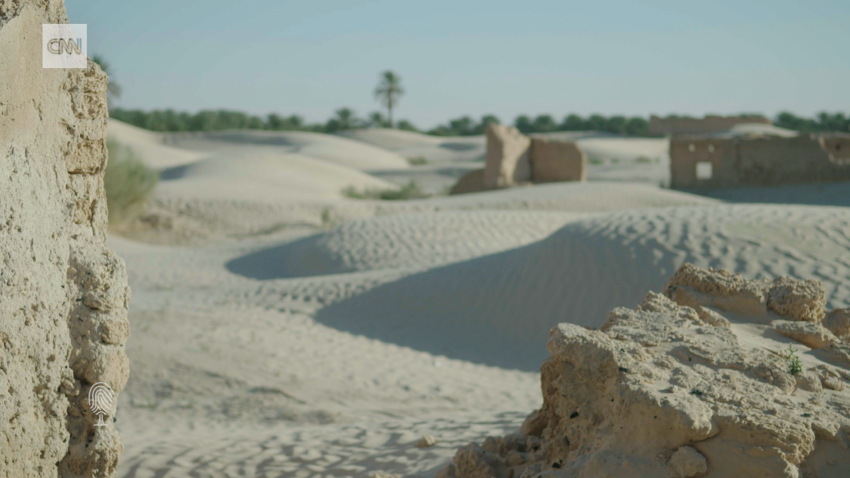 Africa's Great Green Wall plans to bring life to the desert
Toumi speaks from her own experience after founding an organization called Acacias for All, which aims to restore land affected by desertification in Tunisia. The organization has planted more than 700,000 acacia trees in the region, she says.
Bringing communities into the initiative and demonstrating the value of restoration has been vital to the sustainability of the project. Toumi's organization helps to teach farmers how to harvest the leaves, fruits and gum of the plant so that they can make a living from it.
Read more: This photographer captures the beauty of Mexico's mountains
In addition to the Great Green Wall's target for land restoration, there is also the goal to create 10 million jobs in rural areas. So far, 335,000 have been created and growing fruit and forest products has earned $90 million, according to the UN.
"It's about creating sustainable livelihoods for people … so that they can live peacefully in their ecosystems and preserve their traditions and preserve their landscapes," says Toumi.
Promoting peace
As the population grows rapidly in the region, land restoration combined with job creation is becoming all the more urgent. Across the African continent, more than half of the 375 million young people entering the job market in the next 15 years will be living in rural areas.
If there is no job for someone in their community due to desertification and land degradation, they are likely to migrate – which could trigger political instability across the world, says Monique Barbut, former executive secretary of the United Nations Convention to Combat Desertification and special envoy for biodiversity to the French President.
By involving 11 countries, the initiative could help to unite African leaders, she adds, "(bringing) life back to that region of the world, which will help us stabilize that part of Africa on political grounds."
Tangem agrees, noting "the strong link between natural resource management and political stability in the region." Once complete, the Great Green Wall could help provide a nature-based solution with a global impact.