Rescue teams working to dislodge the giant container ship blocking the Suez Canal have failed in another bid to free the boat, according to the vessel's technical manager.
"Another attempt to re-float the vessel earlier today … was not successful," Bernhard Schulte Shipmanagement (BSM) said in a statement, adding that more equipment is expected to be brought in to assist further efforts. The US Navy is also planning to send assistance over the weekend.
The Ever Given, a container ship almost as long as the Empire State Building is tall, ran aground in the Egyptian canal on Tuesday after being caught in 40-knot winds and a sandstorm that caused low visibility and poor navigation.
It has blocked one of the world's busiest and most important waterways, prompting frantic salvage efforts, including the use of two dredgers, nine tug boats and four diggers, and a growing traffic jam at either end of the canal.
"The focus is now on dredging to remove sand and mud from around the port side of the vessel's bow," BSM said, adding that a special suction dredger will be used to move 2,000 cubic meters of sand and mud around the ship every hour.
High-capacity pumps may also be used to reduce water levels around parts of the 224,000-ton ship, which measures 400 meters (1,312 feet) long and 59 meters (193 feet) wide.
Up to 20,000 cubic meters (706,000 cubic feet) of sand in the canal need to be removed to free the gigantic container ship, according to the canal authorities.
Dredgers are hard at work removing sand and mud from the bow of the ship – and they will need to move between 15,000 to 20,000 cubic meters (530,000 to 706,000 cubic feet) of sand in order to reach a depth of 12 to 16 meters (39 to 52 feet), which could allow the ship to float, the Suez Canal Authority (SCA) said on Thursday. That's approximately eight times the size of an Olympic swimming pool.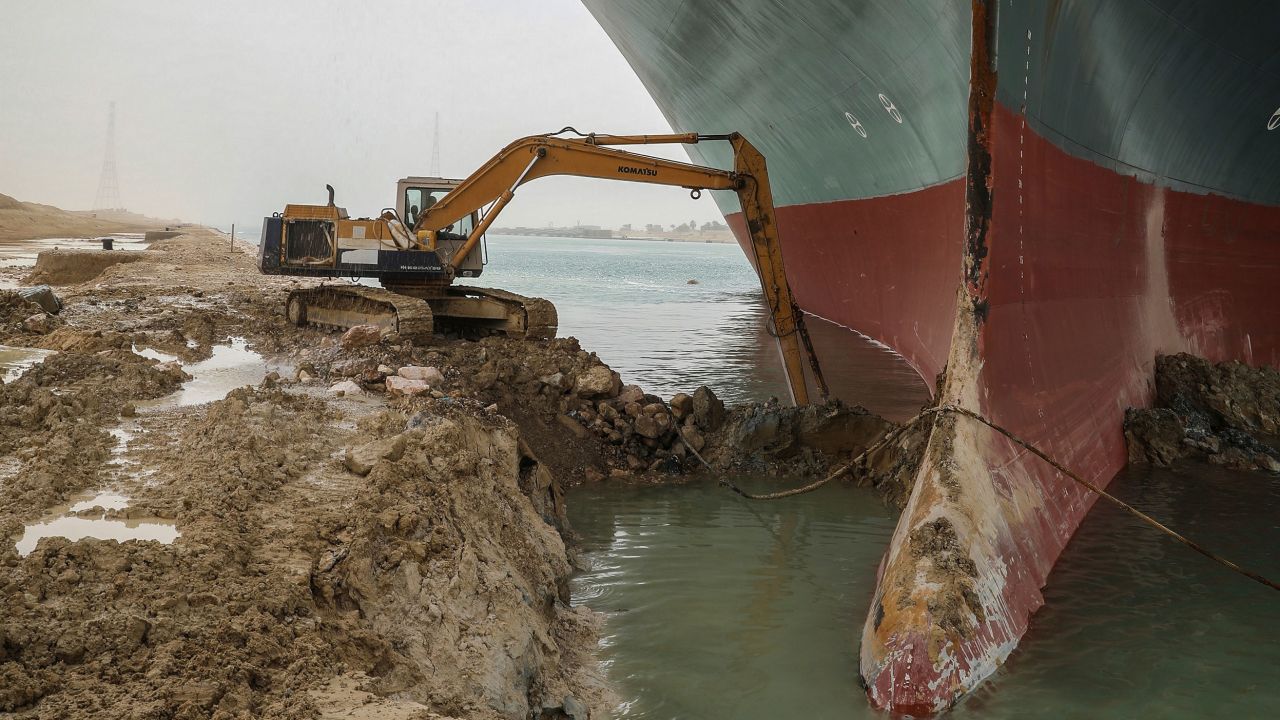 The US Navy in the Middle East plans to send an assessment team of dredging experts to the site as soon as Saturday, according to two defense officials.