Cádiz defender Juan Cala has vehemently denied racially abusing Valencia's Mouctar Diakhaby during Sunday's La Liga encounter, saying that he has been involved in "a public lynching."
Sunday's game was suspended for 20 minutes after Valencia walked off the pitch in solidarity when Diakhaby said he was subjected to racist abuse from Cala, according to the referee's report.
The report states that Diakhaby told the referee Cala had called him a "sh*tty black," but that the alleged incident "was not perceived by any member of the refereeing team."
In a video of the match, Diakhaby appears to be angry following their exchange and followed Cala across the pitch, where he was eventually restrained by some of his teammates and opposition players.
As Diakhaby was led away, Cala could be seen covering his mouth with his hand as he spoke to his coach on the touchline.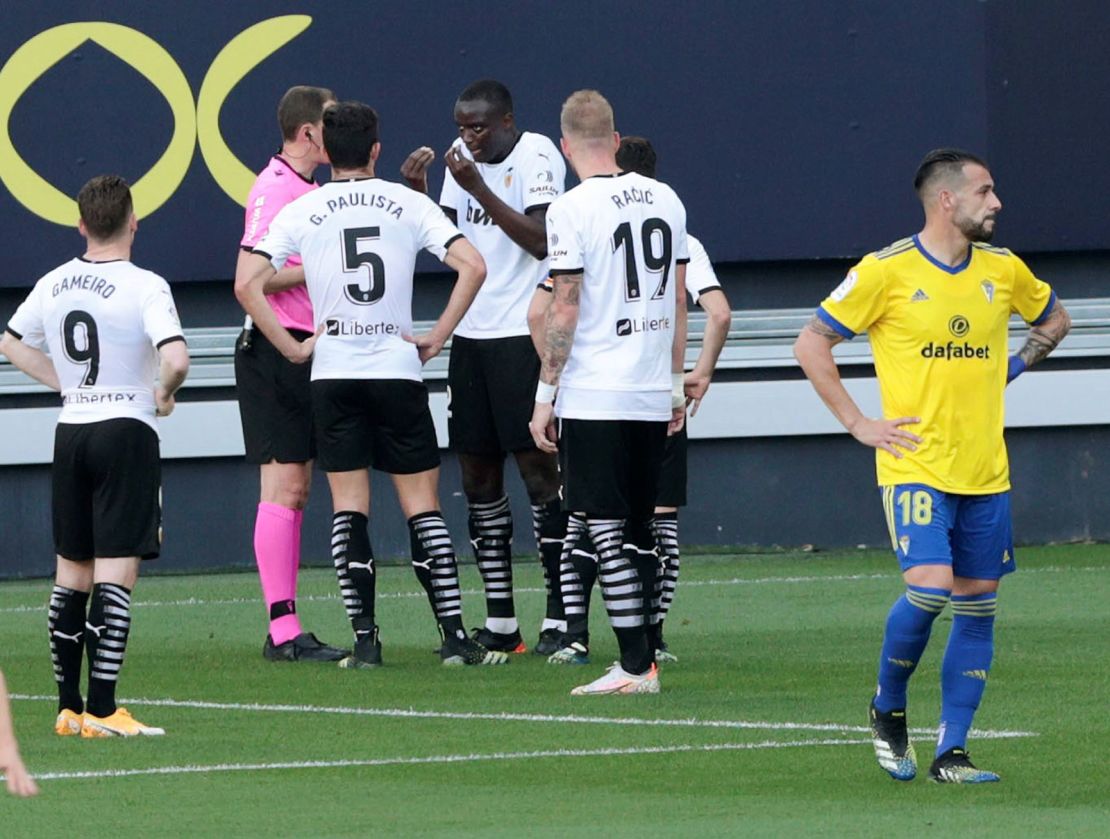 Following a conversation with his teammate Gabriel Paulista and the match referee, Diakhaby led the rest of his Valencia teammates off the pitch and down the tunnel.
Valencia eventually returned to the pitch to continue the match, but in a statement after the game said it only did so under "threat" of being punished.
Speaking at a virtual news conference on Tuesday, Cala said: "What has happened is a media circus, a public lynching."
"The best thing would have been to get me and (Diakhaby) together in a room to explain what happened. Instead, everything that has happened has been a circus. I was judged before the game was over.
"There are 20 or 25 cameras around, who knows how many microphones […] When he (Diakhaby) was allegedly insulted there were approximately 7 or 8 players around me and nobody heard anything. So, at the very least, let me have some doubt