Standing at the feet of the early 20th century feminist Millicent Fawcett – the only woman to be honored with a statue in the UK's Parliament Square – I held the microphone up as high as I could to capture the impassioned words of her present-day successors.
"Did women get the vote by waiting for it to be granted to them?" activist Steph Pike bellowed into a loudspeaker.
"No! they fought for it," she said.
"We'll come back time and time again to fight for our rights. And," she roared towards lawmakers across the road, "you can't stop us!"
As the crowd cheered, I thought of how lonely Fawcett's statue seems on calmer days in Westminster, facing down the UK's still largely male-dominated seat of democracy across the road. The monument to the leading women's suffragist carries a banner emblazoned with one of her most famous quotes: "Courage calls to courage everywhere."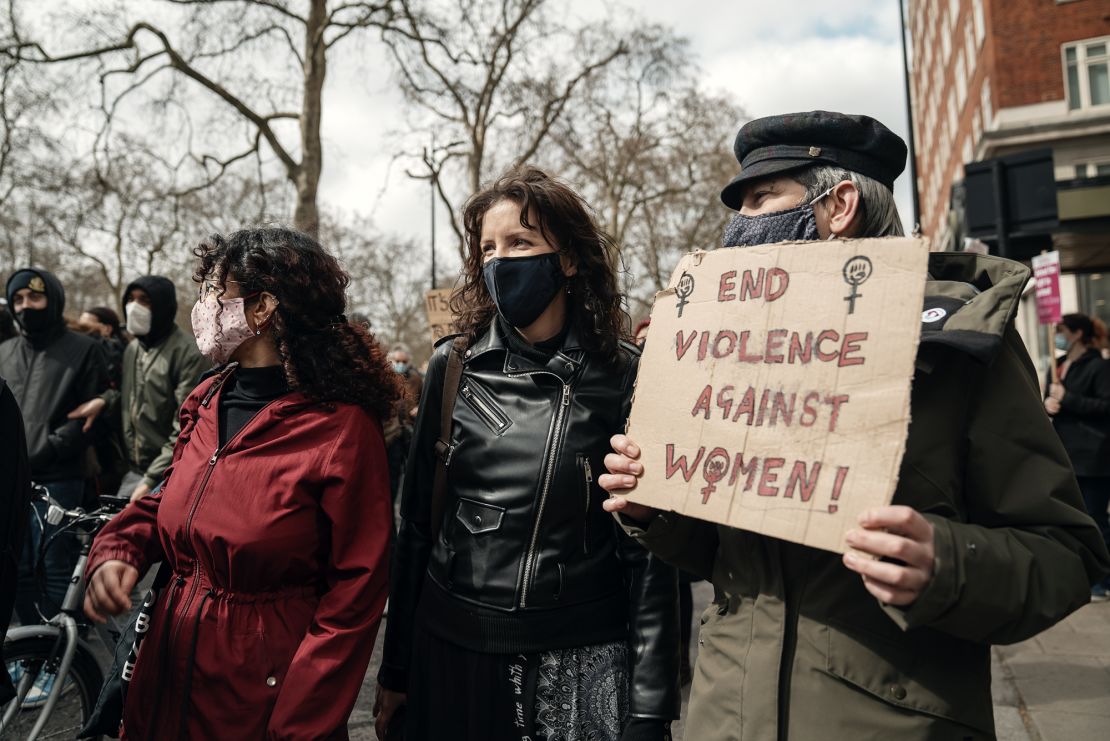 Until Fawcett's statue was unveiled here three years ago by, among others, Britain's second female Prime Minister Theresa May, the green patch outside Parliament had only commemorated men.
Yet on a windswept Monday in March, despite Covid-19 pandemic restrictions, this traditional protest site was filled with hundreds of women clutching signs and slogans under Fawcett's protective gaze.
"We demand the proper funding of services that women need and women rely upon every day," shouted Helen O'Connor, a representative of the UK's GMB union.
"The government has spent billions on this pandemic. My members are health workers and mostly women. Where is the pay rise they deserve – and need – during this pandemic?" she asked.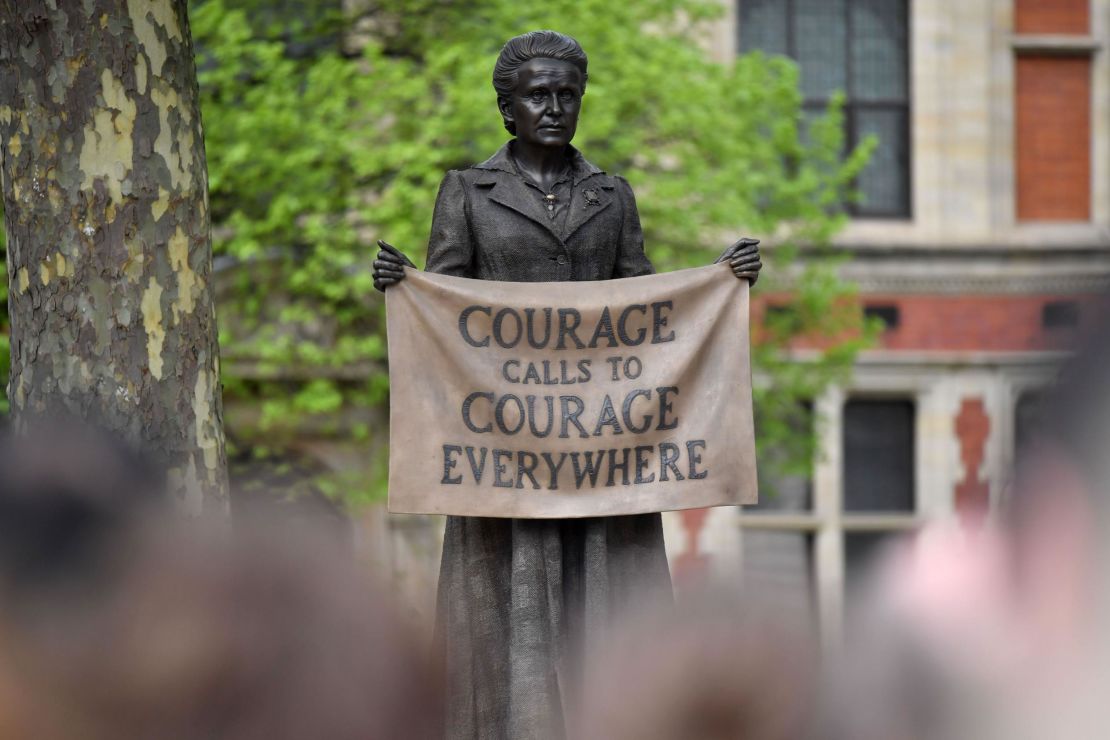 Expectations vs. reality
Readers outside Great Britain may wonder where this upswell of resentment has come from in a nation normally known for its mild manners and modern values.
As a major world economy, the UK often makes interventions with other countries on human rights, including for women.
Women here have had the right to vote for a century, while equal pay legislation has been around for half of that time.
Even the UK's head of state – the Queen – is herself a woman.
However, what many British women – of which I am one – will privately concede is that there remains a big difference between the liberties they are awarded in principle and what they can expect in practice in many aspects of their lives – from the right to feel safe on the UK's streets to the right to expect equal treatment in the workplace.
Igniting a national debate
This issue came to a head last month after the disappearance of 33-year-old Sarah Everard while walking home from a friend's house in the peaceful south London suburb of Clapham.
The suspect charged with her killing is a serving officer of the UK's largest police force – London's Metropolitan Police.
Everard's death prompted an outpouring of grief, culminating in a vigil around a local park bandstand – which the same police force then aggressively broke up, ostensibly because it posed a danger to public health.
A review ordered by the Home Secretary vindicated the Met's handling of the vigil.
But to those of us who were there that night, the response, given the occasion, felt decidedly uncomfortable.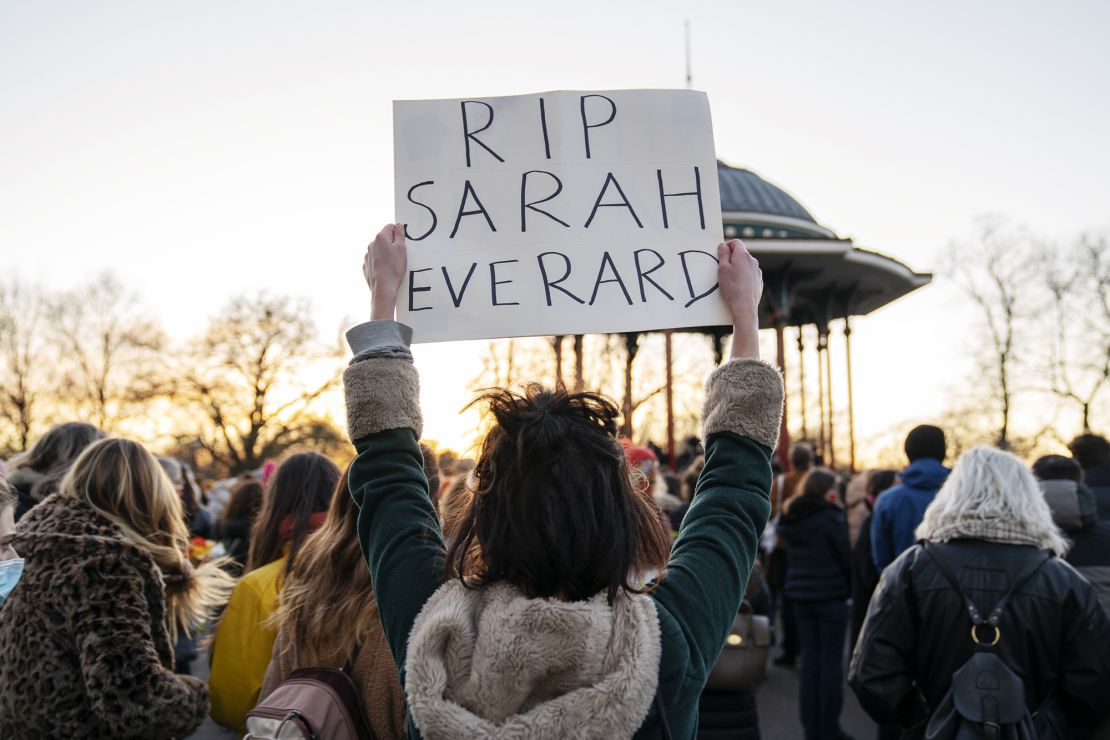 When scuffles broke out as women were handcuffed a few meters away, my all-female film crew was asked to show credentials five times and urged to move on, almost disrupting our ability to document the events unfolding.
It was amid these scenes that Pike and O'Connor met at the vigil. Also there was Alia Butt, a psychotherapist for the UK's National Health Service.
What they all saw prompted them to form a pressure group called "Women Will Not Be Silenced," under whose banner they spoke at the protest days later next to Fawcett's statue.
"It just ignited a deep-seated anger, which I think we all recognized," said Pike, speaking in an interview with CNN in April.
"This violent culture against women in the UK isn't new to women, but it's come on top of years of austerity that has disproportionally affected women," she said. "I see it in my job as a welfare rights adviser: women who are single mothers may need access to services more, yet those services they need are often the ones being cut."
Butt told CNN she witnesses the effect of this trend every day as well. She's seeing more and more patients who are younger and younger suffering from the effects of psychological or sexual violence, perpetrated either in person or online. She has even had to change her job to focus solely on minors due to the increased caseload of teenage girls presenting with mental health problems caused by violence against women.
"There are so many different forms of violence," Butt says. "It can also be institutional and economic. The threat of that can have a huge effect on people's mental health."
For O'Connor, who suffered abuse while growing up in her native Ireland, this is about standing in solidarity with other women who have shared similar experiences, advocating for what they are entitled to.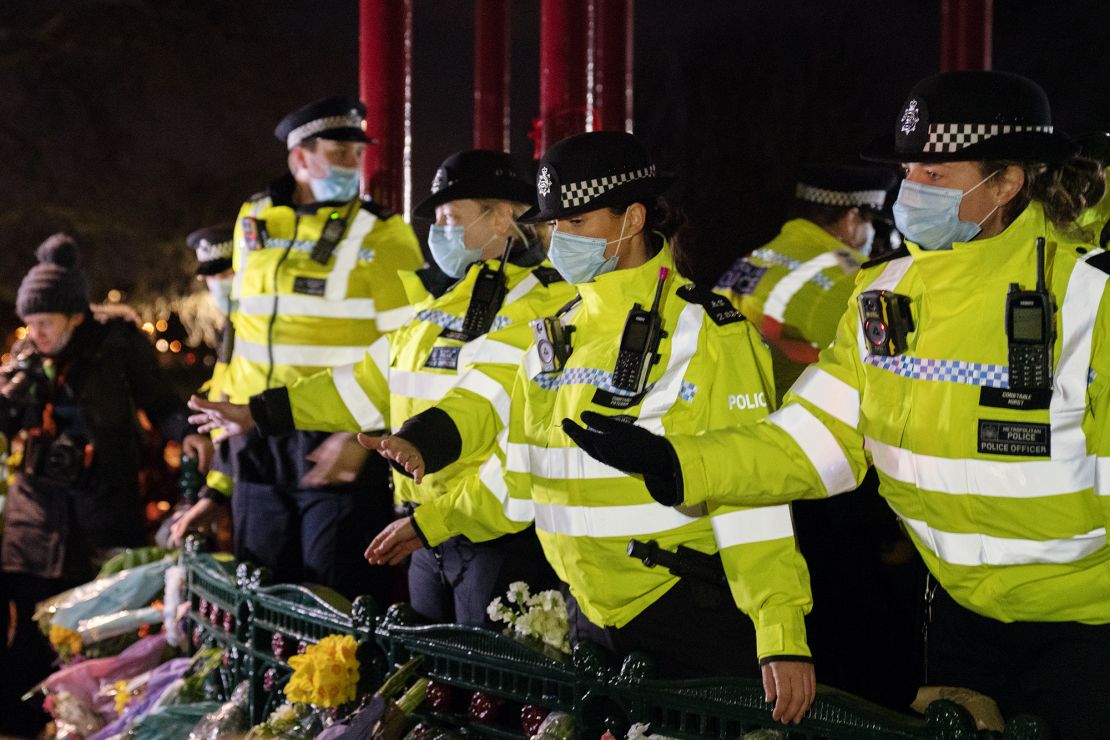 'Rape culture'
Since Everard's death, women across the country have come forward with their stories of daily sexual harassment and mishandled cases of serious sexual assault.
There has even been a debate about a pervasive 'rape culture' in some of the most elite schools and universities.
Women took to the streets again over the Easter weekend to protest police brutality and the need to "police themselves" by avoiding the streets and public transport after dark.
At those marches I met Daphne Burt, wearing the pinkest outfit she could find in her wardrobe. Burt claimed she had survived rape, reported it, and never seen the case pursued.
Another woman, who did not wish to be named, carried a sign saying she could get more years in jail for protesting during the pandemic than her rapist got for what he did to her.
Also among the crowd, thousands strong, was photographer Lily-Rose Butterfield, who said her sexual assault experience had prompted her to tattoo parts of her body to demarcate her "physical boundaries."
She showed me some of them, including a Venus de Milo on her leg.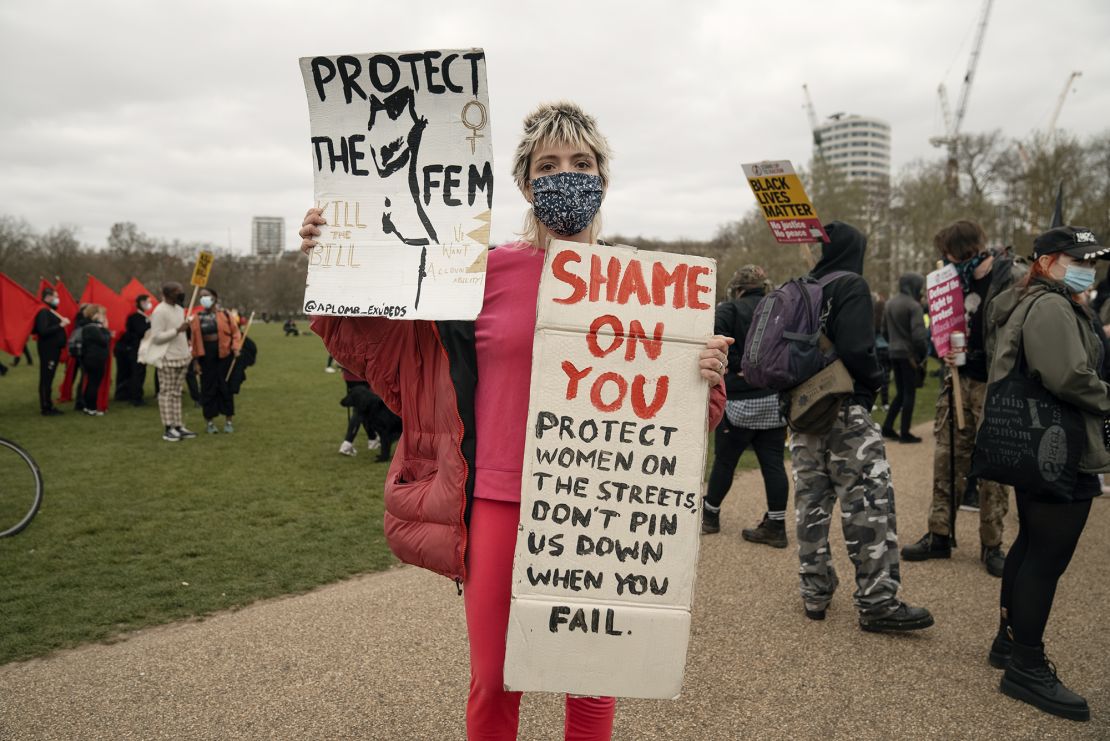 Crime bill
What had brought these women together was not the hope of being able to secure more of a say in their country, as Fawcett and her fellow suffragists had done, but a fear they were losing their voice.
Everard's death occurred just as a controversial policing and crime bill began to pass through Parliament – legislation which critics say would curb Britons' ability to protest and hand more powers to police at a time when they should be facing tougher scrutiny.
Covid restrictions mean fines of up to around $14,000 for those found to be organizing or participating in large gatherings, even if the UK courts have ruled that people's right to protest should be protected.
That risk has pushed some of Britain's more radical feminists underground.
"D" would only go by her first initial when we met via video call. An activist for the group called "Sisters Uncut," which campaigns for the rights of women and non-binary people to live in safety, she is among some of its organizers who now feel compelled to hide their identity. Wearing a mask, hood and glasses, she also sat so far away from the camera it was impossible to tell who she was.
"We've had to go online to keep our movement going," she said. "There are real risks to our members for being identified. The fine is a lot of money and we are conscious of the risks of being documented as organizing a protest one maybe two years down the line."
Sisters Uncut have drafted a 10-point "feministo" demanding an overhaul of the UK's domestic violence services, of its immigration and family courts systems and campaign for more welfare funding to be made available to women and the LGBTQ community.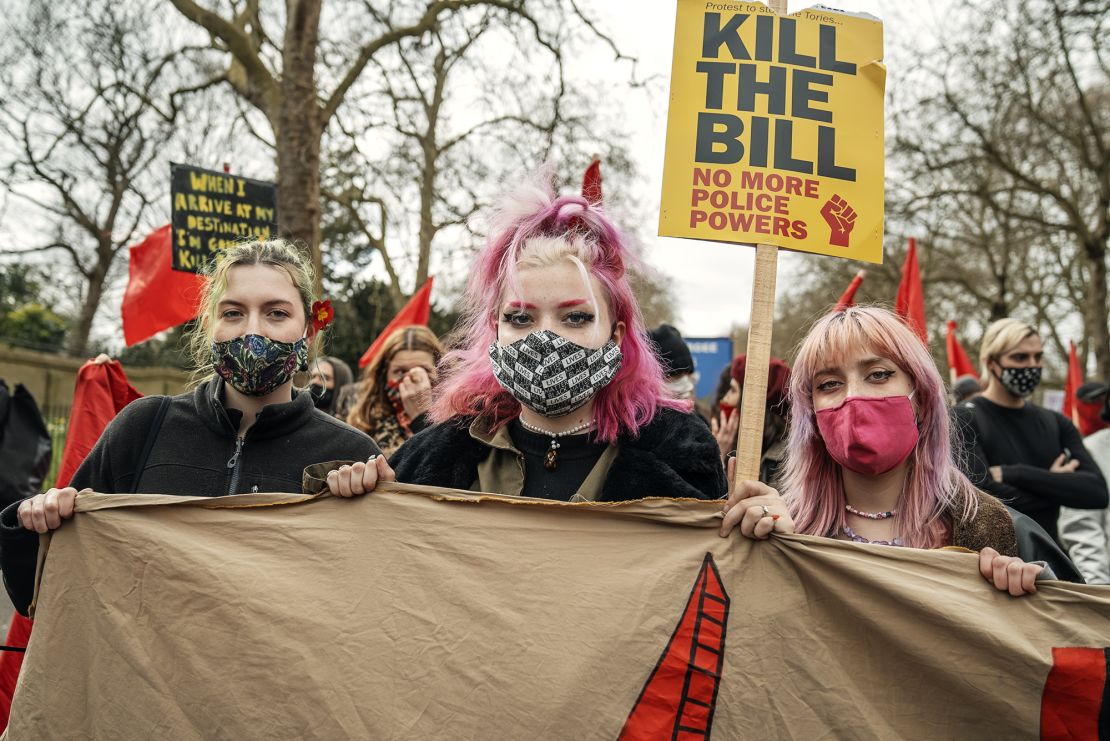 Statues vs. sex offenses
The UK's new crime legislation also contains a clause introducing a maximum 10-year sentence for those who deface a statue. Critics note that, in comparison, the average sentence for rape is just under 10 years.
"What message does this send to victims?" Bell Ribeiro-Addy, a Labour Member of Parliament for the South London suburb of Streatham, told CNN in an interview in Clapham after coming to pay her respects to a makeshift floral tribute in memory of Everard. "What example does it set of us as a country?"
It was while contemplating the irony of Fawcett's stone likeness being potentially awarded better protections than her flesh and blood sisters, that I noticed something all too familiar.
She has been interrupted.
Her quote – "Courage calls to courage everywhere" – should also read, "and its voice cannot be denied."
CNN's Lauren Kent and Li-Lian Ahlskog Hou contributed to this report.