When it comes to India's unfolding Covid-19 crisis, there are a number of things we know for sure.
India is reporting the world's highest number of new cases each day. So many people are dying that crematoriums are struggling to keep up. And the real number of cases and deaths could be many times higher than officially reported.
But misinformation has spread in India – and sometimes been accepted as truth. Here's our fact check of some common myths and misconceptions around India's second wave.
Are more young people being infected with Covid?
Doctors in India have anecdotally reported seeing more young people presenting with Covid-19 symptoms.
Government messaging has supported this idea. On April 15, Delhi chief minister Arvind Kejriwal released a video, urging young people in particular to take care. "In this wave of coronavirus, the youth are getting infected," he wrote in a tweet. "I appeal to all the youth to take care of themselves."
All that has led to a widespread belief the second wave is disproportionately affecting young people.
Fact check: Government statistics show young people are not being any worse hit during the second wave than they were in the first.
During the first wave, about 31% of patients were aged below 30, said V K Paul, the chairman of India's Covid task force, at a press conference on April 19. During the second wave, that figure has only increased marginally to 32%.
Around 21% of patients were between 30 and 45 during the first wave – that proportion hasn't changed during the second wave, according to government statistics.
It's a similar situation when it comes to deaths. Last year, 20% of deaths were people aged 50 or younger. This time, it's 19%.
"There is no overarching excess risk of young people becoming Covid positive," Paul said. "We don't see a shift in the age prevalence of Covid-19 disease overall in the country."
Dr. Chandrasekhar Singha, a senior lead consultant in pediatric critical care at Madhukar Rainbow Children's Hospital in New Delhi, said he is seeing more children infected during the second wave than the first. But, he said, it was possible that the second wave had the same proportion of child Covid patients – the difference this time could be that the overall totals are far greater.
He urged parents not to panic if their children test positive – as long as they are not overweight and have no underlying respiratory problem, most children don't need any oxygen therapy or hospital admission, he said.
Some context: India has a relatively young population compared with other countries, with a median age of 28 compared to 38 in the US and 40 in the UK, according to CIA World Factbook. The experience in other countries is that younger people are more mobile and are therefore are more likely to spread the virus.
Some variants found in India, including the UK strain or B.1.1.7, are also more transmissible, meaning they're easier to pass on. The UK variant, first identified in September 2020, is now more dominant than the Indian variant in Delhi and north India.
Are fully vaccinated healthcare workers being infected?
No vaccine in the world will prevent infections in every individual, but local media has reported that some doctors working in hospitals have tested positive after being fully vaccinated.
That has raised public concern that India's vaccines might not be as effective against the new variant that was identified in late March, as the second wave accelerated.
Fact check: Again, the statistics don't bear that out.
Of the 1.7 million people fully vaccinated with India's homegrown Covaxin vaccine, 695 have tested positive for Covid, said the government-run Indian Council of Medical Research (ICMR) in April. That equates to 0.04%.
Of the 15 million people who received both doses of Covishield – the Indian manufactured AstraZeneca vaccine – 5,014 people have tested positive, or 0.03%.
Until Saturday, India had only rolled out its vaccine to frontline workers and the most vulnerable.
"Those who were tested positive after receiving the doses were mostly frontline workers and healthcare workers. This category was the first to be vaccinated, and they are prone to more occupational exposure," Dr Balram Bhargava, secretary of department of health research and director-general of ICMR, told reporters in April, according to local media reports.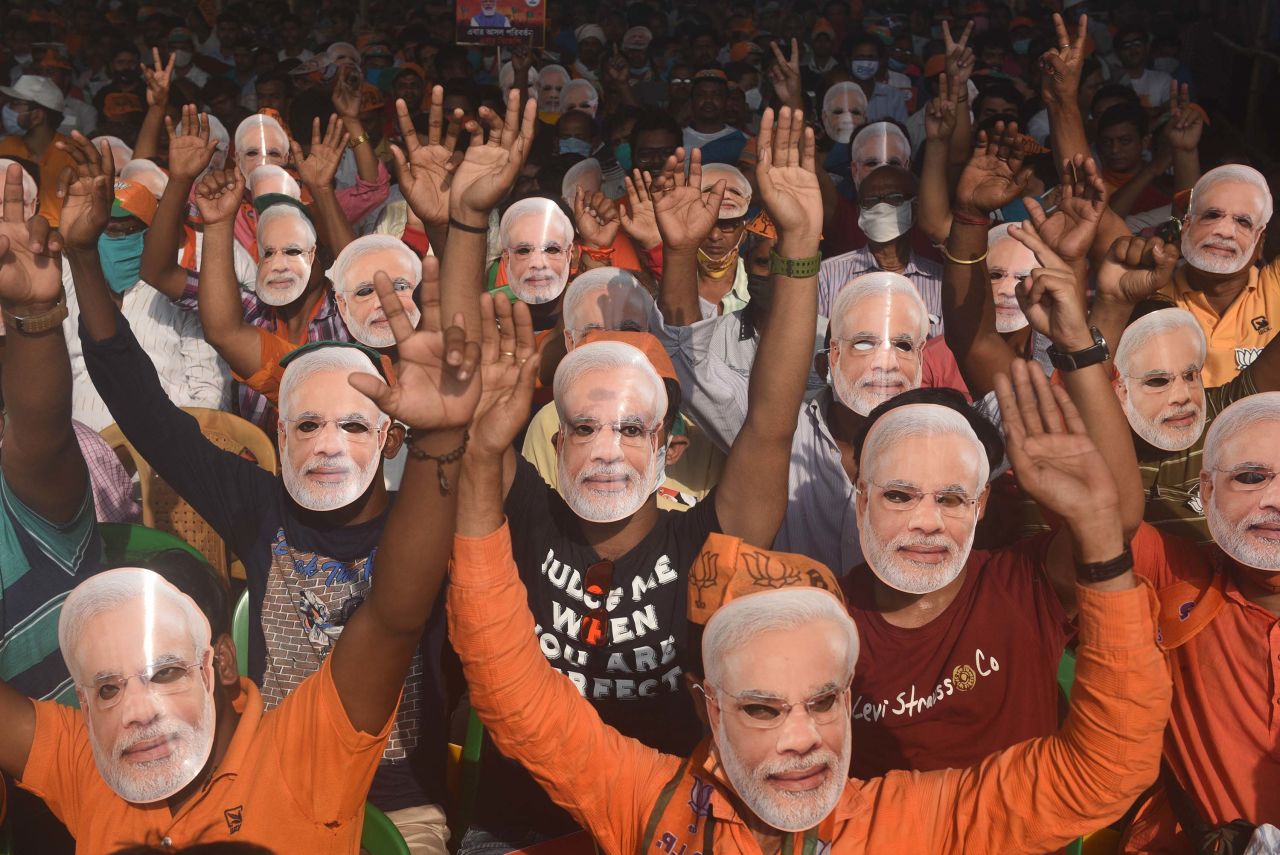 India's Covid-19 crisis, in pictures
Are new variants behind the second wave?
On March 24, the Indian Ministry of Health revealed in a news release that "VOCs (variants of concern) and a new double mutant variant have been found in India."
Fears quickly grew that the new variant, called B.1.617, might be why the second wave has hit the country so much harder and faster than the first. One of the biggest concerns was whether the variant might be able to bypass the vaccines being rolled out nationwide.
Fact check: Scientists are still researching the new variant, and there is not enough information to determine whether it is driving the surge in cases.
For that, the country would need much greater genomic surveillance. Experts believe a country needs to conduct genetic sequencing for 5-10% of all Covid test samples to assess how much variant activity is taking place. India has sequenced less than 1% of its cases, according to Dr. Ashish Jha, dean of the Brown University School of Public Health.
Some Indian epidemiologists have suggested there is a correlation between the rise in variants and the rise in cases. But it's also important to note that other variants are at play – for instance, the UK variant.
The term "double mutant" refers to the variant having two spike protein mutations. One of the mutations, called L452R, has also been found in other variants that confer some level of immune resistance. The second mutation, called E484Q, may be similar to another mutation found in the South Africa variant.
However, simply having these mutations does not necessarily mean it is either more transmissible or more lethal – we just don't have that information yet.
Can traditional remedies protect you from infection?
Since the pandemic began, a number of supposed treatments and preventative measures have surfaced in India, with some promoted by officials and celebrities – despite little evidence of their effectiveness.
In March last year, a Hindu group hosted a cow urine drinking party in Delhi, reportedly attended by 200 people. That month, a leader in the country's ruling Bharatiya Janata Party (BJP) in Assam state told the state assembly that cow urine and dung "could be used to treat coronavirus."
One influential yoga guru launched a herbal concoction this February, claiming it cured Covid and was certified by the World Health Organization (WHO).
More recently on May 1, the BJP's national general secretary tweeted photos of police officers inhaling steam in Mangalore, in the southwest state of Karnataka. The practice was a "helpful" preventative measure that "helped officers feel relaxed," one police inspector told CNN.
Fact check: There has been little evidence that local remedies can prevent or treat Covid, and medical bodies have refuted several of these practices.
In response to the guru's herbal concoction, the WHO tweeted that it has "not reviewed or certified the effectiveness of any traditional medicine for the treatment Covid-19."
The WHO has previously said "there is no known cure for Covid-19 and there isn't enough evidence to show steam inhalation helps," adding that it can cause "serious burns if not done correctly."
"As efforts are under way to find treatment for Covid-19, caution must be taken against misinformation, especially on social media, about the effectiveness of certain remedies," the WHO said in a statement last year. The use of untested products to treat Covid could "put people in danger, giving a false sense of security and distracting them from hand washing and physical distancing which are cardinal in Covid-19 prevention," it added.
The Indian Medical Association (IMA), a national organization of doctors, has also criticized high-profile figures for promoting unproven treatments, saying it is unethical and undermines the need for critical measures like vaccinations.
Could a better vaccine rollout have prevented the coronavirus outbreak?
India's vaccination program has been riddled with problems from the outset, with a sluggish launch and now mass shortages across numerous states as demand soars.
So far, just over 2% of India's 1.3 billion people have been fully immunized with one of two vaccines – significantly lower than the United States, where 30% of the population are fully immunized.
The slow rollout has attracted criticism, with some arguing it may have contributed to the second wave.
Fact check: While vaccines offer individuals some degree of protection, India likely would have seen a huge increase in cases anyway due to the phased nature of its vaccination program, said Michael Head, a senior research fellow in global health at the University of Southampton's Clinical Informatics Research Unit.
Like most other countries, India vaccinated its most vulnerable citizens first, including the elderly and frontline health care workers. But young, fit people who can travel appear to be the biggest spreaders of Covid, he said – "and they would probably be the lowest priority in terms of vaccination."
"So I think you really need to see 50-60% of the population vaccinated before you can really start to demonstrably show the impacts on transmission," he added. "Because you're only then getting to the populations who transmitted the most, which is the young people, even if they're not so severely affected."
Studies from other parts of the world have also shown the biggest spreaders of Covid are younger adults.
"I think India would have had to be a lot further with its rollout for these outbreaks to have been avoided, assuming all other populations remain the same," Head said.
Some context: That's not to say vaccination doesn't play an important role – India is now racing to catch up to its initial vaccination goals, with new measures allowing for the import of foreign vaccines. States are urging the central government to provide more doses, with some experts warning mass vaccination is critical to restrain the second wave.
To date, the government has purchased at least 205.5 million doses, according to data from the Duke Global Health Innovation Center – placing India in the top 10 Covid-19 vaccine buyers in the world.
Could fumes from crematoriums cause pollution?
New Delhi alone is cremating more than 600 Covid victims a day, with funeral pyres burning nonstop through the night. That has caused some to wonder whether the fumes are contributing to India's air pollution.
Fact check: Several areas in New Delhi have reported unhealthy levels of air pollution during the second wave, and it's plausible that the cremations are affecting air quality.
Previous studies have shown that open-air, wood-based cremations release small amounts of carbon monoxide and other pollutants.
The amounts being released by the cremations are "not significant enough to raise an alarm bell," said Vimlendu Jha, an environmental and social activist based in Delhi. He added that "we are used to high levels of (air pollution)," and though the current air quality is poor, it's not unusual by "Indian standards."
Some context: Air pollution has always been a big problem in India. Major factors include smog from burning crop fields, vehicular emissions, power plants, and pollution from construction sites.
But concerns about the health risks have risen during the pandemic, with experts warning that pollution could put people at higher risk of severe Covid infection and increase the strain on public health.
A study last year by Harvard University examined more than 3,000 counties across the United States, and found that higher levels of air pollution were linked to higher death rates from Covid-19.
"Many of the pre-existing conditions that increase the risk of death in those with Covid-19 are the same diseases that are affected by long-term exposure to air pollution," said the study.
CNN's Esha Mitra contributed reporting from New Delhi.