For months, critics of Brazilian President Jair Bolsonaro have been calling for an investigation into his handling of the country's devastating Covid-19 crisis. On Tuesday, it finally began.
The parliamentary inquiry into the Brazilian government's Covid-19 response kicked off with hours of testimony from former Health Minister Luiz Henrique Mandetta – one of several who have passed through the crucial role during the pandemic.
Mandetta was a proponent of social distancing, supporting state governors' decisions to shut down schools and businesses – an approach that put him at sharp odds with his then-boss. Bolsonaro has long downplayed the gravity of Covid-19 and prioritized the country's economic health over lockdowns and social distancing rules.
Before the hearing began, Bolsonaro tweeted a quote about the importance of reopening the Brazilian economy, which he attributed to former President Fernando Henrique Cardoso. "FHC recognizes that Jair Bolsonaro has always been right," the President wrote. He also cited Bible verse John 8:32 – which promises "the truth shall make you free."
On Monday, Mandetta did not directly accuse his former boss of mishandling the pandemic, but he described repeated disagreements over how to handle the contagion. In the early days of the pandemic, Bolsonaro's administration was reluctant to launch an official information campaign about Covid-19, which prompted Mandetta to begin daily press conferences, Mandetta told the parliamentary commission (CPI).
"There was no communication plan. There was none. The normal thing, when you have an infectious disease, is that you have an institutional campaign. … There was no way to do a campaign, they didn't want to do it," Mandetta said.
He also said he warned Bolsonaro that up to 180,000 people could be killed by the virus, if left uncontained, by December 2020. Brazil ultimately registered just under that number by the start of December and a total of 194,949 deaths last year.
As of Tuesday, more than 411,000 have died in the country since the beginning of the pandemic.
"I warned Bolsonaro systematically of the consequences of not adopting the recommendations of science," Mandetta said, presenting CPI with a letter from March 28, 2020 in which he warns Bolsonaro about the growing risks of the coronavirus and "expressly recommends" the president to follow health ministry recommendations. Mandetta would be fired on April 16.
Mandetta, who as Health Minister disputed Bolsonaro's endorsement of unproven drugs chloroquine and hydroxychloroquine as Covid-19 treatments, also said the government knew early on that those drugs had no scientific backing. "The government was aware that it was prescribing chloroquine without any scientific evidence," the CPI heard.
Bolsonaro has not publicly commented on Mandetta's testimony to the CPI.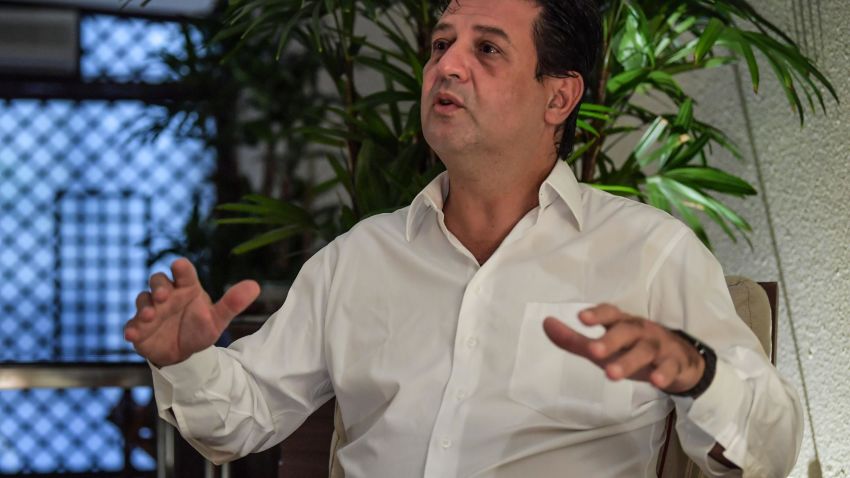 Brazil's fmr. health minister: Many difficult days ahead
The Covid-19 pandemic has left Brazil with the second-highest death toll in the world and a crisis that shows no signs of slowing – more than 77,000 new Covid-19 cases have been diagnosed in the past 24 hours alone, and one in three deaths nationwide this year have been due to Covid-19.
Throughout that time, Brazil has seen a parade of health ministers come and go, none staying more than a year. In March, as a lethal second wave of the virus brought daily death tolls to unprecedented highs, Bolsonaro also reshuffled his wider cabinet, replacing six ministers in an apparent bid to secure greater loyalty.
While disregard for social distancing precautions and the emergence of extra-contagious new variants have fueled a vicious resurgence of the virus this year, Brazil's rollout of Covid-19 vaccines has been slow, dogged by supply issues. So far, less than 10 percent of the population has been vaccinated.
Over the next 90 days, the CPI is expected to scrutinize delays in striking deals to purchase Covid-19 vaccines, government spending on unproven drugs, measures taken to stock up on supplies like syringes, and federal funds transfers to the state and municipal governments.
Also under senators' microscope will be the federal government's response to extreme oxygen shortages in the Amazonian city of Manaus at the beginning of the year.
Although the CPI is not a judging body, it has the power to gather evidence to make the case for impeachment. Bolsonaro's political fate could hang in the balance, with the Senate split in favor of ousting him to usher in former government ally and CPI head Omar Aziz as president.
"I am not worried because we owe nothing," Bolsonaro told reporters last week about the awaited commission results. He has also dismissed the inquiry as an "off-season carnival."
Former health minister Nelson Teich is scheduled to testify later in the week, as is current Health Minister Marcelo Queiroga. Antonio Barra Torres, head of Brazilian health agency Anvisa, which authorizes vaccines, will appear before the CPI on Thursday.
Another former Health Minister, Army General Eduardo Pazuello, may be one of the most-anticipated witnesses in the inquiry, having served longer than any other health minister during the Covid-19 crisis so far. His testimony however has been postponed to May 19, after he informed the CPI that he had been exposed to Covid-19 and was in quarantine.
"If the minister is in quarantine, there is no problem waiting 14 days," said Senator Aziz on Tuesday. "The Army commander has public faith; I don't need to ask for a (Covid-19) exam, no test. His word will be enough for me."