In the remote Indian village of Chogath, local pharmacist Jeetu has become the only source of medical help for people sick with Covid-19.
The country's second wave has devastated major cities and regional hubs, with hospitals running out of oxygen and medicine.
But in rural states and far-flung villages, doctors and clinics are in even shorter supply – leaving residents to fight for their lives without access to care.
Chogath is a farming community in the western state of Gujarat, and home to roughly 7,400 people, according to the last census in 2011. Earlier this week, Jeetu told CNN there were around 500 to 600 cases of Covid in the village, while other residents report a spike in fatalities.
However, there isn't a single doctor or medic in the village, and the closest city is more than an hour away. There are clinics in some neighboring towns, but these small facilities are also out of beds and critical supplies.
With cases and deaths piling up, Jeetu, who only goes by one name, took up the role as volunteer medic, using his experience as a pharmacist to source oxygen and prescribe medicine.
"There's no one here – no health center, no doctor, no nurse," he said. "There are no facilities in this village. So then I tackled it in the way I saw fit."
Traveling for help
India is dealing with a crisis that is being felt everywhere from the capital, New Delhi, to the smallest villages and towns.
The second wave has infected millions across the country in the past month, with thousands dying every day. With nearly 23 million confirmed cases since the pandemic began, India is the second-worst affected country after the United States, according to data by Johns Hopkins University.
In Chogath, the absence of medical help is forcing desperate villagers to travel to surrounding towns in the hopes they can secure a hospital bed.
Dinesh Makwana, a Chogath resident, said he tried to get his Covid-positive father into four different hospitals in neighboring Gujarat towns – but they were all full. He had no choice but to bring his father, diagnosed as a severe case, back home to the village.
"We were very shocked (by the second wave)," he said. "The whole village is very shocked, everyone has become fearful."
He said he knew many of the villagers who had died of Covid. "I became scared," he said. "I thought my father would die."
Jeetu – affectionately called "Jeetu Bhai," or "Brother Jeetu" in the village – was able to provide some medicine that helped stabilize his father's condition. But the family's troubles aren't over – Makwana's sister and mother are now infected as well.
As Makwana spoke to CNN, his mother struggled to breathe as she lay on the family's verandah, beneath images of Hindi deities hanging high above her on the wall.
"I am worried about my family," said Makwana's father, Jivraj. "If I die the family will shatter into pieces. I am worried about my wife, but I am not afraid of death."
"Nobody comes or goes here"
Girjashankar, a 70-year-old Chogath resident, has been helping with cremations. He fills tractors with wood cut from fields and brings it back to the village, in preparation for the deaths and cremations to come.
Typically, the village sees about 30 people die a year – but in the past month alone, they've cremated 90 bodies, according to Girjashankar, who only goes by one name.
Some families have lost multiple members to the virus, he said.
Some experts and government committee members have suggested the second wave could be approaching a peak, meaning a potential downturn in daily cases. But deaths usually lag after a rise in cases – meaning high mortality is projected to continue throughout the month.
Prime Minister Narendra Modi's government has scrambled to respond to the crisis, sending oxygen supplies to various states and distributing foreign aid that began arriving in late April.
But the scarcity of supplies means much of the aid is going to the most densely populated cities with the highest caseloads – leaving villages like Chogath to rely on themselves as the virus tears through households.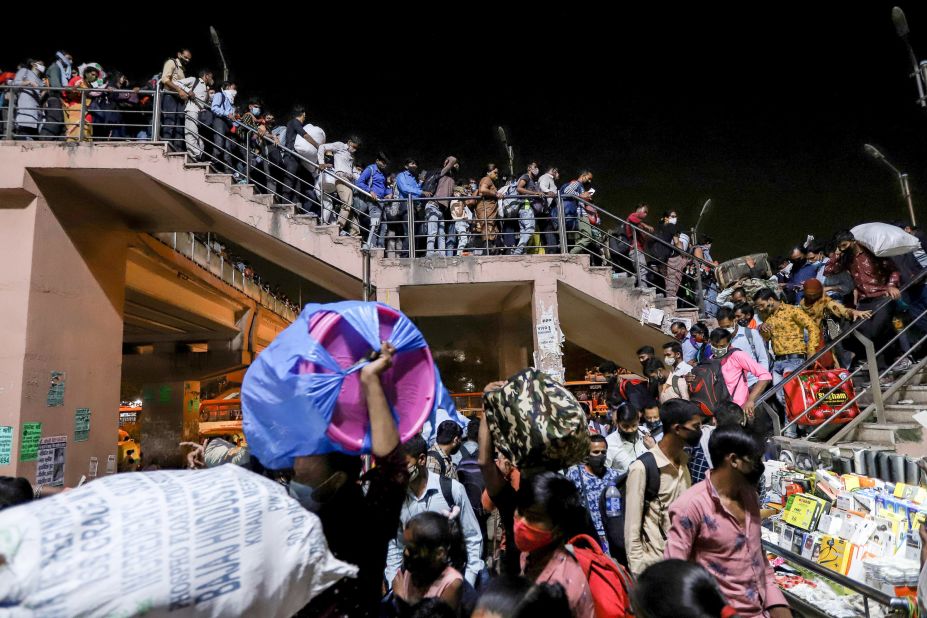 India's Covid-19 crisis, in pictures
"There is no government relief in the village, no doctor, no way to come and go (to bigger hospitals)," said Girjashankar. "Nobody comes or goes here, there are no government workers of any kind."
Jeetu, the pharmacist, said he was "very angry" at the lack of access to care and the shortage of help from authorities. "But what can one do?" he added. "We've got no solutions, the people here are poor."
In the meantime, villagers have no choice but to wait for help and pray for recovery.
"All the people in the village were fearful," said Makwana. "In the 15 or 20 days this has happened, no one has stepped out of their homes. People have gotten that scared."
CNN's Elizabeth Joseph contributed to this report.