The federal government said that it is now okay for those who are fully vaccinated to ditch their masks indoors. But Main Street business owners are likely to still request that everyone wear them.
Having had to pivot relentlessly to accommodate ever-changing pandemic restrictions, independent shop and restaurant owners now have to thread a very fine needle between the need for safety, the need for revenue and the need to accommodate a newfound sense among vaccinated customers that they can do what they want.
So the overnight 'masks-off' invitation from the Centers for Disease Control for the fully vaccinated leaves brick and mortar businesses in a quandary.
Asking customers if they're vaccinated
"Not everybody is comfortable with these new rules. … How do you just switch right away? The psychology of employees and customers can't change that quickly," said Mas Torito, who runs his family's casual Japanese restaurant, Kokoro, which has two locations – one in Denver and one in nearby Arvada, Colorado.
Torito said prior to the CDC's announcement, each table at his restaurant had a laminated sign that asked diners when not eating to wear a mask out of consideration for other guests and employees.
Now the restaurant simply asks customers when they come in if they're fully vaccinated, and takes their word for it. Those who are not vaccinated are still asked to wear a mask when not eating, and if they refuse, they're invited to order takeout but will not be seated indoors, Torito said. Meanwhile, all of his employees, most of whom are fully vaccinated, are still required to wear masks.
And while Denver now allows restaurants to operate at full capacity, he said, he is preserving the social distancing of his tables for now to bolster a feeling of safety both for new hires, whom he is trying to attract, and for customers who might otherwise not trust yet that other diners don't pose a risk.
No immediate plans to drop mask requirements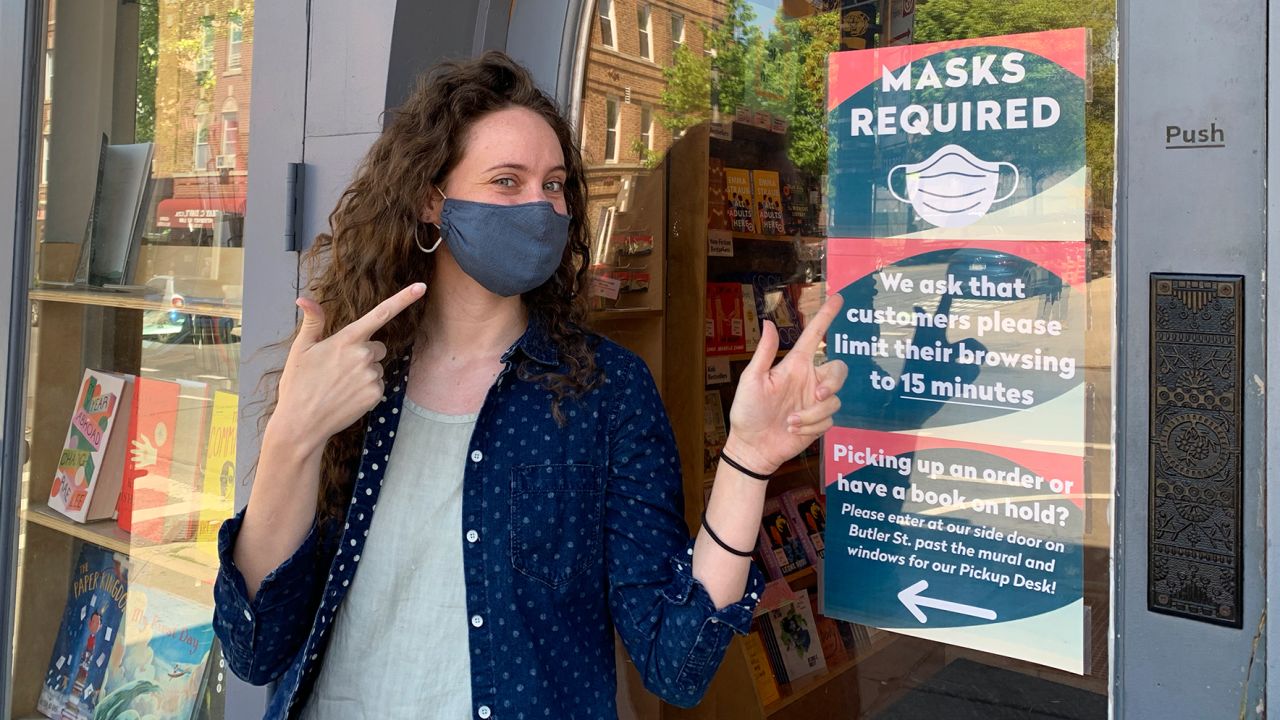 On Monday morning, New York State Governor Andrew Cuomo announced that New York would follow new CDC guidelines for the fully vaccinated starting on Wednesday.
But that isn't going to change the "masks required" policy at Books are Magic, an independent bookstore based in Brooklyn.
"We are not changing our policy – masks are required for the forseeable future. So many of our customers are families and children. And until all children are safe and allowed to be mask-free in their daily lives, I can't imagine changing the policy," said co-owner Emma Straub.
She noted the store's customers have been understanding. "I think it's going to take some time for everyone to feel comfortable and safe, and that is our number one priority," Straub said.
Playing it safe
In the wake of the CDC announcement, Mike Brey is making it clear to customers before they come into his store – Hobby Works, located both in Rockville, Maryland, and Laurel, Maryland – that the business intends to follow county and local laws, which still require masks indoors.
Brey feels the CDC announcement came too soon and doesn't coordinate well with what he sees as the reality on the ground.
"The reality of the situation is that people who don't want to be vaccinated are the first who will want to take their masks off," he said. "Even at the height of this thing, when people were dropping like flies, we had people coming in not wearing a mask."
Going forward, even after state, county and local laws allow for less restriction, he will make decisions based on three considerations: what is safe for his 28 employees; what is legal and what is likely to agitate his customer base the least.
His employees, almost all of whom are vaccinated, will continue masking at least through the summer. "No matter what the state says, there will be people not comfortable going out without masks and we want them to be comfortable in our stores," Brey said.
When the county and local governments lift their mask requirements indoors, he may wait four weeks before changing his stores' policies to make sure his employees stay protected until he sees how things play out, he said. "We have no way of knowing who's vaccinated. … It's a hobby shop. We have some older guys and we have some young guys [working here] who still live with their parents."
Not asking for proof of vaccination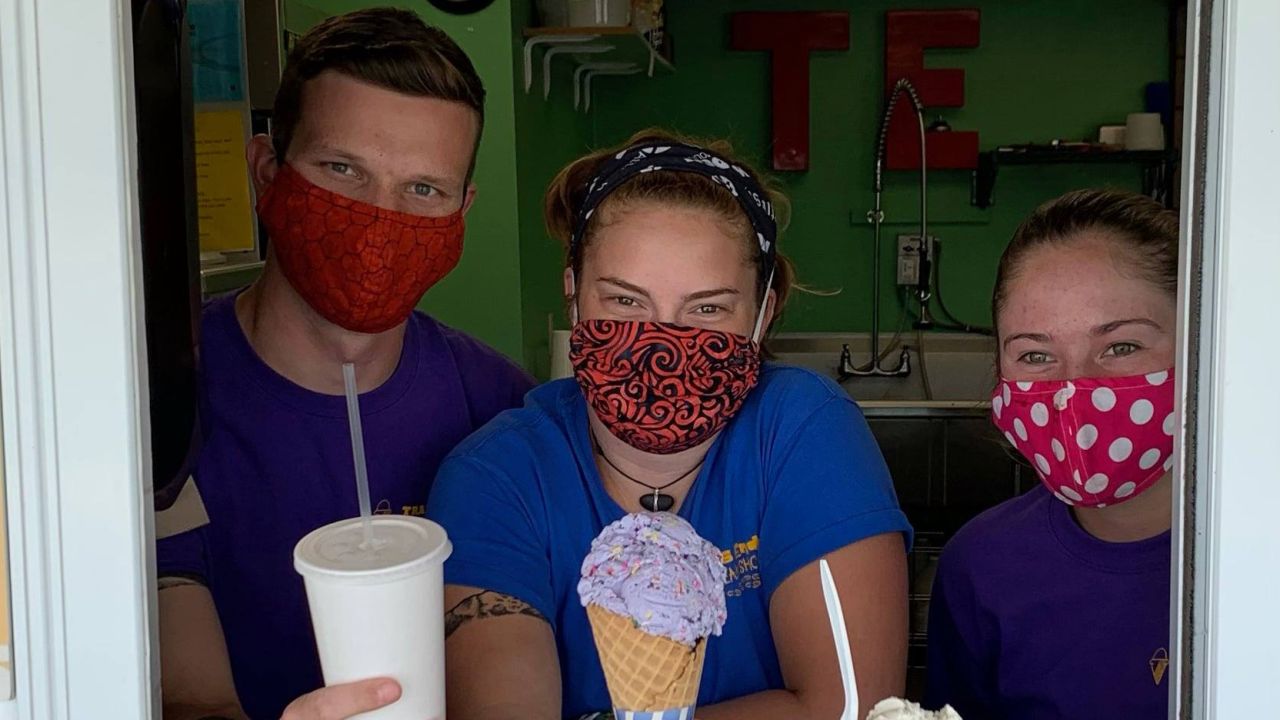 Nancy Clark, owner of Trails End Ice Cream in North Conway, New Hampshire and Intervale, New Hampshire, employs 34 people – who are teens and young adults. The family business consists of one walk-in shop, and two walk-up windows that only operate during the summer.
Even though the governor of New Hampshire lifted the state's mask ordinance in mid-April, Clark said, most people where her stores are located are still wearing masks.
And despite the CDC announcement last week, she said, her employees will continue to wear masks throughout the summer and the number of customers in the walk-in store will continue to be limited. "We're just erring on the side of the caution."
As for customers, if they say they are vaccinated and don't need to wear a mask, she said she will give them the benefit of the doubt because she feels her employees, who are in various stages of their own vaccinations, will be protected by their own masks.
Encourage but not insist on mask wearing
Julio Ortiz, owner of the Sacramento-based fruit and juice bar, Gaspachos, still plans to keep up signs letting customers know it would be appreciated if they would wear masks. And he'll keep taking customers' temperatures when they come in and limiting capacity in the indoor space of his business, but impose no restrictions on the tables he has outdoors.
"We will still encourage [mask-wearing]. But I won't kick people out. I recommended to my team to take it case-by-case. We need the business right now," Ortiz said.
Meanwhile, his seven employees, who are all vaccinated, will continue wearing masks for now, he said.