What do old televisions, street signs, motorbike helmets, windsurf boards, and Christmas trees have in common? They were all caught floating down Amsterdam's Westerdok canal – by a curtain of bubbles.
"The Bubble Barrier" was developed as a simple way to stop plastic pollution flowing from waterways into the ocean. An air compressor sends air through a perforated tube running diagonally across the bottom of the canal, creating a stream of bubbles that traps waste and guides it to a catchment system.
It traps 86% of the trash that would otherwise flow to the River IJ and further on to the North Sea, according to Philip Ehrhorn, co-founder and chief technology officer of The Great Bubble Barrier, the Dutch social enterprise behind the system.
Commissioned by the municipality of Amsterdam and the region's water authority, the Bubble Barrier was installed in October 2019 in under five hours.
Ehrhorn says the idea is to catch plastic without having a physical barrier like a net or boom blocking the river, which could disrupt aquatic life or interfere with shipping.
Trash is lifted to surface, and guided to a catchment system.
To minimize noise, the compressor is located 50 meters away from the barrier, in a repurposed shipping container, and is powered by Amsterdam's renewable energy.
Ehrhorn says that while the bubble curtain can trap plastics down to 1 millimeter in size, the catchment system only retains objects that are 10 millimeters and larger. Small drifting aquatic life can get caught in the bubble curtain's current, but with time is able to pass through the catchment system, according to Ehrhorn. He adds that an independent third party is currently assessing the movement of fish around the Bubble Barrier.
'Like a jacuzzi'
With a background in naval architecture and ocean engineering, Ehrhorn, who is from Germany, first conceived the Bubble Barrier when he spent a semester abroad in Australia, studying environmental engineering. At a wastewater treatment plant, he saw how oxygen bubbles were used to break down organic matter.
"It was like a jacuzzi," says Ehrhorn. "And what I noticed is that some of the plastic that people had flushed down the toilet was collecting in one corner." This observation sparked his thesis and later the technology behind the Bubble Barrier.
Unbeknownst to Ehrhorn, three Dutch women were working on the exact same idea in Amsterdam. Anne Marieke Eveleens, Saskia Studer and Francis Zoet were at a bar one evening discussing plastic pollution when they looked at the bubbles in their beer glasses and inspiration struck.
By chance, a friend of Ehrhorn's saw their pitch video for a competition inviting solutions for removing plastic from the environment.
"We connected and found that we have the same vision and mission," remembers Ehrhorn. "So I handed in my thesis and moved to the Netherlands the next day." Together, the four turned a simple idea into a fully fledged Bubble Barrier pilot in the River IJssel.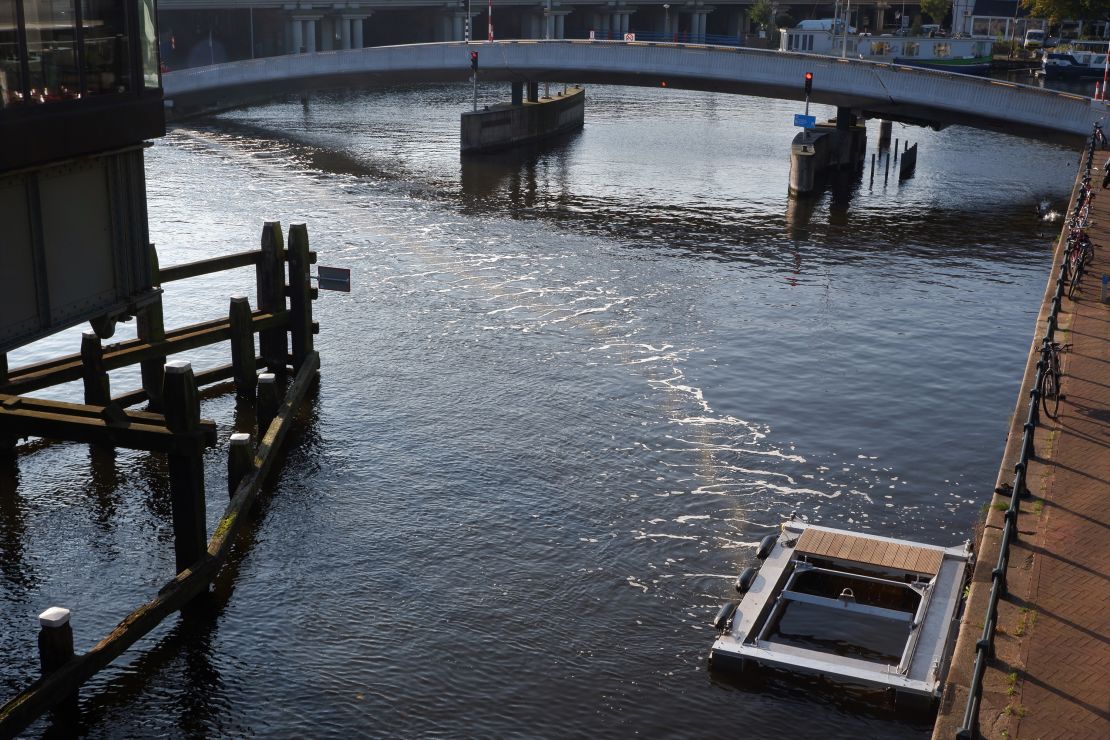 The plastic problem
Up to 80% of ocean plastic is thought to come from rivers and coastlines. Ehrhorn says much of the plastic in Amsterdam's Westerdok canal comes from trash bags that local residents leave outside their homes. If the bags tear, wind and rain can carry trash into the canal.
Read: Could mealworms help solve our plastic crisis?
Globally, 11 million metric tons of plastic waste flows into the oceans every year, where it can suffocate and entangle some aquatic species. Plastic debris less than five millimeters in length, known as microplastics, can also affect marine life. Often mistaken for food, microplastics are ingested and have been found in zooplankton, fish, invertebrates and mammalian digestive systems.