Ramstein Air Base, Germany
CNN
—
From his office window, Brig. Gen. Joshua Olson can see a daily football match organized by the Afghan children who are temporarily calling his air base home.
"This is now my family – at least until they get off our airpatch," Olson, the installation commander at Ramstein Air Base in Germany, told CNN as we drove past tent after tent. "It's my family and I got to figure out how to protect them."
Ramstein is one of the largest US air bases outside America and has become a crucial hub for the evacuation from Afghanistan following the Taliban take over. Since August 20, about 106 planes have landed there – mostly C-17s, their cargo bays crammed with hundreds of evacuees at a time. The airbase was ready with tents to house 10,000 people – but they quickly filled up.
"We were maxed out and the flow kept coming. I had to close part of the base for Afghan evacuees," explains Olson. "Because you can't put them in the elements. It's 50 degrees [Fahrenheit] outside and raining. I can't put people out in that. Especially kids. So, that was one of the things that inflow and outflow. We were bringing them in faster than we could get them out. And that's hard."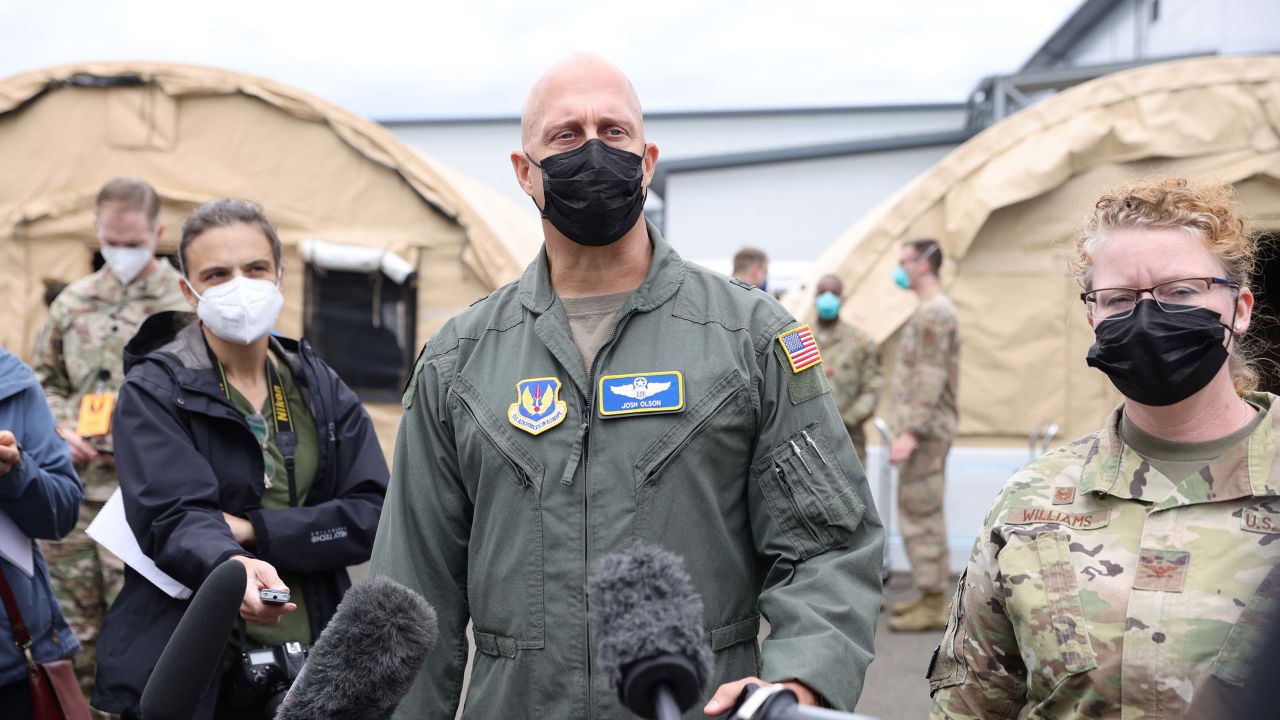 As of Wednesday morning, almost 12,000 evacuees had left the base, while another 14,900 remained. The number of evacuees to have arrived at Ramstein so far is nearly triple the population of the German municipality that hosts the base.
Ramstein is also where 20 wounded US servicemembers and 10 injured Afghans were flown after a deadly terrorist attack outside Kabul airport last week, before being taken to a medical center five minutes from the base.
Andrew Landers, commander of the Landstuhl Regional Medical Center (LRMC), told reporters Tuesday that they suffered a wide variety of injuries consistent with an explosion, including blast wounds, but also a number of gunshot wounds. Some of the injured required medical intervention onboard and mid-flight the C-17 flights which evacuated them from Kabul.
The 20 US servicemembers have now all been flown to the Walter Reed National Military Medical Center in the US. All were stable and conscious, most were speaking and in relatively good spirits, according to Landers.
Away from the servicemembers, a total of 12 babies have now been born to Afghan evacuee families at the LRMC.
The last evacuation plane may have flown out of Kabul, but Ramstein air base still has a sprawling tent city that stretches across its flight line. Women and children sleep in cots inside the cavernous hangars of the airbase while the men sleep 40 to a tent. Hot meals are distributed three times a day in insulated boxes. Portable toilets and washing stations provide only the most basic sanitation.
Beyond providing basic shelter, Olson is coming up against new problems all the time. What to do, for example, with all the children. With so many families, the base now has more than 6,000 children.
The US State Department has also identified dozens as unaccompanied minors – some separated from their parents and family in the chaos of evacuation. Olson took CNN to one of the few grassy patches on the base to see the "Kinder Pod," complete with footballs and a play area.