Russia's ruling party is on track to secure a majority in parliamentary elections amid allegations of voter fraud and interference.
Voting concluded late Sunday in Russia, after people across the country cast votes for members of the State Duma – the lower house of the Russian Parliament – and several regional and municipal heads.
An exit poll conducted by INSOMAR and cited by RIA Novosti predicted United Russia, which backs President Vladimir Putin, would win 45.2% of the overall vote. If that is reflected in the official results, United Russia could be facing a weaker result than at the previous parliamentary election in 2016, when the party won more than 54% of the vote.
With 95.06% of the ballots counted at the time of writing, Russia's Central Election Commission said United Russia had so far gained 49.63%, RIA Novosti reported. Early results also showed the Communist Party trailing in second with 19.2%, followed by the nationalist Liberal Democratic Party of Russia and A Just Russia, with just over 7% each (7.48% and 7.43% respectively). All three parties typically support the Kremlin on key issues.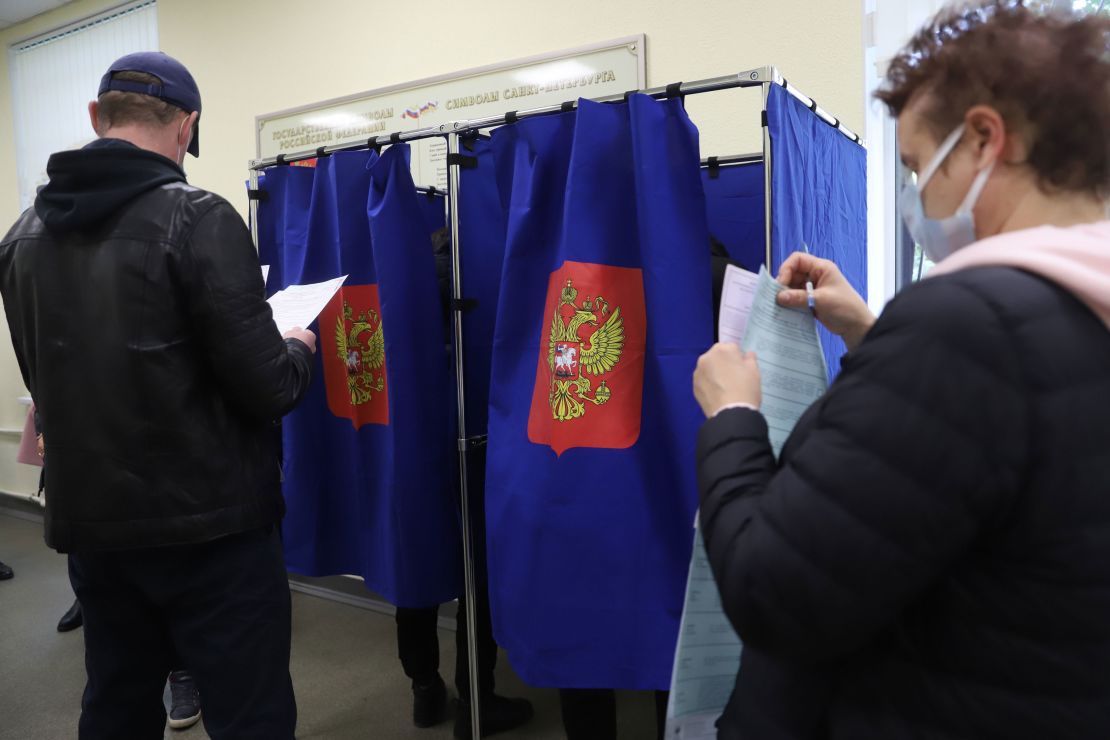 Opposition members and independent observers have raised concerns over instances of voter fraud in the three-day parliamentary elections. On Sunday, election officials said they had annulled some votes.
The head of Russia's Central Election Commission, Ella Pamfilova, pushed back on what she described as "hype," saying officials had counted a total of 12 cases of ballot stuffing in the whole country, across 8 districts.
But videos shared widely on social media indicate that the problem was more widespread. Some appeared to show people voting at multiple polling stations; others purported to show officials and voters shoving multiple ballots into boxes. One CCTV clip showed a woman awkwardly trying to shield a ballot box as a hand appeared from behind a Russian flag, repeatedly stuffing papers inside.
Meanwhile, Putin has assessed the electoral process as "very, very" positive, Kremlin spokesman Dmitry Peskov said Monday.
By Monday afternoon, a backlash against the results was beginning to build, with candidates across the political spectrum saying they would protest some of the results and with international bodies also weighing in with concerns about the integrity of the election.
'Dirty technology'
The election has also been criticized by members of the country's political opposition who allege Russian authorities interfered in their candidacy, claims Pamfilova has also dismissed, saying the elections represent the country's "entire political and social spectrum."
A once-significant presence in Russia's political landscape was missing this year, however. In April, Russian authorities outlawed the political movement of prominent Kremlin critic Alexey Navalny, labeling it "extremist," forcing it to shut down and rendering its members ineligible to run in the elections.
Navalny himself was imprisoned earlier this year after a Moscow court ruled he had violated parole conditions in a 2014 case.
On Saturday, Navalny's team said that YouTube had blocked a video in Russia containing the opposition leader's recommendations for a "smart voting" strategy, which urged Russians to vote tactically in support of a candidate most capable of unseating a United Russia lawmaker.
Russian users could not play the video, prompted with a message on screen that instead said: "This content is not available on this country domain due to a legal complaint from the government."
Navalny's chief of staff Leonid Volkov said on Twitter that the video "contained nothing but a list of endorsements" but has been blocked by Google for "extremism." He also called the move "a shame."
The news followed a removal of an app created by Navalny's allies from Google and Apple's Russian online stores, just as polls opened on Friday.
Earlier this month, Liberal Yabloko party candidate Boris Vishnevsky said two opponents running against him in St. Petersburg had adopted his name and mimicked his appearance in an effort to confuse voters.
In July, Kommersant newspaper found more than 20 pairs of nominees with similar or identical surnames among the candidates standing for election. Election Commission head Pamfilova said they did not have the legal means to dismiss the candidates, but called the nomination of doubles by some parties "a dirty technology aimed at deceiving and misleading voters," according to TASS.
'Unverifiable'
The European Union's High Representative said in a Monday statement that Russian voters had been limited in choice during the election due to "an increased crackdown on opposition politicians, civil society organizations and independent media outlets, as well as journalists" in the run-up to the vote.
The EU statement added that it "regrets that Russia's decision to severely restrict the size and format of an international OSCE/ODIHR Election Observation Mission prevented its deployment" and that it had taken "note of independent and reliable sources reporting serious violations."
Volkov, Navalny's chief of staff, said Monday that they "do not recognize" the legitimacy of the vote.
"The 'elected' State Duma, of course, is illegitimate, we do not recognize it. A special operation, during which a party with a 30% rating (and a much higher anti-rating) gets hold of 75% of the seats in parliament is an insult to the citizens of Russia," Volkov said.
He added that the "results of unverifiable fraudulent electronic voting" in Moscow and St. Petersburg should be canceled and recounted, respectively, and said he supported peaceful protests to help achieve those aims.
CNN's Olga Pavlova and Kara Fox contributed reporting.