By definition, there can only be one rock bottom – yet Barcelona seems to be discovering a new depth every few weeks.
Just over a fortnight on from the 3-0 dismantling at the hands of Bayern Munich, Benfica swatted aside Ronald Koeman's side by the same scoreline in Lisbon last night.
The five-time winners have now made their worst ever start to a Champions League campaign and – sat bottom of Group E – face the looming prospect of failing to reach the knockout stage for the first time since the 2003-04 season.
In the week that Lionel Messi roared into life at Paris Saint-Germain – scoring the type of breathtaking goal that he so often blessed the blaugrana with – it is another miserable footnote of this ongoing Barça tragedy that the Argentine remains the most recent Barcelona player to score in the competition.
Defeat only heaps further pressure onto the shoulders of Koeman. The Dutchman scored the winning goal to end Barcelona's long awaited search for the European Cup in 1992, but now presides over a team seemingly miles away from such glory.
"I'm not going to argue about the level of my team," Koeman told reporters after the game.
"There's no point in comparing this with Barcelona teams of years gone by. That's as clear as water.
"I can only give you my opinion of my work at the club – I feel backed by my players and their attitude. The rest, the club, I'm not sure … I can't say any more because I don't know what the club thinks in that sense. It's not in my hands," Koeman added.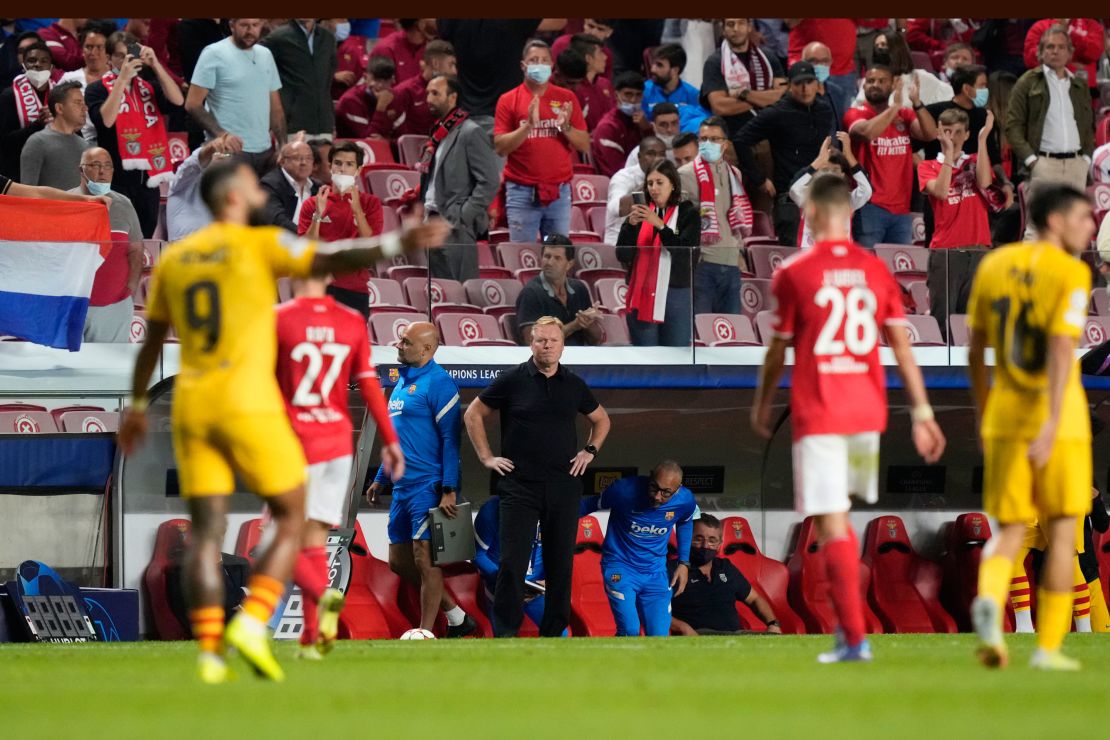 Midfielder Frenkie de Jong jumped to his compatriot's aid, but his efforts may well be futile, with Spanish press reports suggesting that Koeman's sacking could be imminent.
"I don't think changing the coach is the solution," De Jong said.
"I can't talk about Koeman, it's not my place. We have to keep fighting, stay together and overcome this situation. We can only escape this with hard work and being united as a team."
The writing was on the wall inside three minutes in Lisbon – Darwin Núñez scampering behind Barcelona's high-line far too easily before cutting in and sliding a low effort past Marc-Andre ter Stegen.
Luuk de Jong was gifted a golden chance to equalize later in the half when his namesake squared the ball for an open goal, but the Dutchman inexplicably fluffed his shot – the ball heading closer to the corner flag than it did to the net.
Rafa Silva added a second before Núñez converted a penalty for his brace, putting the result beyond doubt with just over ten minutes to play