It's been quite the few months for British tennis – you've met Emma Raducanu, now get ready for Cameron Norrie.
The 26-year-old became Britain's first ever Indian Wells champion with a 3-6, 6-4, 6-1 defeat of Georgia's Nikoloz Basilashvili in California, coming back from a set and a break down.
Victory marks the stunning high of an incredible season for Norrie – who was ranked 74th in the world at the beginning of the year. Today, he wakes up ranked 15th in the world and number one in Britain.
"It means so much to me, my biggest title. I'm so happy, I can't even describe it right now," Norrie said during his on-court interview after the match.
"It's absolutely massive for me and my team. I can't really believe it."
His sixth final this year – a record matched only by world number one Novak Djokovic – victory in Indian Wells marks a second career title in three months for Norrie, who won at Los Cabos in Mexico in July.
Victory in Mexico had come just weeks after an impressive Wimbledon appearance against Roger Federer – Norrie providing a stern test for the eight-time champion in a 4-6, 6-4, 5-7, 4-6 round of 32 defeat.
Norrie had already made history before a ball was struck in the Indian Wells final, having become the first British player to reach an elite Masters 1000 event since Andy Murray's victory in Paris in 2016.
"I've been really enjoying my tennis and really been enjoying being out on court and competing in the big moments," Norrie said.
"I'm just really pleased with how I handled the occasion, and I think I'm doing that a lot better this year. I know I lost in a lot of finals so it's nice to get the big one today."
Fightback
The Briton was forced to battle back from a set down following a strong start from Basilashvili, ranked 27th in the world.
Serving for a 3-1 lead in the second set, the 29-year-old Georgian looked set to take command, but Norrie broke his serve and never looked back to level the match and roar through the third set to take victory.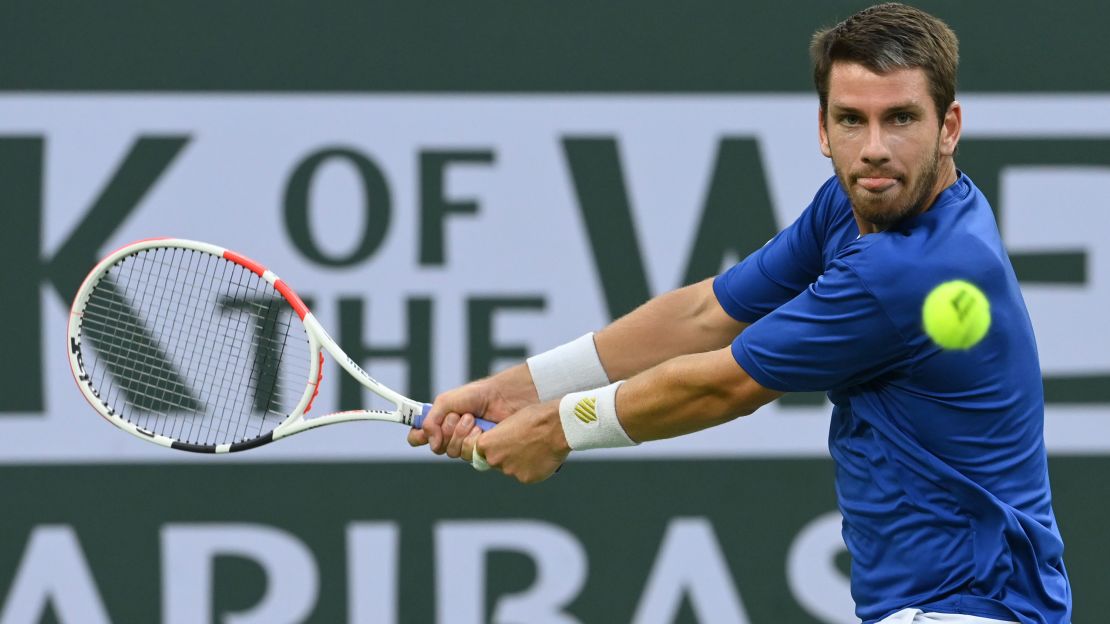 "I was a little bit uncomfortable [early on]," Norrie admitted.
"It was quite windy. For a stage, he went through and hit so many winners. It was tough for me to get some confidence. The rallies were really short and he was just blasting winners.
"But when I made a couple of big shots … in the second set, it gave me a lot of confidence, and I was able to find my feet again, start moving again and make the rallies physical like I've been doing all tournament and it worked in my favor."
Norrie's spectacular rise continues a fantastic few months for British tennis, following on from teenage sensation Raducanu's stunning US Open victory in September.
The 18-year-old became the first British woman to win a major since Virginia Wade in 1977 with her victory over Canada's Leylah Fernandez at Flushing Meadows, rocketing her status and sparking talk of the Brit becoming sports' first billion dollar woman.
She has since fallen a little closer to earth however, losing in her first outing since that US Open triumph in the second round of Indian Wells earlier this month.
"Going into the match, I didn't put any pressure on myself because in my mind I am so inexperienced," Raducanu told reporters after the match.
"I am 18 years old. I need to cut myself some slack."