Lagos and Abuja, Nigeria
CNN
—
Police in Lagos fired tear gas Wednesday as hundreds of demonstrators turned up at the Lekki toll gate in a memorial car procession to honor those who died during protests last year in Nigeria's economic hub.
It's one year to the day since security forces opened fire on unarmed protesters at the Lekki toll gate. The shooting quashed Nigeria's fledgling youth protest movement, known as #EndSARS, but despite scores of videos shot by protesters, which showed the shooting, as well as the dead and wounded, the Nigerian government continues to deny that a shooting even took place.
The organizers of Wednesday's protests called those who had died "fallen heroes" and said they had to come to the toll gate to remember them.
There was at times a tense stand-off between security forces and the protesters, who made a handful of arrests, including a man who was being interviewed by CNN.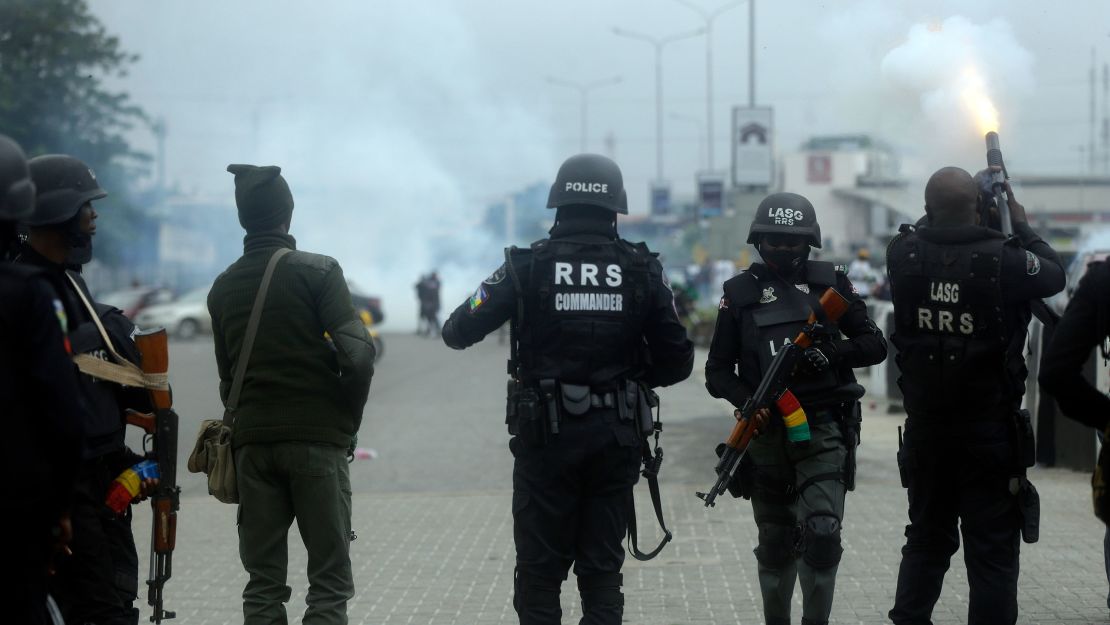 Ahead of the memorial event, the organizers and Lagos State commissioner of police agreed that the only way a protest could take place was in vehicles and not through marches on the street.
However, some of the protesters spilled on to the streets, chanting "solidarity forever," and "how many of us will you kill?"
Police soon released teargas to disperse those who were demonstrating on the streets, calling them "miscreants" in an interview with the media.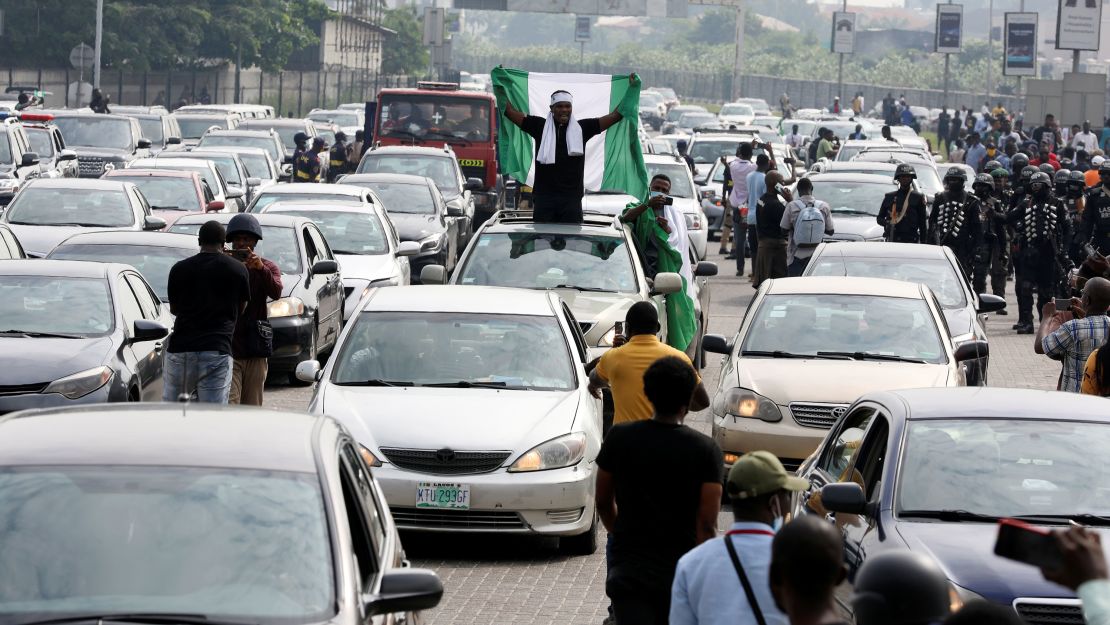 Meanwhile, at a press conference held Wednesday in Abuja, the Nigerian government once again denied that police had fired on protesters on October 20 last year – calling it a "phantom massacre" – and described CNN's reporting on the shooting as "baseless."
In a report published Tuesday, the mother of a 32 year-old-man who took part in last year's Lekki toll gate protest told CNN how she found him lying in a pool of blood on the ground after racing to the scene when she heard about the shooting.
"When I saw my son, I shouted and held him … The blood was too much, there was a bullet wound on his chest. His clothes were torn and the bullet had come out of his back," she said, weeping.
Her son died in her arms as she tried to get him to a hospital. A year later, she's still waiting for answers about what happened.
CNN also spoke to several families during an investigation last year who were yet to locate the bodies of their missing loved ones – protesters at the toll gate – who dozens of eyewitnesses say were shot at, first by members of the Nigerian army and then hours later by police.
There is no official death toll, but an Amnesty International investigation found that at least 12 people died at Lekki toll gate and another site on October 20 last year.
Eyewitnesses told CNN they saw the army remove a number of bodies from the scene. The CNN investigation pieced together what happened when the Nigerian army and later the police opened fire on civilians as they protested police brutality. The police have denied opening fire on the protesters. Video shot by an eyewitness appears to show the army shooting toward the crowd.
Last year, the army admitted that both live rounds and blanks were used by the army, but it says they only fired into the air. Bullet casings were retrieved at the toll gate by protesters. The Nigerian government threatened to sanction CNN for its report.
The #EndSARS protests lasted for nearly two weeks in October 2020 before they were silenced by the shooting at the Lekki toll gate. Their initial demands were for a notorious police unit known as the Special Anti-Robbery Squad, or SARS, to be shut down, but the marches morphed into protests campaigning for police reform and an end to bad governance in the oil-rich country.
Minister denies 'phantom massacre'
Speaking to the press Wednesday in Abuja, Nigeria's Information Minister Alhaji Lai Mohammed continued to deny that the Lekki toll gate shooting happened and criticized CNN and Amnesty International for their reporting.
"Today marks the first anniversary of the phantom massacre at Lekki Toll Gate in Lagos, which was the culmination of an otherwise peaceful protest that was later hijacked by hoodlum," Mohammed said.
"One year later, and despite ample opportunities for the families of those allegedly killed and those alleging a massacre to present evidence, there has been none: No bodies, no families, no convincing evidence, nothing."
The minister went on to criticize CNN and Amnesty International for maintaining what he called an "unproven stand." His statement specifically accused CNN of "brazenly and unashamedly" holding on to what it called a "flawed narrative" in its latest report, on the mother who found her son dying, saying it was "without convincing evidence."
CNN continues to stand by its reporting of the incident. "Our reporting was carefully and meticulously researched, and we stand by it," a CNN spokesperson said.
The CNN investigation published last year pieced together what happened when the Nigerian army and later the police opened fire on civilians as they protested police brutality. It used time stamps, video data, and geolocation to analyze hours of video shot by protesters – tracking the army's movements to the Lekki toll gate where protests had been taking place for almost two weeks.
When asked why his office continued to discredit Amnesty International's findings and CNN's reporting, Mohammed said: "CNN was invited to the panel of inquiry … to prove its story. We are saying that if anybody has lost a son or a daughter, and for more than 8, 9 months there is a panel of inquiry asking that person to come out and the person has not come out, why will I believe a cooked-up story of CNN?"
A lawyer attended the panel on behalf of CNN.
Rights group: Prospects for accountability 'bleak'
One year on from the Lekki toll gate shootings, no one has taken responsibility for what happened that night, nor has anyone been held to account.
In a short report released Tuesday, titled "Nigeria: A Year On, No Justice for #EndSARS Crackdown," Human Rights Watch said: "The prospects for accountability remain inconclusive and bleak. Nigerian authorities should take concrete and decisive steps to ensure that those implicated in abuses against protesters are held accountable."
The judicial hearing set up in October 2020 by the Lagos state government to look into cases of police brutality – and the now-disbanded Special Anti-Robbery Squad – and to investigate the toll gate incident has been beset with delays and other issues.
Last month, it abruptly suspended its sitting until further notice, saying it did not have enough time to complete its reports on the cases, including the Lekki shooting. It reopened briefly about a week later to hear additional testimonies and ended its sitting Monday. However, its report is still being prepared.
"Nigeria's authorities should take effective steps toward accountability to show victims that their loss, pain, and suffering is not in vain," said Anietie Ewang, Nigeria researcher at Human Rights Watch.
CNN's Stephanie Busari reported from Lagos and Nimi Princewill from Abuja.