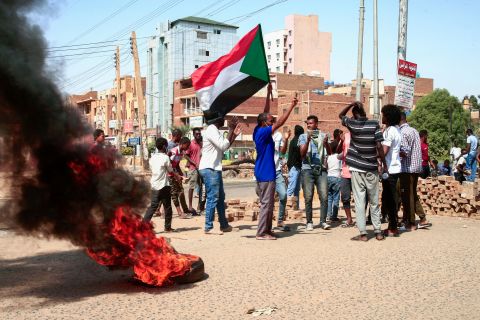 In pictures: Coup throws Sudan into chaos
Published 1914 GMT (0314 HKT) October 26, 2021
Sudan's military dissolved its power-sharing government and declared a state of emergency on Monday, October 25.
The coup comes after months of rising tensions in the country, where military and civilian groups have shared power since the ousting of former President Omar al-Bashir in 2019.
A week before the coup, Prime Minister Abdalla Hamdok said a full transition to civilian rule should be in place by November 17, echoing the voices of thousands of Sudanese protesters who took to the streets to demand that the promise of Sudan's pro-democracy movement be honored. But on October 25, Hamdok and multiple government officials were arrested.
Gen. Abdel Fattah al-Burhan, the head of Sudan's armed forces, said an "independent and fair representative government" would assume power until one is elected in 2023. Several articles of the constitution have been suspended, he said.
As reports of the coup began to spread across the country, protesters were seen gathering in the capital of Khartoum, lighting bonfires and setting up roadblocks.