Draped in an Ireland flag and dripping with champagne, Leona Maguire looks down at the Solheim Cup in sheer disbelief.
Before Friday's first tee shot, she was just a Solheim rookie hoping to make her mark on the tournament.
By Monday afternoon, she was being touted as the next big thing in golf.
Maguire had played a vital role in Europe's 15-13 win over the US at the Solheim Cup – golf's biennial tournament, which pits the best professional women's golfers from Europe and the US against each other.
On her debut appearance in what many see as the pinnacle of the sport, the first Irishwoman ever to play in the event was both undefeated and also Europe's top scorer with four-and-a-half points.
Such was Maguire's dominance on the course, US captain Pat Hurst could only concede to her greatness.
"She is the one we are going to have to fear for a long time," Hurst said.
Hearing something like that from a "legend" of the game in Hurst is a "humbling" experience for Maguire, and she admits she's already focused on qualifying for the 2023 edition of the tournament in Spain.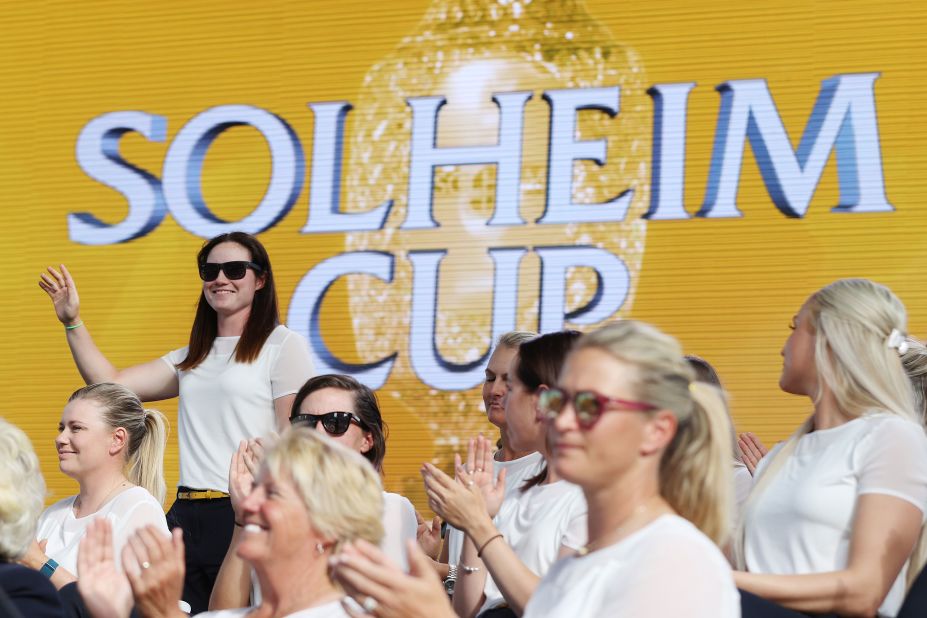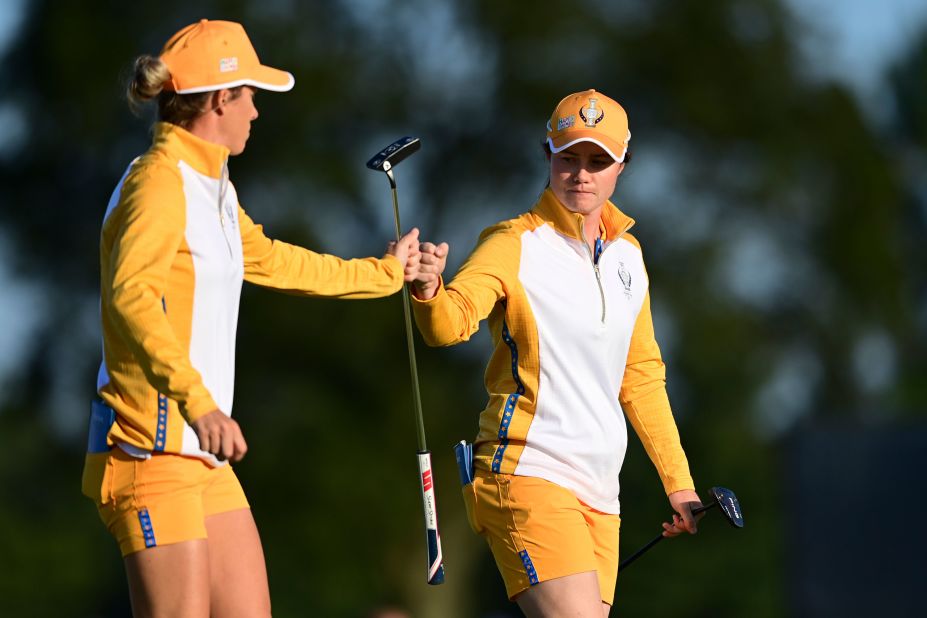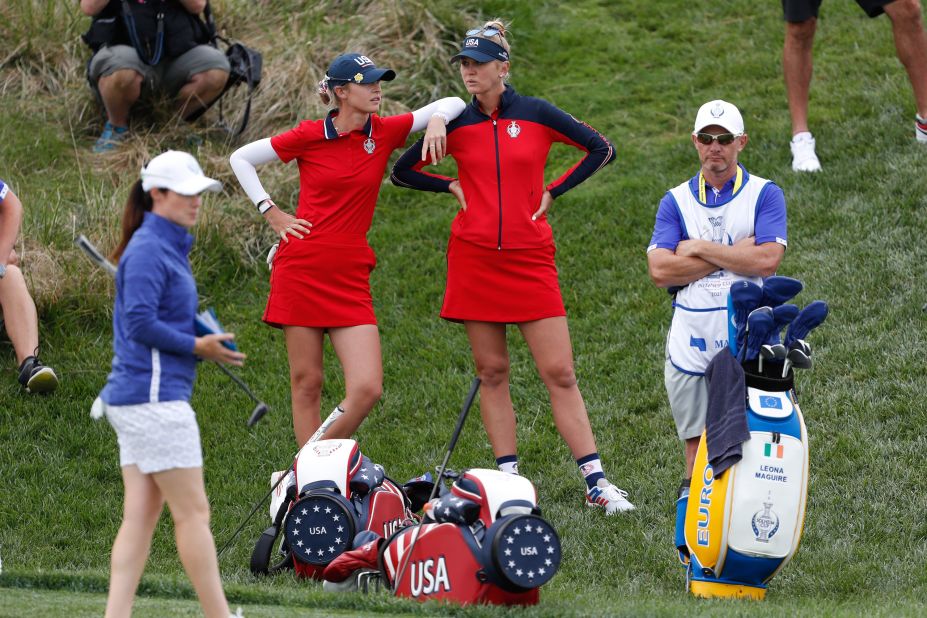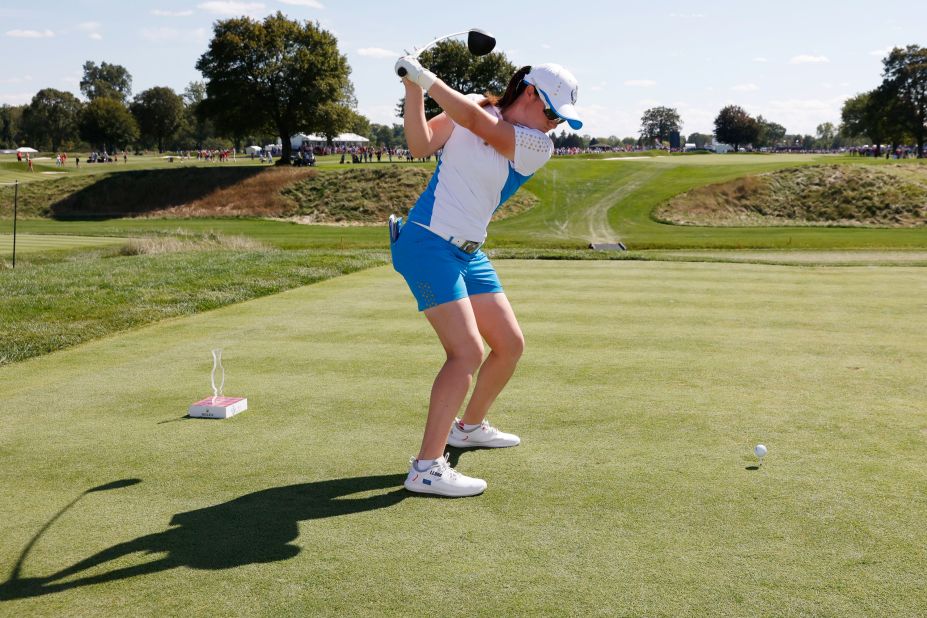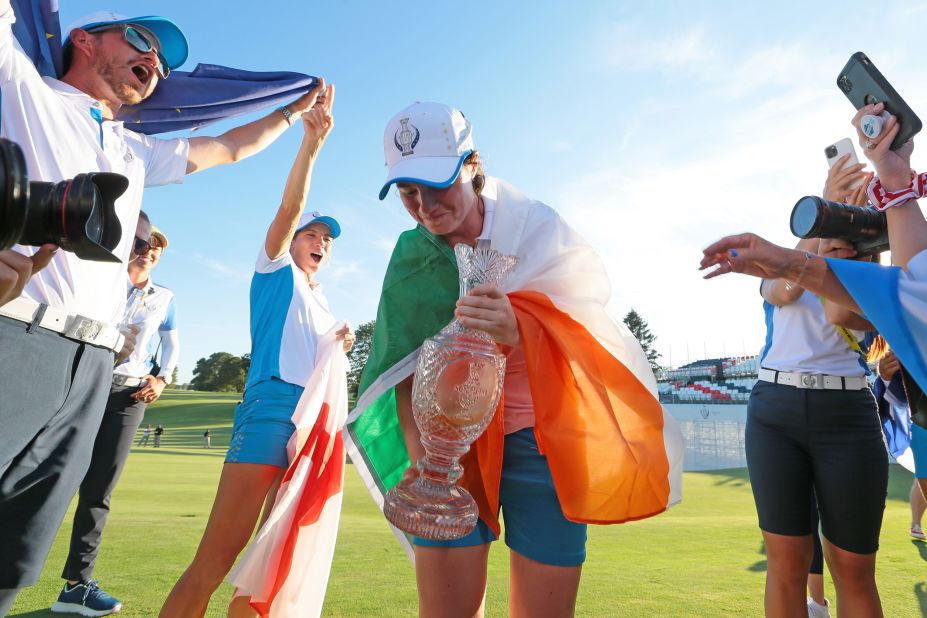 Leona Maquire's 2021 Solheim Cup run
Upon her arrival back in Ireland after the Solheim Cup in September, Maguire received a hero's welcome, in particular, in her hometown of Cavan.
Fans lined the streets waving Irish flags, and a fire engine with an Irish flag on the front led the convoy of cars while Maguire – from the back of a convertible BMW with the license plate "LEONA" – showed her appreciation to those who had come out to cheer and welcome her home.
"It's been a long journey and I couldn't have done it without the support of everyone here in the local community," said Maguire, after the exhilarating ride through her hometown had ended.
And after having some time to reflect on her achievements in Ohio and the reception she got upon her return, the 26-year-old described it all as "incredible."
"I wasn't expecting anything sort of close to that. We knew we had incredible support at home, cheering us on," Maguire told CNN Sport. "But to see that was really special; it was a special thing for me to be a part of.
"Irish fans are known for being some of the best in the world, and I really felt that support as soon as I got home. And so many people congratulated me, messaging me. A lot of people that never normally would watch golf seemed to tune in to the Solheim Cup and just to see the sort of excitement and the buzz around where I'm from and around the entire country about golf and women's sport, I think was really nice.
"And I suppose it's been a tough two years for a lot of people and to see people sort of smile again and looking forward to something and something to enjoy is really nice for them."
READ: 'Celebrity' golf coach Federico Alba reveals hidden life of Sicily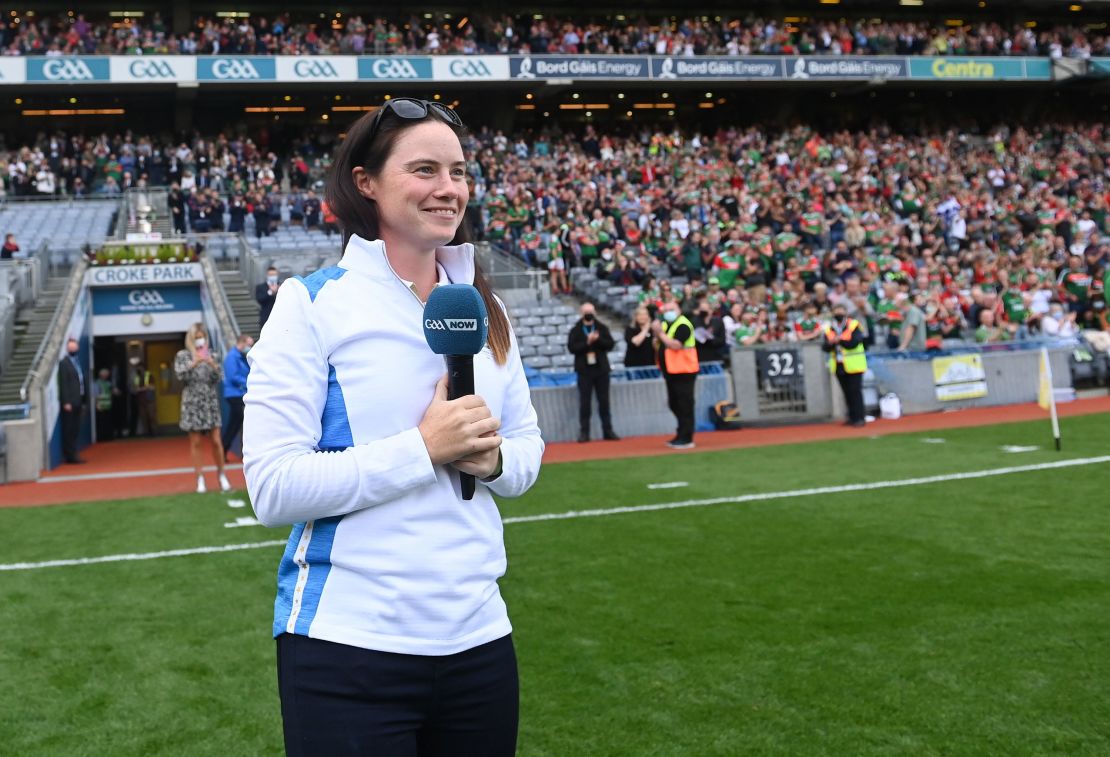 Representing
The green courses of Ireland are where Maguire found her love for the game, but if things had turned out differently, it could've been the blue pools where she would have made her name.
Aged approximately 10, Maguire was given the choice between focusing on golf or a promising swimming career. She decided against swimming because she knew she "was never going to be a six-foot swimmer" and she was also taking to golf quite quickly.
Between herself and her twin sister, Lisa – who is 15 minutes older – they both shot onto the golfing scene. In fact, as 10-year-olds, Leona finished runner-up behind Lisa at the Young Masters Golf Junior Series at La Manga in Spain in 2005.
Just a year later, the Maguire twins were chosen to bring the Ryder Cup on stage during the closing ceremony of the 2006 Ryder Cup at the K Club in Ireland as Europe celebrated a memorable victory.
As her golfing career blossomed, she rose through the women's amateur golf rankings, hitting the top spot for a total of 135 weeks, the longest stay at no. 1 in history.
She and her sister both represented Europe in two Junior Solheim Cups in 2009 and 2011, although the US won on both occasions.
However, while a number of male Irish players have represented Europe's Ryder Cup – such as Shane Lowry this year – Maguire was thrilled to become the first Irishwoman to appear in the Solheim Cup, something she says she has "dreamt about for a long time."
"Hopefully, it's inspired a younger generation of Irish golfers to aspire to one day be in the Solheim Cup or whatever sport there is," she said.
"I think anytime you're the first to do anything, break those glass ceilings is something special. It's not something I probably will dwell on too much right now. But when I look back in maybe 20, 30 years after my career is all over, it's definitely going to be a highlight.
"It was one of the best weeks of my life, for sure. And just the support from back home, I know there's a lot of people sort of talking about really wanting an Irish Open back and if what I did at the Solheim Cup encourages one more little girl to play golf, then that's fantastic."
Since turning professional in the summer of 2018, Maguire has gone from strength to strength, claiming her first two pro wins a year later on the Symetra Tour, the developmental tour of the Ladies Professional Golf Association (LPGA) Tour.
Her results at the majors also reached a career-best in 2021, finishing tied-sixth at the Evian Championship in July, while finishing in the top-20 at both the Women's British Open and the Women's PGA Championship.
READ: The 'greatest all-sport athlete' who helped revolutionize women's golf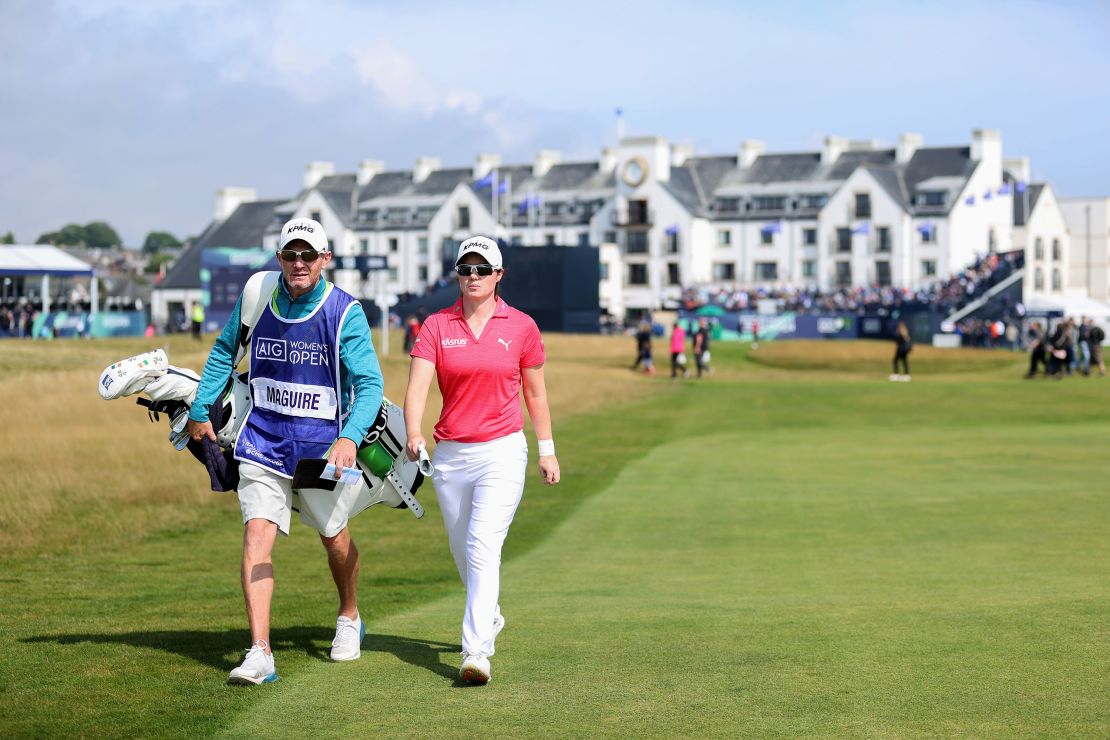 Days to remember
A Solheim rookie, her debut appearance couldn't have come in a more daunting environment.
Traveling to play in the US in front of that home crowd is always intimidating, but due to Covid-19 travel restrictions, even fewer European fans could make it to Ohio, meaning nearly 100% fans in attendance were from the US.
However, Maguire admits her greenness might've played into her favor in that instance. "I suppose it's like something I've never experienced before," she said.
"Maybe, it was a good thing that I had no idea what to expect, that I haven't sort of seen what it's like to play a Solheim Cup in Europe and have all the support. You're not used to people cheering when you miss a putt or miss fairways. But to be fair for the most part, the crowds are very respectable. You could tell they were real golf fans."
And she was thrown into the deep end right from the start, being paired with Mel Reid, a veteran of three previous Solheim Cups, against world No. 1 Nelly Korda and her sister Jessica in Saturday morning's foursomes.
The two showed no signs of nerves, beating the sisters to get Europe off to a perfect start and quiet the crowds.
For three of her matches on Saturday and Sunday, Maguire was paired with Reid. Although they "hadn't really spent any time together or played together before that," it worked a treat for Maguire and her European team as the pair won two-and-a-half points from a possible three together.
"It just, it felt right, pretty much straight away. We felt very comfortable with each other. I think our games really complement each other. Mel has a lot of experience under her belt, and she went out of her way to make sure that I was as comfortable as I could be on the golf course. And we just gelled really well together, and I really couldn't have asked for a better partner for my first Solheim Cup."
After beating the Kordas in her opening match, Maguire and Georgia Hall beat Yealimi Noh and Brittany Altomare in Saturday afternoon's fourballs.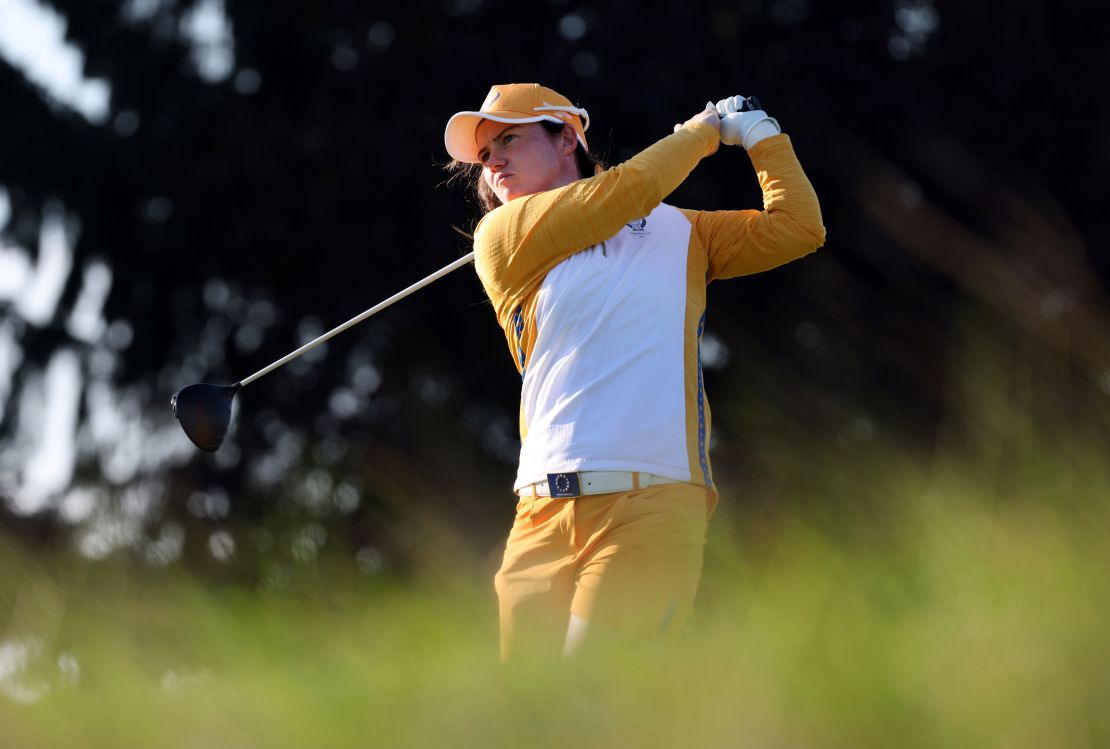 On Sunday, she claimed another one-and-a-half points over the two sessions. But even Maguire was surprised at how many times she was being selected to go out and play.
"There's so much going on, there's so many things going on that week. You're riding on adrenaline, you're just focused on getting that one point, whatever match you're in and you don't have time to really think about the match that's just gone or a potential match coming up.
Visit CNN.com/sport for more news, features, and videos
"I didn't expect to be playing that (Sunday) afternoon, that second fourball match and Suzanne (Pettersen) came up to me and Mel on I think it was on the 13th hole and said: 'You two are going again.' And so I kind of had to sort of finish that match off and mentally prepare to go again.
"So ultimately, as a rookie, I never expected to be playing five matches, not in a million years. And it was an honor that Beanie (Catriona Matthew) trusted me that much to put me out in five games, and I was taking it one match at a time knowing that potentially that could have been my last match."
She claimed a key point in her singles match to break the all-time rookie points record in either the Solheim Cup or the Ryder Cup and to ensure that she got the flight back to Ireland as a "Solheim Cup winner."
Not bad for a rookie.