On the border between Kansas and Missouri, on a flat expanse of the Great Plains about 90 miles south of Kansas City, is a dirt bike track so outlandish that it looks like an imaginary world in a PlayStation game.
The most vertiginous ramps give way to the sharpest of curves, a giant billboard looms over a huge berm, while a shipping container provides a take-off ramp for the most implausible of jumps.
If all of this sounds like a fantasy, it's because that's how this track started life: this is the Red Bull Imagination, an uncompromising flight of fancy straight from the mind of dirt bike star Tyler Bereman, designed to test the limits of the best riders in the world.
All in my head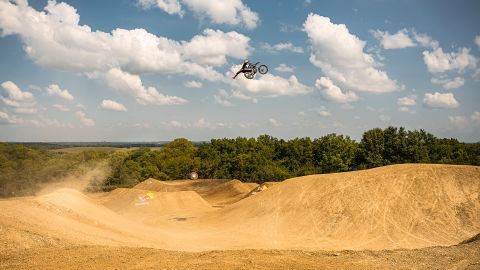 "I have it all in my head," the 30-year-old tells CNN Sport, grinning out from beneath a mop of blond hair and a baseball cap. "We started with nothing, just a rolling hill."
A seven-man crew worked for three weeks using tractors and earth-moving equipment to carve out the first Imagination course in 2020. At Bereman's direction, the builders had the freedom to build whatever they wanted to, "drawing out features from other action sports," he explains.
The Californian has been riding motorcycles since he was barely more than a toddler, and this variation of the sport is one that he has helped to define.
"I grew up racing motorcycles, and racing supercross and motocross inside stadiums, and then ultimately got hurt too much and had to take a back seat on that," he explains. "Obviously, in motocross, there's freestyle, where they're doing flips and tricks and all that stuff, and I kind of fell in between those two genres there. Ultimately, it's what I would call Freeriding."
Like back country snowboarding
There are parallels with both snowboarding and skating where Bereman has focused his career. "The biggest thing I can relate it to, to the outside public, would be that there's contest snowboarding and then, like, backcountry snowboarding, so riding the powder and the hills, and the same with street skating, there's contest skating and then there's street skating where people are just out on the streets and filming."
To Bereman, freeriding is all about the pure freedom of riding. "It's having our own form of expression through our dirt bikes and just being able to go out there and have fun and find jumps and, ultimately, just be free on your dirt bike."
The Red Bull Imagination events take this to the extreme. After the success of 2020's debut, nine riders were gathered back in Fort Scott, Kansas for its 2021 successor – where Bereman's mind took the track to even wilder frontiers.
"We kind of ran out of time building everything we wanted [in 2020], so after year one, the course sat there and didn't get touched for a year straight. The goal for year two was to come back in and just keep adding options and options and options to all the jumps, to more or less create a dirt skatepark."
'Way bigger than I thought'
One rider returning for more was Ryan Sipes, a flat track and supercross legend, and 2019's International Six Days Enduro world champion.
"I thought I knew what to expect, when we got there in 2020, it was like, 'Wow, this is so big, it's so much bigger than anything I've ever seen,'" the 37-year-old Sipes tells CNN Sport. "So coming to this year, it's kinda like, 'We already know how big it was, how much bigger can they go?' Well, they went way bigger than I thought we could go."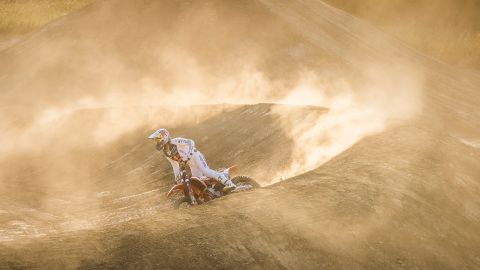 Sipes says he was attracted to the Imagination event by the prospect of trying something new. "I've been riding my whole life, since I was three years old, and to be able to learn something new and at the same time be able to compete with the best in the world, that's just a cool challenge for me to take on and go, 'Let me figure this out, let me go watch these guys, hang out with these guys.'"
But with his skills honed closer to the ground, he admits he worried about holding his own with riders used to outrageous tricks and jumps.
"I can't do the tricks that they can do, I can't backflip, I can't even throw the whips the way they can," the veteran smiles. "I just tried to make the coolest line that I could.
"Last year's track was a track, it was, 'Hey, you're kinda going in this direction,' and you could vary it a little bit, but it was kinda like, this is the way you're supposed to go," he continues. "This year there was none of that, it was kind of, 'There's a bunch of jumps, and a couple of turns, and just figure it out, and do your own thing.'"
Big jumps bring high stakes
As the ramps and features of the track grew higher, so too did the stakes for the riders, and Bereman admits that safety was near the front of his mind.
"The sky's the limit when it comes to creativity, but at the end of the day, with that creativity, safety is paramount," he says. "Ultimately, what we do is not safe by any means, so that was the biggest thing, trying to make it as safe as possible, but obviously, just create new features and things that you've never really seen before."
Sipes provided his fellow riders with the biggest heart-in-mouth moment when his bike mysteriously stalled in mid-air, forcing him to bail out mid-jump and hurtle to the ground, with his machine dangerously close behind him.
"It's kind of the nightmare scenario, the jumps are so big, and it's not just the distance, the height that you get off these jumps," Sipes explains. "I think I'd be guessing on the low side when I say I was probably 35 feet off the ground on that jump, so that's a long way to fall… it's really far up, even to jump into water from that height is kind of scary.
"In that moment you have half a second probably to figure out whether you're going to ride it out or jump – and it's not always best to jump, a lot of times it's best to hang on – but in that instance, I was like, 'This bike's going to just body slam me if I don't get away from it.'"
Miraculously, he walked away largely unscathed. "I was very sore and honestly pretty spooked by it, but we still had competition day, so I had to get back on it and go."
'It's a billboard, it's 15 feet off the ground'
Among the wilder parts of the track was a billboard that riders were using as a vertical touchpoint in mid-air. "The wall ride was one of the crazy things. It's a billboard, it's 15 feet off the ground, it's 15 feet tall, and then 25 feet long," Bereman recalls. "That was pretty scary because that's not something that we do every day."
Sipes was full of admiration for Bereman's skill. "He's one of the most talented guys I've ever seen on a motorcycle, and part of that is his ability to judge how fast to hit something when he's never hit it before," he smiles, wide eyed.
"A lot these jumps there's no halfway, it's either go all the way or don't even roll over it, and his ability to go, 'I think I'll hit it second gear and three-quarter throttle,' and he makes it, and it's amazing to watch that."
The Red Bull Imagination event was a competition, with riders judged for style by a watching jury. Axell Hodges was crowned the winner in the end, followed by fellow X-Games star Colby Raha and Bereman himself in third. But while competing was important, the consensus seemed to indicate a different kind of atmosphere.
"The vibe was amazing," Bereman grins. "When it comes to racing or freestyle, you're almost bred to beat your competitor; with freeriding, we're kind of all in this together and we're feeding off each other."
"It was the most fun week I've had on a dirt bike," Sipes concurs. "I've been riding my whole life and I've done some really cool stuff, but fun factor-wise this takes the cake."
For his part, Bereman is already thinking about next year's event. "This is a new lane in our sport," he says. "It's a work in progress, we're learning as we go, and each year that we do it, we take things back that we learned that we could do better, then try to implement them the following year.
"Hopefully, if all goes well, we can come back with 3.0 and keep building."