It was Premier League club Newcastle United's first match of a new era. St. James' Park was packed to capacity with expectant fans and the sound of jubilant chants filled the air on the Tyneside on Sunday, October 17th.
Following the club's controversial takeover by the Saudi Arabian Public Investment Fund [PIF], the mood of the Northern English city has been nothing but celebratory and the atmosphere at that particular match was close to delirious.
The black-and-white colors of the club could be seen in every stand, on shirts and adorning flags, while a giant banner was held up to spell out some of the words from a famous song about the River Tyne that Newcastle proudly sits upon:
"This is a mighty town built upon a solid ground and everything they've tried so hard to kill – we will rebuild," the flag read.
The banner alludes to the supposed 'killing' of Newcastle United, a perceived death many fans of the club have spent the past 14 years grieving over following the acquisition of the club by UK retail boss Mike Ashley – who has long been accused of disinterest in Newcastle, of not bothering to invest in the club and of draining the soul out of the Magpies. Ashley's counterpoint would be he wanted Newcastle to live within its means.
Yet amidst the feverish celebrations that took place at St. James' Park that day, there was one discordant note: a van drove a "Justice for Jamal Khashoggi" poster around the stadium, a reference to the actual killing of a Saudi journalist and dissident that took place in 2018.
The PIF – which has an 80% stake in the club, as part of a three-party consortium – is a sovereign wealth fund chaired by Mohammed bin Salman, the Crown Prince of Saudi Arabia, the man who a US intelligence report named responsible for approving the operation that led to the murder of Khashoggi.
Khashoggi entered the Saudi Arabian consulate in Istanbul on October 2nd, 2018, to pick up a document required in order to marry his fiancée – but once he entered the building, he never left.
US intelligence has since concluded that the Crown Prince himself approved the operation that ended in the killing of the journalist.
In response to the conclusion drawn by US intelligence, the Saudi Foreign Ministry released a statement saying the country "completely rejects the negative, false and unacceptable assessment in the report pertaining to the Kingdom's leadership, and notes that the report contained inaccurate information and conclusions."
It also added that Khashoggi's killing was an "abhorrent crime and a flagrant violation of the kingdom's laws and values."
Before the takeover, Amnesty International UK urged the Premier League to reconsider the decision and, since then, it has demanded that the League changes its owners' and directors' test to "address human rights issues."
Amnesty International chief executive Sacha Deshmukh said: "Instead of allowing those implicated in serious human rights violations to walk into English football simply because they have deep pockets, we've urged the Premier League to change their owners' and directors' test to address human rights issues."
And while the Premier League has said it has received "legally binding assurances that the Kingdom of Saudi Arabia will not control Newcastle United," there is no denying that the nation's Crown Prince oversees the PIF.
CNN reached out to the PIF for a statement for this story but its representatives declined to comment.
In a press release issued when the takeover was first announced, Yasir Al-Rumayyan, governor of the PIF, said: "We are extremely proud to become the new owners of Newcastle United, one of the most famous clubs in English football. We thank the Newcastle fans for their tremendously loyal support over the years and we are excited to work together with them."
When the news was officially announced, Hatice Cengiz, the fiancée of the late Khashoggi, took to Twitter to call the takeover a "shame and embarrassment" for Newcastle United and said that she hoped the fans and players would "hold their owners to account."
CNN has reached out to the Premier League and PCP Capital Partners – who make up part of the consortium that have taken over the club – for comment but did not receive a response.
In the press release issued with the announcement of the deal, Amanda Staveley, CEO of PCP Capital Partners, said: "This is a long-term investment. We are excited about the future prospects for Newcastle United.
"We intend to instill a united philosophy across the club, establish a clear purpose, and help provide leadership that will allow Newcastle United to go on to big achievements over the long term."
Since the announcement of the takeover, the Premier League has agreed to meet with Amnesty for talks on revising the owners' and directors' test currently applied to any individual named as having a key role in controlling a club in the league.
Short-lived joy
While jubilation is still sweeping through most of the Newcastle fanbase right now, there are some supporters who intend to do exactly what Cengiz has called for – holding their new owners accountable, as they struggle to come to terms with the fact that the future of their club is now partly in the hands of a regime which has been accused of serious human rights abuses.
Emma Holbrook has followed the club since she was a child and has been witness to many of Newcastle's lowest moments – including Ashley's trophyless tenure.
She says that while she first felt excited at the prospect of a new direction for the club, that delight soon dissipated when she considered the fact Newcastle would now be tied with the Saudi regime.
"My initial response to the takeover was joy," she told CNN Sport. "And then that quickly gave way to unease as I realized that we were now essentially owned by a powerful nation state – one accused of sanctioning the murder of a journalist, as well as holding an appalling record on LGBTQ+ and women's rights."
READ: Newcastle United urges fans to not wear mock Arab head coverings
"And that also made me think about what a dire situation modern football – not just Newcastle itself – is in," she said.
"How have we reached the point where our only choice for owners lies between Mike Ashley, whose company Sports Direct has been accused of abusing workers' rights, and an all-powerful entity who are facing numerous allegations of sanctioning human rights abuses?"
When those accusations of abuses of workers' rights were made in 2016, Ashley told British lawmakers he was unaware of such practices but admitted his company had broken the law by failing to pay the national minimum wage to his employees.
"Everyone wants their club to succeed," added Holbrook. "Everyone wants their club to win the biggest prizes in football. But no one wants to question the morality of how they got there."
With the PIF acquisition and an injection of wealth into the club, Newcastle appears to be on the cusp of a golden age, but Holbrook wants fellow fans to be aware of the potential cost any future success could come with.
"It feels clear to me that Saudi Arabia has seen what Qatar – another nation accused of committing human rights abuses – has done with regards to buying PSG [Paris Saint-Germain], which has allowed that state to repackage its global image and to present a new version of itself to the rest of the world," said Holbrook, reflecting on the idea of sportswashing.
Sportswashing: What is it and who practice it?
"And I don't want Newcastle to become just a tool for a regime in need of a PR refresh."
In response to accusations of workers' rights abuses in Qatar, the CEO of Qatar's World Cup, Nasser Al Khater, told CNN that migrant worker reforms take time and can't happen all at once.
"It's a change of culture, it's a change of behavior," he said. "We'd be lying to ourselves, and fooling ourselves, if from one year to the next you can make those changes and think that everything's going to be solved."
On a personal level, Holbrook feels particular discomfort at the thought of her beloved club now being so closely involved with a homophobic regime.
In Saudi Arabia, homosexuality is illegal under the applied Sharia law, and punishments handed out for same-sex acts and intimacy include whippings, imprisonment and, in some cases, the death penalty.
The nation is widely regarded as one of the world's most unsafe places for LGBTQ+ people – something which Holbrook finds impossible to ignore, given that there is now a direct link between Newcastle United and the Kingdom of Saudi Arabia in the form of Mohammed bin Salman's role in the PIF.
"It's illegal for people like me to be themselves in Saudi Arabia," Holbrook told CNN. "And the Crown Prince of that nation now essentially oversees the new owners of my club."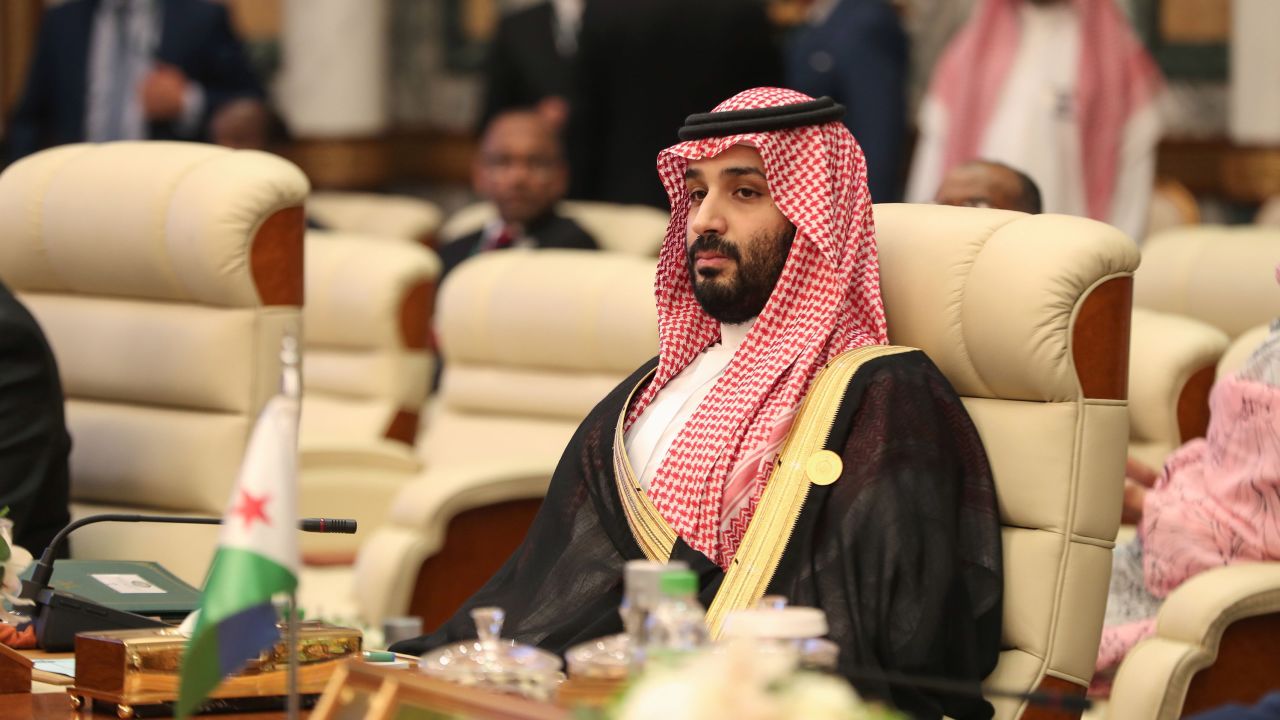 To Holbrook, Newcastle's support of its LGBTQ+ fans and of the Rainbow Laces campaign could start to ring hollow under its new ownership – given the ongoing plight and persecution of LGBTQ+ people in Saudi Arabia and the proximity of the club to the Crown.
"The club may be committed to making LGBTQ+ fans welcome in Newcastle – but what about solidarity with LGBTQ+ Saudis? What will the club do to support them now that they have such close ties with the Crown that oppresses them?"
While Holbrook said she appreciates the fact that Newcastle fans themselves aren't responsible for making such close connections with the Saudi regime, she believes that supporters still have a duty to hold their new owners accountable for human rights abuses.
"If we're going to be so dedicated to the club on the pitch, then we need to use that same communal energy when it comes to off-pitch concerns too."
Turning to grassroots football
Although the takeover of Newcastle by an ultra-wealthy consortium may feel like just another step towards a mini-Super League within the Premier League itself – in which only the wealthiest clubs, including Manchester City, Chelsea and others are able to achieve success – the continuing increase in riches in modern football is actually leading some fans to respond by pouring their time, money and energy into supporting local grassroots-level clubs.
Gateshead FC is a club based in the Northern English town of Gateshead, which is joined to Newcastle by one of the bridges that runs over the Tyne.
The club plays in the sixth tier of English football – the National League North – and it usually costs around £15 [$20] for a ticket to see them play.
In contrast, a ticket to watch Newcastle often costs about £40 [$55] and the price of those tickets is expected to skyrocket should the club reach dizzying heights of success in the coming years thanks to its lucrative takeover.
Rowan Lees is a Newcastle fan who's found himself attending more Gateshead matches than those of his own club's in recent times.
As more and more money pours into the Premier League, Lees has decided he'd rather buy tickets to support a local club – who've previously faced the threat of folding – which provides weekly joy and escape for Gateshead residents and plays an essential role in the town's community spirit.
"I love Newcastle, I love going to Newcastle matches – but I feel like I'm supporting a local town and its people more whenever I go to see Gateshead play, especially now," Lees told CNN Sport.
"When I heard about the takeover, one of the first things I thought was about just how much it would affect ticket prices. I asked myself: 'Could I be locked out of the club I support because I won't be able to afford to go and see them play?'
"I wondered if I might find myself only able to attend Carabao Cup (English League Cup) matches in the future – because everything else will be out of my price range."
Lees questions what it might mean for the city he lives in if fans end up priced out of attending their club's matches every weekend.
"What happens when an institution of the city no longer serves the people of the city itself? When fans of the city's historic club can't afford to support the team in person?
"In an ironic way, I actually think that the takeover of Newcastle by extraordinarily wealthy backers will turn some fans towards grassroots football.
"There are many fans who would rather support a club that they know cares about them, too, than feel little affinity with just another eye-wateringly rich owner looking to use sportswashing to their advantage."
Apart from feeling concerned over the threat of a disconnect between the club and the fans as a result of its newfound wealth, Lees – like Holbrook – is also worried about the ethics of Newcastle now being tethered to a state accused of restricting civil liberties.
"At first, of course, I was excited about the prospect of Newcastle becoming a major player in global football and a major player in the Premier League again," Lees said.
"Then came the questions over the ownership. It feels like we could become a plaything of the Saudi state – and I don't want that to happen."
But, as modern football is now so often controlled and overseen by powerful owners, boards and other entities, Lees feels "powerless as a fan."
He said he hoped that fans could use the "enormity of the club" – particularly as Newcastle is historically considered one of English football's giants – and its huge fanbase as "some kind of leverage to hold Saudi Arabia to account."
As was seen with the capitulation of the proposed European Super League in the spring, fans are still capable of harnessing their collective power to make a stand against even football's biggest power brokers.
Where did it all go wrong for the European Super League?
Lees thinks, if Newcastle fans could organize together to make it clear they do not condone Saudi Arabia's concerning record of human rights abuses, then perhaps wider attention will be placed on the accusations and international pressure for the nation to face repercussions will intensify.
But, of course, it may prove difficult to unite Newcastle's fanbase in protest against their new owners and their association with the oppression of the Saudi people.
While Lees, Holbrook and others may feel disillusioned with the takeover, there are many fans who are reluctant to criticize the new owners. At Newcastle's match against Tottenham, the first of the club's new era, some fans even waved Saudi flags and dressed in traditional Saudi garb.
"As fans, there's not a lot we can do about the human rights stuff," Paul Loraine, a supporter of the club, told the Guardian after the Saudi-led buyout of Newcastle was confirmed. "We're all wearing clothes borne out of sweatshops in countries with human rights issues. The moral compass is always a strange one in times like this."
Will disillusionment with the Newcastle takeover inspire fan-owned club models?
The acquisition of Newcastle by exceedingly wealthy owners is just the latest in a string of similar takeovers over the past 20 years. In 2003, Russian oligarch Roman Abramovich bought Chelsea in what was then the biggest takeover in English football.
In 2008, Manchester City was purchased by the Abu Dhabi United Group, owned by Sheikh Mansour of the United Arab Emirates. PSG were bought by Qatar Sports Investments, which subsequently made it one of the world's wealthiest clubs.
Ryan Monty is a Newcastle fan who thinks that the PIF takeover is just another indication of just how much modern football has become warped by extreme wealth.
He has witnessed Newcastle's decline in recent times as the club has suffered relegation and has languished near the bottom of the Premier League table whenever it has returned – yet he is so disillusioned by what the takeover means for football as a whole that he says he would rather be stuck with the club's current team and misfortunes, if it meant the Magpies weren't owned by such a staggeringly rich investment group and the baggage it comes with.
"I'm worried that the purchase of Newcastle by Saudi Arabi's PIF, the purchase of Man City by the UAE, and the fact that PSG are also essentially owned by a nation state are all part of the opening of Pandora's box," Monty told CNN Sport.
"Now, where does it stop? It just feels like any teams that aren't supported by these all-powerful countries will fail to achieve any success."
Monty is worried about the increasingly uneven playing field of the Premier League, and while he wants to see Newcastle reach prestigious competitions like the Champions League again, he says he'd much rather see the club owned by fans than to see it sign the best players in the world.
"I'd like to see the Premier League introduce a similar model for club ownership to the one that exists in the German Bundesliga," Monty said. "I would rather see Newcastle owned by the fans than see Messi, Neymar and Mbappé as our front three. I mean that."
Monty is referring to the system in the Bundesliga in which the famous '50+1' rule means that clubs must be majority-owned by their fans.
By contrast, there is no such model in the Premier League – Newcastle itself is now owned by the PIF, PCP Capital Partners and RB Sports and Media.
No fans are involved in the ownership of the club and there is no mandate within the top level of English football to ensure that fans have some say in who runs their club.
And much like Lees and Holbrook, Monty isn't just frustrated with the game of extreme wealth that top-tier English football has become – he's also finding it impossible to ignore the way the club is now tethered to the kingdom of Saudi Arabia and its Crown Prince.
"I want Newcastle United to be something to be proud of again," he said. "But not at the cost of sportswashing.
"The adoration pouring out for the takeover right now could so quickly turn to worship for Mohammed bin Salman himself – and we all know what he stands accused of and what sort of oppression the Saudi Arabian people are facing."
While Monty – like many other Magpies – was critical of Ashley and his time as Newcastle owner, he is fearful of the "moral vacuum" that comes with this takeover.
"It's as if we've leapt out of the frying pan and straight into the fire.
"The club and its new owners can talk all they like about improving the women's team, for example, with this new injection of money which can bring new training facilities and resources – but there's been no mention at all of how women are treated in Saudi Arabia. It's being brushed under the carpet."
Monty says that any promise from the club to continue to support LGBTQ+ rights will just feel like "lip service" – and similarly to Holbrook – he wonders what it means, if anything at all, for Newcastle's players to wear rainbow-colored laces when there is now such a "cozy relationship between the club and a regime that persecutes LGBTQ+ people."
And while the takeover is seen by many as an attempt by Mohammed bin Salman and Saudi Arabia to recalibrate their global image, Monty thinks that the optics of the acquisition itself are having a rather undesired effect on Newcastle.
The club is currently facing criticism from a variety of angles, including other Premier League clubs – who have held emergency meetings to question how the takeover was allowed to happen so quickly – and their fans, LGBTQ+ activist groups, aforementioned human rights organizations and across the media landscape.
"Nobody comes out of this situation looking good," Monty concluded. "Especially not Newcastle."
Remembrance of things past
If there's anyone that can identify with the conflict and bewilderment Newcastle fans are feeling right now, it's Manchester City fans.
They've already lived through the impact of a huge takeover by a staggeringly wealthy investment group – which itself also has close ties to the sovereignty of a nation state with a questionable record on human rights.
Kate Roper has watched as the Citizens have usurped the crown of the North from big brother Manchester United and – as much as she has enjoyed the meteoric rise of the club that was once dismissed as the "noisy neighbor" of United by Sir Alex Ferguson – she warns Newcastle fans of the pitfalls that come with success bankrolled by a royal with almost unlimited resources at hand.
"Despite all the trophies and beyond the heights we've scaled, I think there is a nostalgia for the past for many City fans," Roper told CNN Sport.
"Lots of fans remember what it was like before we were taken over by Sheikh Mansour, when we had to fight just to stay up and avoid relegation again, and I think they still cling to the days when no one knew what the result of the next match was going to be and when winning a derby over United was a shock outcome that would lead to delirium. We cherished those days."
Roper says that, although she still relishes in City's emergence as one of the most successful clubs in the world, she worries that a part of its soul has been lost to global idealization and commercialization – something which she feels Newcastle fans should be wary of as they enter into this strange new era.
"One of the reasons that I love City so much is because it's a very local club that takes great pride in coming from Maine Road," she said.
"But now that there is so much focus on its international image and what kind of global markets the club can break into, I do wonder if all the money that City has is going to the parts of Manchester that actually need it beyond football – to the local community, to foodbanks and Moss Side, where the stadium at Maine Road used to lie."
Visit CNN.com/sport for more news, features, and videos
City has previously told CNN that its investment has been as much about regenerating East Manchester as it has been about building an elite football team that regularly challenges for the sport's major trophies.
Roper went on to say that, as long as City continues to be injected with immeasurable wealth, she's worried that its connection with the supporters that championed the club as an underdog for many years could begin to wither away as some fans begin to see through the shine of trophies.
"The sheer amount of money that the club has – to the point that, at any time, we could sub on star players during a match, where many other clubs can't afford to do that – does often feel wrong," she said to CNN.
Only time will tell if the PIF's acquisition will actually lead Newcastle into a new world defined by success, trophies and global worship, but one thing is certain: there are some vocal fans that feel this takeover is just another example of modern football's obsession with wealth and its disregard for anything else, including concerns over human rights, the feelings of LGBTQ+ fans and the duty a club has to its community.
For Newcastle United itself, this is the beginning of a strange and unpredictable journey that may lead to heights it couldn't have dreamt of.
For the fans that don't want the Magpies to become a toy for the Saudi state to play with, it's the beginning of a complicated relationship with the very club they hold so dear to their hearts.