At the opening of the COP26 summit in Glasgow, US President Joe Biden called the climate crisis an "existential threat to human existence as we know it."
"So let this be the moment that we answer history's call here in Glasgow," Biden told a room full of leaders, ministers and climate negotiators from around the world.
In a shiny ceremony featuring Indigenous speakers, British royals and heart-breaking messages from children, other leaders too spoke about big plans to save the future, promising cooperation, compromise and goodwill.
Fast forward two weeks and delegates from different countries were at loggerheads with each other, with divisions running along the usual lines: Major coal, oil and gas producing countries were resisting language on fossil fuels that smaller climate-vulnerable nations wanted. Developing countries called for more financial support, but the rich nations they appealed to wouldn't budge on how much they were willing to pay.
"If the success of an international agreement can be measured in its ability to disappoint everyone equally, the Glasgow accord could be seen as a triumph," Hannah Cloke, professor of hydrology at the University of Reading, said in a statement. "From a scientific point of view, we are back in the position where the science is ever clearer but the politics is still worryingly murky."
As the urgency of the climate crisis is better understood now than ever, people are becoming frustrated with the slow pace of political action on climate.
Even COP26 President Alok Sharma and UN chief Antonio Guterres have said nations needs to be even more ambitious than they were at Glasgow.
The latest science shows that the world needs to nearly halve greenhouse gas emissions over this decade alone to have any chance of containing global warming to 1.5 degrees Celsius above pre-industrial levels. That's to prevent worsening climate change impacts and to steer the world away from climate catastrophe.
Rhetoric versus action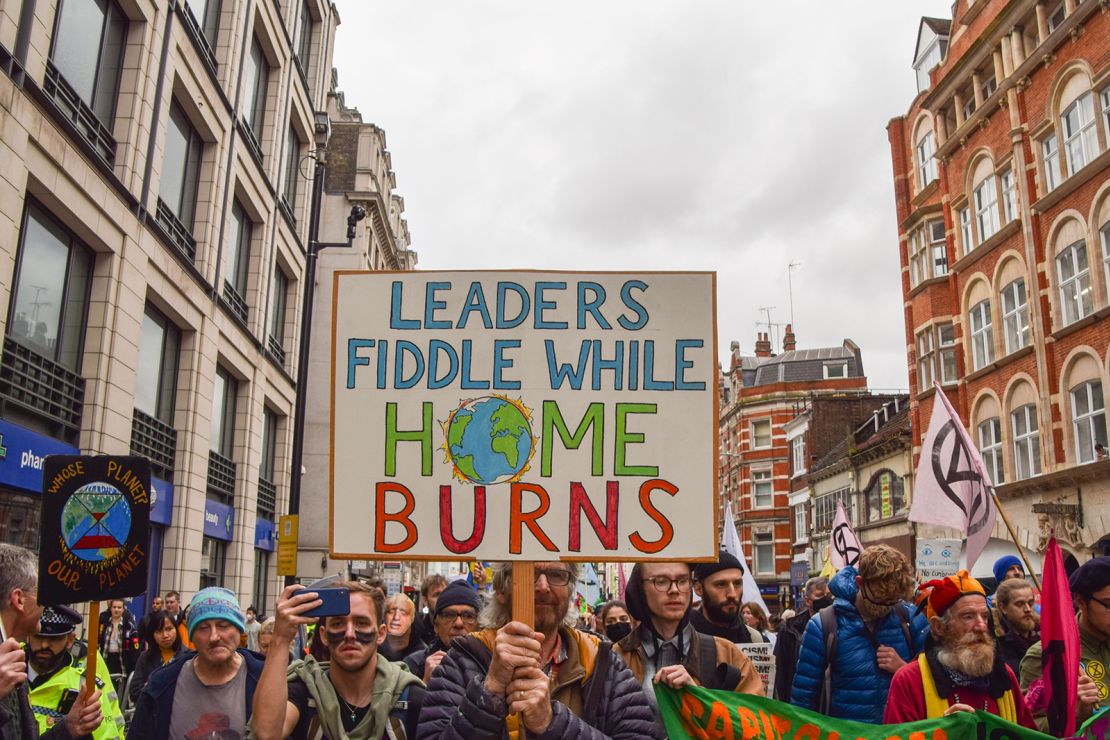 There are few diplomatic meetings in the world as painful as the Conference of the Parties, or COPs, on climate. They require consensus of nearly 200 nations – some of them are rich, others are poor. Some are petrostates, others are already carbon neutral. Negotiations get notoriously ugly towards the end. There are always complaints from smaller nations of bullying by bigger ones. It's a wonder they can decide on anything at all.
It takes just one country to oppose a measure to see it on the cutting room floor. If that country happens to be big and powerful, that's all the more likely.
It only took one country, for example – India – to fiercely resist language about phasing "out" coal and fossil fuel subsidies for it to be watered down to a phasing "down."
Despite Biden's opening pleas, the US delegation was among those opposing the establishment of a new "loss and damage" fund that would involve wealthier countries paying for the impacts of climate change in the most vulnerable nations – money that might help people rebuild homes after a destructive flood or typhoon.
The spirit of the fund would be to hold developed nations financially accountable for their historically larger role in the climate crisis.
A US official told CNN the country was opposed to a loss-and-damage fund. On Saturday, US climate envoy John Kerry told reporters the US supports such a fund in principle, but said there weren't enough details – particularly around liability – for the US to back the deal outright. A source familiar with the negotiations told CNN the EU also resisted it, and an EU spokesperson declined to comment.
Unsurprisingly, there was only a vague reference to scaling up money and no actual fund, in what was a huge disappointment for countries on the front lines of the climate crisis.
Teresa Anderson, climate policy coordinator at ActionAid International said the outcome of the summit was "an insult to the millions of people whose lives are being torn apart by the climate crisis."
"There were huge expectations that COP26 would finally deliver real support for the communities, farmers, women and girls who need to recover and rebuild in the aftermath of climate disasters … but the wealthy countries most responsible for our warming world – particularly the US – have blocked their ears and hung those most impacted out to dry."
But none of these examples mean that COP is useless or ineffective. Quite the contrary.
Developing countries were ultimately left empty handed without a loss-and-damage fund, but Lola Vallejo, climate program director at the policy research institute IDDRI, said the fact that the issue received so much attention is an "important win on a taboo."
"You can say it's starting to crack. Now there's a broader dialogue," Vallejo said. "It's a very sensitive question for developed countries, because the key question behind this is the liability question … 'am I going to get sued for the amount of emissions?'"
And buried in the bad news of watered-down language on fossil fuels, there was at least some progress: none of the 25 COPs before Glasgow had even made mention of the role of fossil fuels in the human-made climate crisis. (They are by far the biggest source of greenhouse gases.) That's despite the fact that the link between the two has been known since the 19th century. Scientists rang the alarm on how serious a problem this was in the 1980s.
While the final language of the Glasgow Pact does not reflect the sense of emergency needed to really make movement on the climate crisis, it's a sign that the usual fossil fuel stronghold nations may be willing to bend.
An accountability problem
A shortfall of the COP process is a lack of accountability. Even when there is big progress, like there was in the 2015 Paris Agreement, many countries are under-delivering on their promises, with very little recourse. Australia, for example, updated its emissions plans last year ahead of the deadline established by the Paris Agreement. It technically followed the rules but it didn't actually increase its ambition, which is the entire point of the updates.
The strength in these events, essentially, is less about the law and more about peer pressure. A good example is a statement in the first week that declared an end to financing fossil fuel projects abroad. It attracted more than 20 nations at first, by the end it was 34.
"France wasn't a signatory on the declaration on ending fossil fuel financing abroad, they were planning to revise this next year," Vallejo said. "But because of the pressure and the NGOs kind of calling them out, France changed its mind and signed this on the last day of COP."
"COP is like having a flashlight in your face, because there's so much media attention and activism around," Vallejo said.
Bob Ward, a climate policy and communications expert at the London School of Economics, said that while the process is complicated and slow, a meeting that includes the whole world is necessary. There is no alternative to multilateral negotiations.
Perhaps most significant change in Glasgow was an article that requests countries to come to COP27 next year in Egypt with updated plans to slash emissions. Under the Paris Agreement, they would only have been obliged to do that by 2025. In other words, this should accelerate action by three years.
Whether Glasgow was a success will depend on if countries like Australia actually come to COP27 with more ambitious plans.
Climate justice could come in the courts
Where climate accountability may take place is the world's national courts. Once a country ratifies a treaty like the Paris Agreement – as most have now done – it becomes legally binding. And while countries are not suing each other in international courts, people can sue their own government or businesses in their own countries for lack of action on the climate crisis. Being armed with agreements like Paris helps, and there have been successful challenges already.
The German Supreme Court ruled in April on a case centered around the human rights of young people that the government's climate target wasn't sufficient to meet Germany's obligations under the Paris accord. The German government came up with new climate goals in less than a week after the defeat. That's a win from COP.
In 2018, a court in The Hague ordered the Netherlands to cut greenhouse gas emission faster than it previously planned, to protect its citizens from climate change. The ruling forced the government to put a number of large construction projects on hold and quickly adopt new goals in order to be in line with the Paris Agreement.
Lawsuits can tackle climate change to some degree, but the ultimate solution is getting big emitters to decarbonize.
"We're only going to stop global warming when we get to zero global emissions. That means everybody has to get there," Ward said. "The rich countries have to lead the way, but there is no scenario in which any major country cannot get to zero emissions and climate change will be dealt with."
To get everyone on the same page requires huge compromises, which can be difficult when negotiators from oil-dependent nations face off with those from small islands that are literally sinking as sea level rises.
One of the most memorable moments from COP26 was when Tuvalu's foreign minister, Simon Kofe, delivered his speech to the conference in a video, standing knee-deep in seawater to show how his low-lying Pacific island nation is already being hit by the climate crisis.
This is why COPs are so important, said Vallejo.
"It provides this moment where the countries that are most vulnerable can share the stage with the countries that have a historical responsibility to respond to climate change," she said.
"Usually, the big decisions get taken in the G7 or the G20. And here, you have a forum just focusing on climate issues, and which is based on principles of transparency and inclusiveness. And I think that's precisely why we still need them."