When the cards were dealt, Chris Moneymaker could hardly have been happy.
Sure, he was the chip leader at the 2003 World Series of Poker (WSOP) having miraculously, and literally, battled against the odds all the way to make it to the final table out of 839 entrants. And now, from his initial $86 satellite entry fee granting him a seat at the WSOP – the price of admission to enter the tournament at Binion's Hotel in Las Vegas could have been $10,000 – a million-dollar payout was guaranteed.
Over the course of one week in May, 837 contenders had been eliminated, leaving this amateur online player going up against seasoned professional Sam Farha. And as they played heads-up Texas Hold 'Em, Moneymaker must have wanted the glory of winning the most prestigious prize in poker, to say nothing of the $2.5 million on offer to the winner.
And regardless of Farha's starting hand, Moneymaker's five of diamonds and four of spades did not exactly inspire confidence. But by this point, destiny was clearly calling.
All in the name
Judging by his name, you might think that Chris Moneymaker was meant to have been involved with dealing in sums. And you would be right.
Growing up in Knoxville, Tennessee, Moneymaker became an accountant and – as he told CNN Sport as part of an interview discussing his involvement working with VELO's sponsorship with the World Series of Poker, who are highlighting how poker skills can translate beyond the table – he acknowledged how translation also played a part in his surname.
"My father is Moneymaker, and we've had a long line of males in our family tree," he says. "From what I've been told […] they made silver and gold coins.
"The name was originally Nurmacher. And when they went to England, they took the literal translation of someone that made the silver and gold coins and it was Moneymaker."
Moneymaker's love of card and table games resulted in poker becoming more of a regular occurrence in his routine. But it wasn't likely to lead to a career change and, even his partaking in an $86 satellite tournament, leading to a follow up tournament where a seat at the famed WSOP was at stake, wasn't his pressing priority.
In fact, Moneymaker says not winning that second tournament was more important – to the extent of trying to lose on purpose – because a fourth-place spot meant a cash prize.
Moneymaker says "it was a complete mistake" that he even entered to try and land a place at the WSOP, "I thought I was playing for cash. We got down to five-handed [five players left] and I'm actually chip leader and I'm trying to actively get fourth place because I want the $8,000 in cash.
"I don't want the seat to go play in the World Series of Poker to go play against the best players in the world because I'm just an amateur player playing with friends. I've never played against a pro in my life. And $8,000 would go a long way to paying off my bills and helping with things around the house.
"My goal was to win that eight grand. And a buddy talked me into taking the seat, and that's how I got the World Series seat. And the rest is history."
Like a Hollywood script
History indeed. Moneymaker's magnificent run in 2003 happened to coincide with what he calls "a dark period" for the iconic pastime. "Poker rooms were shutting down," Moneymaker notes. "The game was in decline. It was really sort of a back room, you know – what you would see in the movies, essentially."
And movies are an apt metaphor as what Moneymaker achieved was the stuff of legend, usually dreamt up by Hollywood scriptwriters.
His victory even coined a phrase: The Moneymaker Effect. In essence, the rapid expansion of online poker players who, inspired by Moneymaker, competed in tournaments against experienced professionals, hoping to make serious money of their own.
Television coverage played a part, as the innovative use of cameras showing the 'hole' cards – the two starting cards with which a player begins each hand – removed much of the mystery, transforming it into something resembling a sport itself.
And never mind 839 players: in 2019, the field of 8,569 players was reportedly the second-largest in WSOP history. The live WSOP was not held last year because of the coronavirus pandemic, but a return to physical action this year finds 6,650 entries, with a prize pool of more than $62 million.
For a while, Moneymaker rolled back the years and went fairly deep into the 2021 tournament, eying a second WSOP bracelet, but eventually exiting in a respectable 260th place, netting $38,600.
'The Bluff of the Century'
Back in 2003, the then 27-year-old Moneymaker embarked on a run where, fueled by Red Bull and water, he knocked out some of the biggest names in the game – a sports David and Goliath tale for the ages.
Certain hands have since become the stuff of legend, notably the flush (all five cards from the same suit) which knocked out the legendary Johnny Chan, whose own flush of hearts lost because Moneymaker's included the all-conquering ace.
Moneymaker dispatched the great Phil Ivey in a rollercoaster of a hand, where at one point Moneymaker looked certain to win, then lose, before yet another ace got him out of trouble, and sent Ivey packing.
And when it was Moneymaker against Farha to decide the title, a monumentally brave bluff saw Moneymaker go all in, meaning he was essentially willing to bet his tournament life on nothing more than the high card of a king.
Farha didn't just have the upper hand in every sense – a pair of nines – but knew it. "You must have missed your flush draw, huh?" Farha says at one point.
The issue was that if his read of the situation was incorrect, Farha would have been eliminated and thus decided to fold. ESPN announcer Norman Chad described Moneymaker's move as "the Bluff of the Century."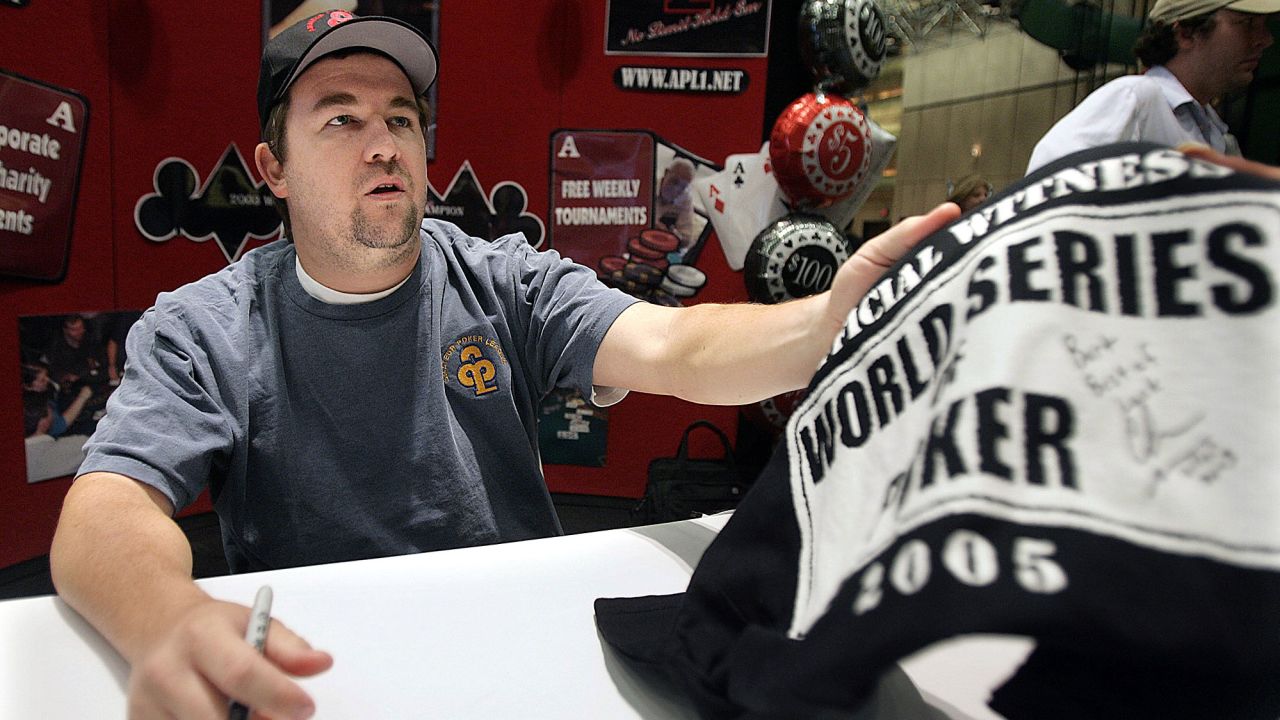 And so to that final hand. Moneymaker's five of diamonds and four of clubs were inferior compared to Farha's jack of hearts and 10 of diamonds, but another miracle took place when the flop of three community cards was revealed by the dealer.
Not only did Moneymaker match his own cards with a five of spades and four of clubs to give him two pair, but Farha actually had top pair with the jack on the board, which made it appear he was in a better position.
This time, Farha would go all in, which was an easy call for Moneymaker. The turn card produced an eight of diamonds, and the fifth and final river card was a five of hearts, to secure victory and give Moneymaker a full house in the process. "This is beyond fairytale. It's inconceivable!" exclaimed Chad.
Nearly 20 years on, Moneymaker can seemingly recall every moment. "When you could see an amateur like me pull off a bluff like that, it gave everybody hope that they could do it too," he says in reference to the so-called "Bluff of the Century."
When it is put to him that his critics have said he simply got lucky, Moneymaker doesn't necessarily object, but adds one important caveat.
"You can't win a poker tournament without getting lucky. That's just part of the game. But you have to put yourself in position to be lucky though, too. That's what makes the game so good. If the best player won every single time, no one would play."