The great Covid-19 lockdown of March to June 2020 created more than a run on toilet paper, masks and hand sanitizers. A new analysis of alcohol sales in a sampling of American states has found panic buying of hard liquor and wine also spiked. Sales of beer, however, remained steady or slumped in most states.
"Understanding how alcohol purchase behavior is changed by events such as Covid is important because heavy alcohol use is known to be associated with numerous social problems, especially within the home," said study coauthor Brian Quigley, a research assistant professor of medicine in the Jacobs School of Medicine and Biomedical Sciences at the University at Buffalo in New York.
"Our findings suggest the need for a more comprehensive policy relating to alcohol availability, as to whether it should be considered an 'essential' product," said study coauthor Yingjie Hu, an assistant professor in the department of geography at the University at Buffalo.
"Hopefully this could help our society as a whole address problems related to excessive alcohol use during a public health crisis," Hu added.
States differed
The study, published Wednesday in the journal PLOS ONE, examined monthly alcohol sales reported by the US National Institute on Alcohol Abuse and Alcoholism from March to June 2020, comparing that data to the same months in 2018 and 2019. The research team also analyzed anonymous data from over 45 million digital devices, tracking visits to businesses where alcohol is sold.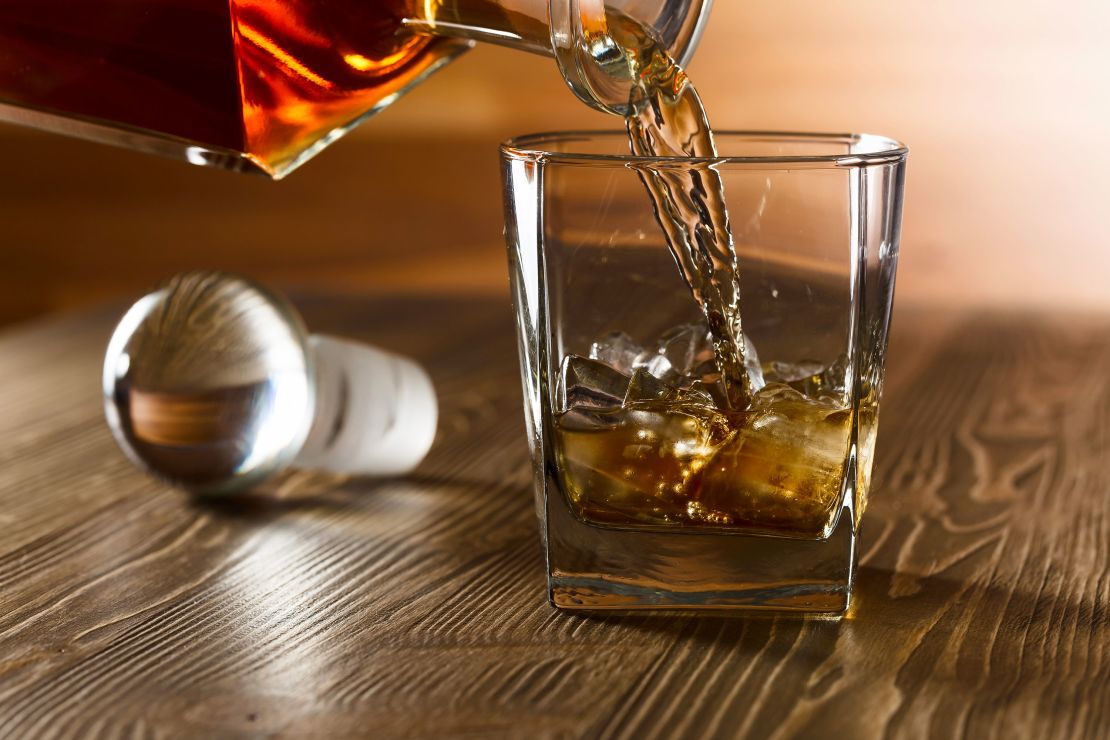 The study analyzed alcohol sales in 14 states in the United States for which the federal database had complete sales data: Alaska, Arkansas, Florida, Illinois, Kansas, Kentucky, Louisiana, Massachusetts, Missouri, North Dakota, Oregon, Texas, Virginia and Wisconsin.
Different states had different preferences in their top choices of alcohol, according to the data. Overall, beer sales declined in all states in the study except Kansas, Arkansas and Texas, as did visits to bars and pubs.
However, visits to liquor stores increased. Sales of hard liquor, or spirits, rose nearly 11% on average in all states in the study between the months of March and June 2020 compared to prior years. Four states had substantial increases: In Texas, Kentucky, Virginia and Missouri, sales of liquor increased 20% to 40% during that time period.
Sales of wine in the states in the study rose nearly 9% overall in March of last year, but Arkansas, Kentucky and Virginia had a "sustained increase" through June, while Texas showed an increase in wine sales in April, May and June, the study found.
Texas, Kentucky and Virginia had "sustained increases in their sales of both spirits and wine in March, April, May, and June, which can be alarming signals for problematic alcohol use," the study found.
The spike was likely fueled, the authors said, by fears of contracting Covid-19, social isolation, job loss and an uncertain future at the time of the study.
Dangers of alcohol use
There is help. Find it here
The National Institute on Alcohol Abuse and Alcoholism has a tool called "NIAA Alcohol Treatment Navigator" that "helps adults find alcohol treatment for themselves or an adult loved one." For teens, the institute recommends these resources.
The Substance Abuse and Mental Health Services Administration has a free, confidential National Helpline active 24/7/365 to provide information and treatment referrals to local treatment facilities, support groups, and community-based organizations: 1-800-662-HELP (4357) and 1-800-487-4889 (TTY option).
An increase in alcohol use can have a significant impact on health. Long thought to be beneficial for the heart, studies now show that any heart benefit may be outweighed by other health risks associated with drinking, such as high blood pressure, pancreatitis, certain cancers and liver damage.
Women who drink are at a higher risk for breast cancer. Alcohol contributes about 6% of the overall risk, possibly because it raises certain dangerous hormones in the blood. Drinking can also increase the chance you might develop bowel, liver, mouth and oral cancers.
A 2016 study found that no amount of alcohol was beneficial for health. Alcohol was the leading risk factor for disease and premature death in men and women between the ages of 15 and 49 worldwide in 2016, accounting for nearly one in 10 deaths, according to the study.