There are some people out there for who even the word 'daredevil' doesn't quite do justice to the mind-boggling feats they perform.
Sebastián Álvarez is one of those people.
Last month, the former Chilean Air Force pilot completed what he describes as "by far the most extreme" flight of of his career: flying in and out of the crater of an active volcano.
Only Álvarez wasn't in a plane or a helicopter, he was wearing only a wingsuit.
Unsurprisingly, he is the first person in history to have even attempted such a feat and says the accomplishment has taken a lifetime of preparation.
"Everything started because I had the dream of flying," Álvarez says. "Since I was a kid, I just wanted to fly – and somehow, I made it happen."
Álvarez's first exposure to the adrenaline rush that would largely shape his career came when he joined the Chilean Air Force, first as a pilot and then when he was taught how to skydive.
He was immediately hooked and continued skydiving away from the air force whenever he could find the spare time and is now widely recognized as one of the world's top skydivers.
Over time, however, that desire to feel an increased rush only grew, leading Álvarez get into BASE jumping and, eventually, wingsuit flying.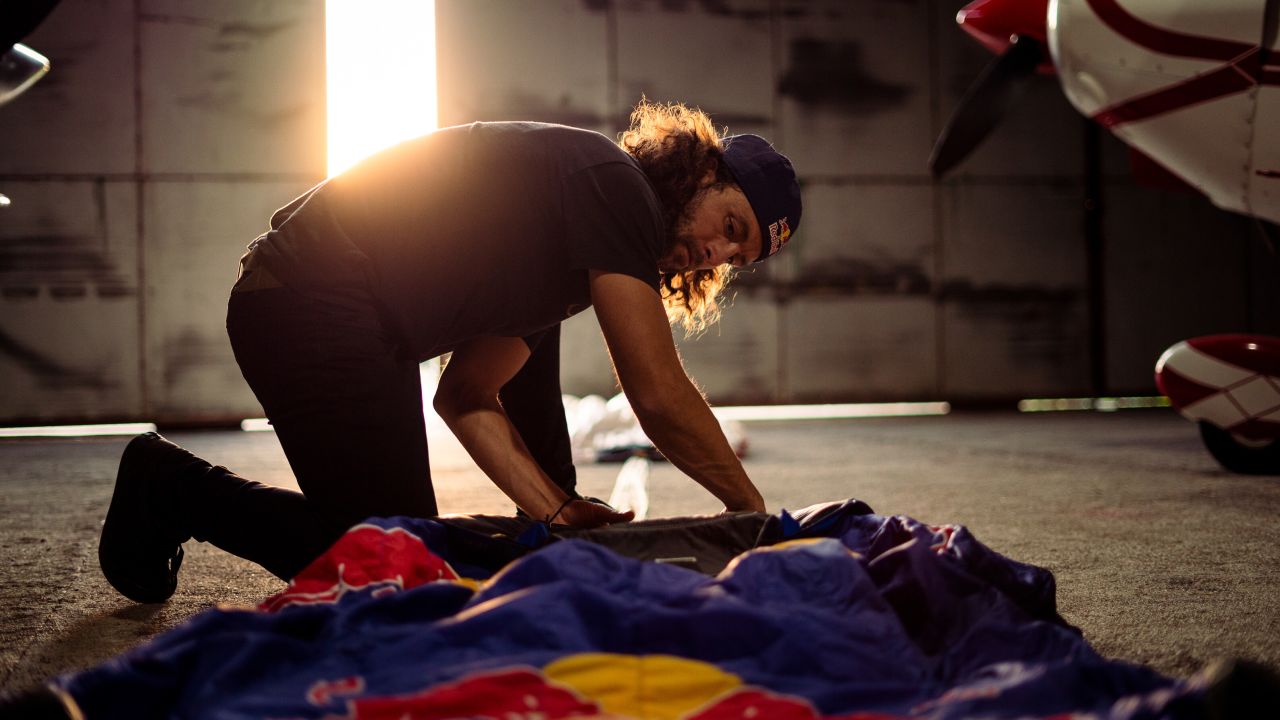 For most of his career, Álvarez struggled to put his finger on exactly what it was that drove him to attempt these increasingly dangerous feats. Until recently.
"I guess I figured it out a few years ago," he says. "What was happening in my life that really gives me that happiness and – actually it's still hard to explain – it was that feeling of being totally focused and at the same time having an amount of adrenaline.
"[It] also happened to me when I was flying the planes because I was really focused on some things, but at the same time an air force pilot is not just sitting down, they're doing tons of missions. So that mix in between totally focused and a little bit of adrenaline, it blows my mind away.
"It's like, that was what I was really looking for, and I just knew that I liked it, but I didn't know the explanation. I guess a few years ago, I realized: 'Oh, this is it. This is why.' It's because I focus on those minutes or seconds where my mind is totally on this and also feel that adrenaline that I love."
'The Devil's House'
For his latest feat, Álvarez knew he wanted to push the wingsuit technology as far as he could.
Hailing from Chile, a country with a vast array of breathtaking landscapes, the 36-year-old wanted his most daring flight yet to show off the natural wonders of his home nation.
Given his thrill-seeking nature, he naturally ended up deciding that Villarrica – one of Chile's most active and dangerous volcanoes and aptly named "the Devil's House" by the Mapuche – would be incorporated into his jump.
Leaping from a helicopter at more than 3,500 meters (almost 2.2 miles) in altitude, Álvarez would attempt to use the wingsuit to reach speeds of more than 280 km/h (about 176.5 mph) and then fly into and out of the 200-meter (656 feet) wide crater of the volcano.
"This is by far the most extreme project I've ever done," he says. "That's for sure. Especially because of all of the factors; it was an active volcano, it was at high altitude, cold, windy and so there were a lot of things that I needed to take care of.
"Mentally, it was to me really hard because, again, my mind doesn't want to be there, but you need to kind of force it to make it happen. I really enjoy doing these projects because I really like to push the sport a little bit more."
The feat would largely be achieved by Álvarez perfecting a technique called 'flaring,' gathering enough speed vertically, opening the wingsuit and transferring it into horizontal speed.
Preparation for the jump took more than a year. Not only did Álvarez complete around 500 practice jumps, but he also had to make complex calculations using speed, distance and air pressure to decide whether or not it would even be possible.
However, Álvarez says the real preparation for the jump began much earlier.
"The preparation for this was all my life, pretty much, it's been all my life," he says. "You need to be a skydiver, a base jumper and if you are a pilot, even better. All the paths [I've taken] came together.
"Even if you train for two years but you've not been skydiving before, it's never going to be possible. So it was a lifetime of preparation."
'Being afraid is really positive'
Weather in the south of Chile can be harsh, meaning Álvarez often had very small windows in which he could attempt the jump.
He says the attempts were often canceled due to high winds, rain or snow, as well as fierce storms that sometimes lasted for up to a week.
"I was really afraid that we were not going to find a beautiful and nice gap to make this happen," Álvarez recalls.
"But I guess me and the volcano, we really get along," he adds with a smile. "Or at least he let me do this. So we got good weather and the volcano was not that active during that week, and if you ask me, yes, I asked the volcano [permission], I had my conversation with this place.
"But let's talk seriously, this is a volcano and it's active and if I fail, you know the result. If the volcano doesn't want me there, he can do whatever he wants, you know, so I asked for permission and then I went there [afterward] and said thank you."
Sitting on the edge of a helicopter hovering 3,500 meters above the ground, the biting wind hitting his face, Álvarez says nothing else gives him a thrill quite like attempting a pioneering jump.
"I cannot express how happy this makes me feel," he explains. "But it does, you know, and I think that's what life is about. I mean, you need to do what makes you happy."
Álvarez certainly seems to be living by that philosophy.
The man known as "Ardilla" – "Squirrel" in English – spends much of the interview with a broad grin across his face and begins gesticulating excitedly when he starts talking about the daredevil feats he has accomplished.
He describes the recent jump as a "roller coaster of emotions" and says it's "exactly like a volcano," his excitement erupting before he's hit with a wave of calm.
Álvarez is known as a meticulous planner. While these feats may seem absurd – and often impossible – from the outside, he approaches them with a calm, rational mind, confident that his skill and detailed calculations will keep him safe.
However, that never leads to the absence of fear.
"I do feel nervous and I like it," Álvarez says. "I think feeling nervous is definitely positive, or being afraid is really positive and you need to manage this and turn it into something positive.
"I think if you are extremely afraid, then it turns into panic and then you cannot react. So that's the little borderline where it's like: 'Okay, I'm afraid,' but it keeps me active, so I'm aware of everything.
"Now, if I go into panic then this is not going to work and you need to realize: 'Okay, I'm in panic. Maybe I need to do this or this other step, Plan B or Plan C.'"
If you thought flying in and out of an active volcano with just some material between his arms and legs to keep him airborne was as dangerous as it could get for Álvarez, think again.
"I do have a really nice stunt … or maybe more than one. My mind sometimes runs really like, 'Ahh!'" he says, shaking his hands around his head.
"I don't know if they're going to work. You never know because I'm playing, again, with nature. I need to organize this because I have a lot of ideas … but I just love it."