Editor's Note: In this series, CNN anchors invite viewers into their kitchen, where they share family recipes and traditions with tutorials, tips and personal stories
What do you cook for a holiday dinner when you're busy but still want meaning and flavor? CNN anchor Alisyn Camerota's linguine in white clam sauce, that's what.
Camerota hails from an Italian American family – some from southern Italy – who would cook the dish as one component of the Feast of the Seven Fishes every Christmas Eve, she said. This cultural – yet unofficial – tradition honored by some Italian American families might stem from the homesickness of 19th and 20th century Italian immigrants who combined seafood and classic Italian dishes, according to Sydney Dominick, gallery experience presenter at the Carnegie Museum of Natural History.
Paola Sergi, an archivist at the Italian Cultural Institute in New York, never witnessed the tradition while growing up in Genoa (in northern Italy), but learned of the feast when she came to the United States and married someone from a southern Italian family who celebrated the tradition.
"It's almost like a fasting, like a Lent fasting – you're not supposed to eat any meat," Sergi said. This part of the custom might also have roots in Roman Catholic Italians' fast from meat (but not fish) before taking communion during Midnight Mass on Christmas Day, the feast day, according to the Denver Public Library. There hasn't been any consensus on which seven fish should be served at this banquet.
"According to my family, you could do any seven fishes," Camerota, who coanchors CNN Newsroom, said. "So sometimes we would have fried smelts, we would have shrimp cocktail, we would have baccalà, we would have just all different types of fish. And one component would be linguine and clam sauce."
A spread of this scale is too laborious to make for a pandemic holiday, Camerota said – so she'll stick with the linguine and clam sauce, which was a staple in her mother's dinner rotation even outside of Christmas Eve.
With its savory garlic browned in olive oil; bright, earthy and clean flavors of parsley and lemon juice; spice from red pepper flakes; and salty clams, this dish was always a crowd pleaser in Camerota's childhood home.
Her mother, Elaine Camerota, who often still cooks linguine in clam sauce on Sundays, has provided the recipe.
Linguine in White Clam Sauce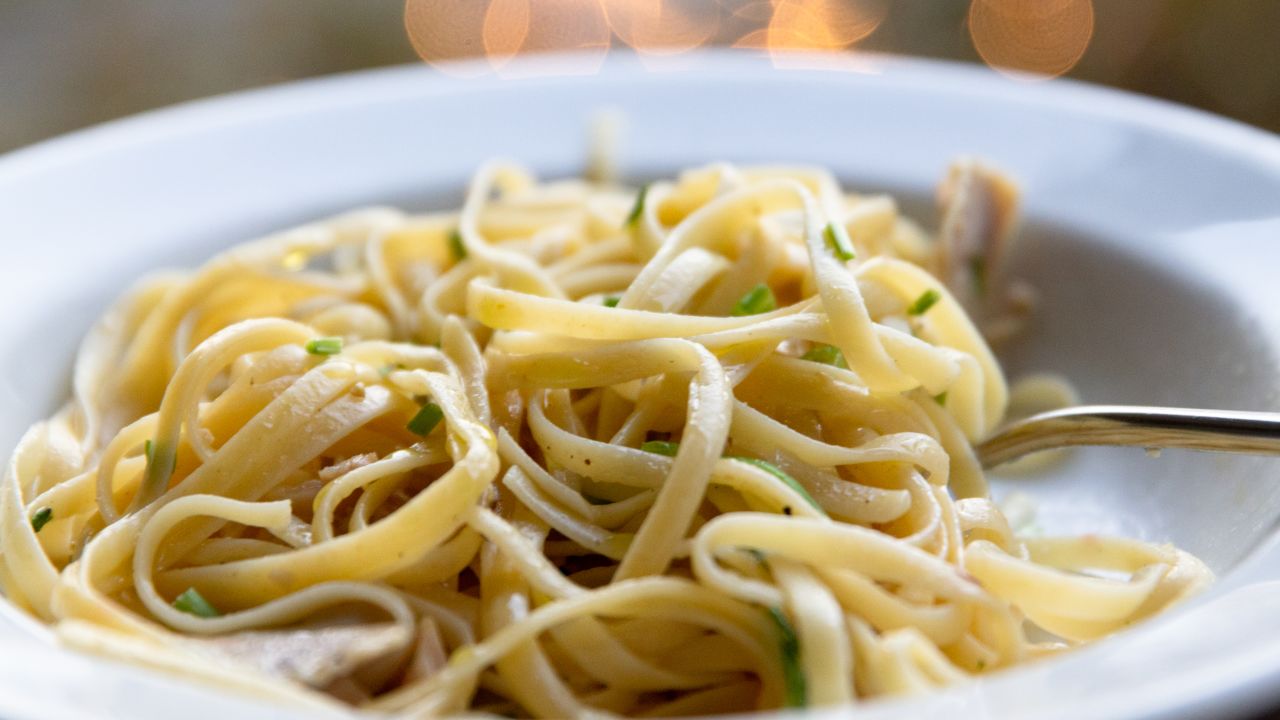 Makes 6 servings
Ingredients
Salt for pasta water

1 pound linguine

¼ cup extra-virgin olive oil + extra to add at the end, to taste

6 cloves garlic, sliced thin

¼ teaspoon crushed red pepper flakes

1 anchovy fillet (to deepen flavor)

2 6.5-ounce cans minced clams in clam juice

2 6.5-ounce cans chopped clams in clam juice

1 6.5-ounce can whole clams

3 tablespoons chopped flat-leaf Italian parsley + sprigs for garnish

Juice of ½ lemon

Ground black pepper, to taste
Instructions
1. Bring a large pot of salted water to a boil. Add linguine and cook until al dente, about 8 to 10 minutes. (Italian for "to the tooth," al dente means pasta should be cooked enough to no longer be hard but have a slight resistance when you bite it.) Drain well.
2. Meanwhile, heat oil in a large, deep skillet. Brown garlic in the oil over medium-high heat until garlic is golden, about 1 ½ minutes. Remove garlic (leaving the oil in the pan) and set aside.
3. In the same skillet, add red pepper flakes and clam juice from two of the cans. Simmer uncovered until the sauce has reduced, about 10 minutes. Dissolve anchovy into the sauce. Add the rest of the chopped and minced clams (without the remaining juice) and heat through.
4. Transfer pasta to a large serving platter. Pour the sauce over the pasta, then mix in the chopped parsley, lemon juice, pepper, whole clams (without juice) and, if using, more extra-virgin olive oil until ingredients are evenly distributed. Taste and adjust seasonings as desired.
5. Garnish with sprigs of parsley and the reserved golden garlic slices.
Elaine wishes you all "Buon appetito!"
Stay tuned for the next edition of this series, in which CNN anchors reveal cooking tips and personal stories from the kitchen.