New York state reported that Thursday had the highest single day count of new Covid-19 cases with 21,027, according to data released Friday.
New York's data also revealed that positive Covid-19 cases in the state jumped 154% in less than a week.
The previous high was January 14 when there were 19,942 new cases reported.
"We must not make light of the winter surge that we are facing, and we should continue to encourage everyone we know to get vaccinated, get the booster and wear a mask," Gov. Kathy Hochul said Thursday in a news release.
Covid-19-related hospitalizations remain comparatively low. On Friday, the state reported 3,839 hospitalizations, as compared with 8,088 on January 14, according to state data.
At its peak in mid-April 2020, New York's hospitalization total for Covid-19 nearly reached 19,000.
The data revelations come as New York City reported its positivity rate from PCR tests doubled over a four-day period. The NYC Health Commissioner says cases have tripled in the past month.
More data needed on severity of Omicron, top health official says
The US will see many cases of the Omicron variant of coronavirus, but it's too soon to assume it will cause milder disease, National Institutes of Health Director Dr. Francis Collins said Friday.
"It's clear that Omicron is an extremely contagious variant, that it doubles every two to four days," Collins told CNN's Anderson Cooper.
Collins said people can limit the consequences of the variant with vaccines and especially with boosters.
Data from two weeks of South African cases appeared to indicate Omicron was milder in severity. The CDC said last week that it looked at 43 cases and most of those people had mild symptoms. Most were vaccinated and about a third of the total group had received a booster shot.
UK epidemiologists said this week they found no evidence that Omicron is causing milder disease there, but the Imperial College London team also said there was not much data to go on yet.
"We still don't really know – and there's some controversy about this – whether Omicron causes the same kind of severity of disease or whether it's a somewhat milder form of the illness," Collins said.
"We really need to know that. I would not assume right now that it is milder, but wouldn't that be nice if it turned out to be the case?" he asked.
With a more infectious variant, even if it's milder, it could still send more people to hospitals.
"The problem, of course, is if this is so infectious – and we might see hundreds of thousands of cases every day, maybe even a million cases in a day from Omicron – even if it's a little less severe, you are going to have a lot of people in the hospital and our hospitals are already really stretched with Delta, especially in the northern part of the country," Collins said.
CDC Director Dr. Rochelle Walensky said Friday the Omicron coronavirus variant is "increasing rapidly" and expected "to become the dominant strain in the United States, as it has in other countries, in the coming weeks."
Andy Slavitt, a former senior pandemic adviser to President Joe Biden, said that while tools such as vaccines are now widely available rather than during last winter's surge, "a very rough January" lies ahead due to Omicron.
"For the health care workers, the hospitals, for people who are sick, even sick with things other than Covid, that represents a real danger and a real threat," Slavitt told CNN's Don Lemon on Thursday.
Two indicators are up about 40% in the last month, according to data from Johns Hopkins University: the seven-day average of new cases topped 120,000; and the total number of hospitalizations stands at more than 68,000.
The seven-day average for deaths was 1,286 as of Thursday, an 8% increase from a month ago, the data show.
Getting vaccinated or boosted remains key as millions of Americans get ready for holiday travel.
Recent lab studies of blood taken from vaccinated people and exposed to Omicron showed the variant can evade some protection offered by two doses of Moderna's Covid-19 vaccine, but a booster dose restores much of that immunity, researchers reported Wednesday. The Pfizer/BioNTech vaccine has shown similar results.
On Thursday, the Centers for Disease Control and Prevention changed its recommendations for Covid-19 vaccines to make clear that shots made by Moderna and Pfizer/BioNTech are preferred over Johnson & Johnson's vaccine.
This means people who got the J&J vaccine should be looking to get a booster shot, but one made by another company, Collins told CNN.
"They should get a booster from an mRNA vaccine," Collins said. "NIH did this study of mix and match in terms of what was your initial vaccine and what did you get boosted with? If you start with J&J and get an mRNA booster, you get a pretty good result from that.
"I watch that closely. I have two grandchildren who got J&J. They are now boosted, and I think they are going to be fine."
The daily rate of vaccinations is up around 22% from a month prior, according to CDC data, with more than half being booster doses. At the current pace, it will take more than two months for at least half of adults to get a Covid-19 booster, according to a CNN analysis of CDC data.
Biden said Thursday that vaccinations and boosters are essential to keeping businesses and holiday gatherings safe.
"For the unvaccinated, we are looking at a winter of severe illness and death," he said. "But there's good news if you're vaccinated and you have your booster shot, you're protected from severe illness and death."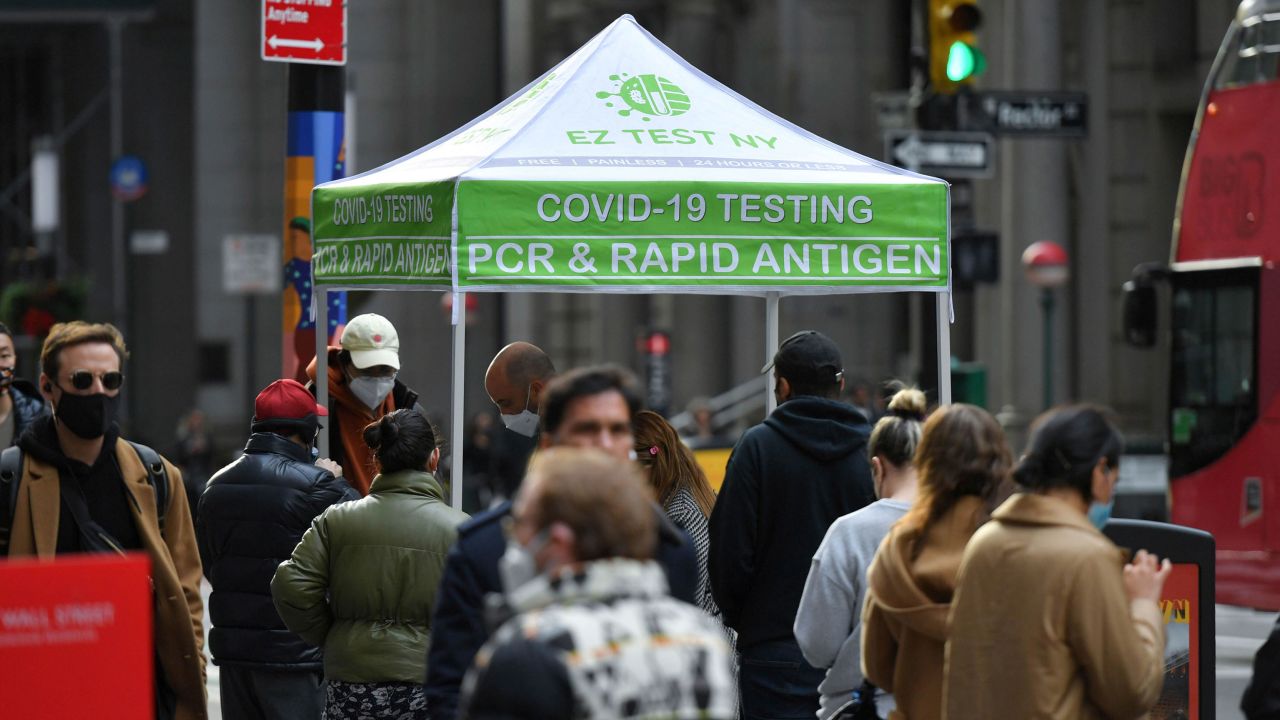 Vaccines still the best way to fight Covid-19, officials say
Even with the potential spread of the Omicron variant, former Obama White House health policy adviser Dr. Zeke Emanuel said the United States has tools to fight Covid-19, unlike during its onset.
"In March 2020, we didn't understand a lot about coronavirus. Second of all, we have vaccines now. We have the ability to change those vaccines. We're getting oral therapeutics. We have much better tests and test availability. None of that's perfect, but it's much better than it was in March 2020," Emanuel told CNN's Michael Smerconish on Thursday.
Continued research into additional drugs to fight coronavirus is ongoing.
Merck's Covid-19 antiviral, molnupiravir, lowers the risk of hospitalization or death in high-risk unvaccinated adults by 30%, according to a statement issued after publication of its clinical trial data in the New England Journal of Medicine.
Among people who got the treatment, the risk of hospitalization and death was 6.8%, compared with 9.7% among people who got a placebo, the study said. There was one death in the treatment group, compared with nine deaths in the placebo group.
We are at war, Fauci says
The US can win the war against the coronavirus if people keep fighting and use the weapons at hand, Dr. Anthony Fauci said Friday.
Fauci likened the fight against Covid-19 to World War II, which raged for years.
"We will win this war with this virus, but we will win it only because we apply the things that we have: the interventions," said Fauci, longtime director of the National Institute of Allergy and Infectious Diseases. "We are so fortunate that we have a highly effective and safe vaccine. We know what public health mitigations work. We have just got to hang in there. We can't give up."
Fauci said Americans should be fine for the upcoming holidays if people follow the recommendations of the CDC on vaccinations and mask wearing.
And Collins said people should avoid tight, indoor spaces and should consider not being around the unvaccinated.
"This is, after all, a very wily virus but it still has the same way of being transmitted by people being close together in a close space," he said.
CDC director: Test-to-stay works
Walensky said Friday that new evidence shows that "test-to-stay," which involves testing instead of quarantining students who may have been exposed to the virus at school, works to keep children in school safely, even if they have been exposed to the coronavirus.
"Test-to-stay is an encouraging public health practice to keep our children in school," Walensky said during a virtual White House briefing.
In the past few months, the CDC has collaborated with certain school districts to evaluate test-to-stay programs. Two of the communities that collaborated with the CDC are Lake County, Illinois, and Los Angeles County, California.
Pfizer to add third dose to children's vaccine trials
Pfizer said Friday that interim data indicated the child-sized doses of its vaccine weren't producing the expected immunity in the 2- to 5-year-old group. The company said it was adding a third dose, given two months after the second dose, to the clinical trials regimen for those children.
The company said it expected to apply for US Food and Drug Administration emergency use authorization in the second quarter of 2022 (instead of first quarter).
Fauci said the delay in authorization in necessary.
"You want to really get the right dose and the right regimen for the children," he told CNN. "So although you don't like there to be a delay, you want to get it right, and that's what they're talking about. "
CNN's Jen Christensen, Deidre McPhillips, Jacqueline Howard, Naomi Thomas, Virginia Langmaid, Allie Malloy, John Bonifield, Katherine Dillinger, Laura Studley , Steve Almasy, Amy Simonson and Kay Jones contributed to this report.