Growing up in Finland, Iida Ruishalme had a deep affinity for nature — particularly the forest, where she loved to go trekking with her dogs. Now, she's worried that her daughters won't experience such idyllic days as the climate crisis accelerates. So last month, she boarded a night train from Switzerland to join protests in the German capital Berlin.
Ruishalme agrees the world needs more wind farms and solar panels. But what she and her fellow demonstrators really want is a commitment to something else: nuclear energy.
"We have to give this technology a chance," the Mothers for Nuclear member said, joining dozens of others who stood with signs outside the city's famous Brandenburg Gate.
Nuclear power is one of the most reliable low-carbon sources of energy available, but memories of accidents at Fukushima, Chernobyl and Three Mile Island still loom large, fueling skepticism and fear and deterring investors from funding new projects.
Nuclear plants are also notoriously expensive to build. Construction tends to run over budget and time, and wind and solar energy has typically come out cheaper. How to safely store the radioactive waste it produces is another headache.
Germany began winding down its nuclear industry following the 2011 Fukushima disaster in Japan, when an earthquake and tsunami triggered a meltdown of three reactors in one of the worst nuclear incidents of all time. All six reactors still operating in Germany should be shut by the end of next year.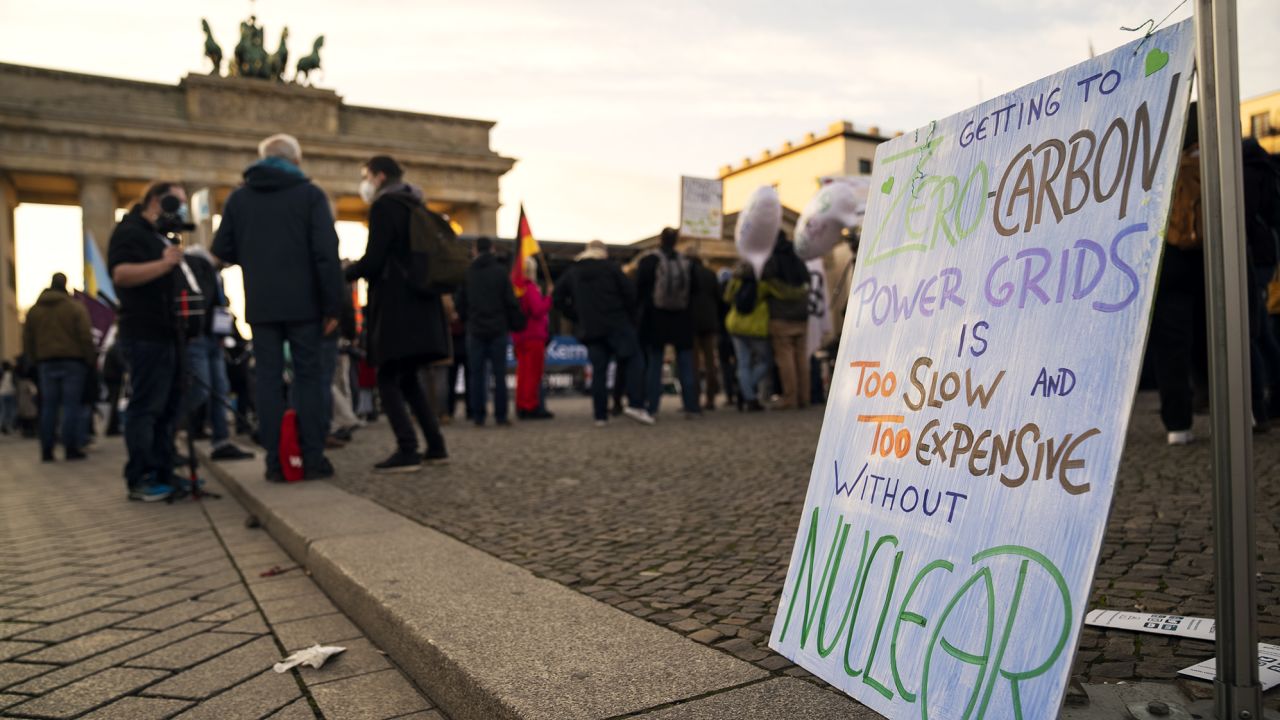 Yet the scale of the climate crisis is encouraging other governments and investors to give the nuclear industry another look.
Whether the world invests heavily into nuclear will depend on what people have the stomach for. Ruishalme, for one, hopes they'll put their anxieties aside.
"Our gut feelings don't produce ready-made solutions," she said, adding that she too once considered it "too risky," but changed her mind after researching the pros and cons.
Europe's big decision
Nuclear energy currently accounts for about 10% of the world's electricity production. In some countries, the share is even larger. The United States and the United Kingdom generate roughly 20% of their electricity from nuclear energy. In France, it's 70%, according to the World Nuclear Association.
The world is now at a nuclear crossroads: It could scale up nuclear as a sturdy energy source to keep emissions down, or throw all its money behind renewables, which are quicker to build and more profitable — but sometimes patchy.
Advocates emphasize that nuclear power flows even when the sun doesn't shine and the wind doesn't blow.
"We need renewables to be complemented by a reliable, 24/7 energy source," said James Hansen, a climate scientist at Columbia University who also took part in the Berlin demonstration.
The UK government agrees. It supports the construction of the country's first nuclear power station in more than two decades in southwestern England. US President Joe Biden's infrastructure package, meanwhile, includes $6 billion in grants to keep older plants running. And President E