As Tom Stoltman crouched down to pick up the fifth and final Atlas Stone, a 210-kilogram (almost 463 pounds) spherical behemoth – slightly heavier than an upright piano – and lift it up to a platform at shoulder height, he knew it was the only thing standing between him and becoming the 'World's Strongest Man.'
It was the final lift, in the final event, in a week's worth of grueling challenges designed to test the upper limits of human strength, pitting giants from all over the world in trials ranging from pushing a 20-ton train for maximum speed, to squatting 320kg (about 705.5 pounds) for maximum reps, to tossing a 33-pound keg for maximum height and numerous other unimaginable feats of strength.
In the end, the title came down to two men: 2020 runner-up Stoltman, who is from Scotland, and four-time former 'World's Strongest Man' Brian Shaw. A win for Stoltman over his American opponent in the Atlas Stones and the title was the Scot's.
As Stoltman dropped the mammoth stone onto the platform, he turned to see his American opponent still negotiating his way through the colossal orbs.
The Scot dropped to his knees in equal parts exhaustion, celebration and relief. The 27-year-old knew he had achieved what once seemed impossible; he was the 'World's Strongest Man.'
The giant Scot wasn't celebrating alone for long. He was immediately embraced on the floor by the man who finished seventh in the same competition – his older brother, Luke.
"We kinda dropped to our knees and said a few things. That was the most special moment ever," Stoltman recently told CNN Sport after his remarkable victory in Sacramento, California back in June – a victory made even more remarkable when you consider his extraordinary and unlikely path to victory.
Stoltman has autism, a neurodevelopmental disorder characterized by difficulties with social interaction and communication, often presented in restricted, repetitive patterns.
"[Growing up] I didn't have a clue that I was doing anything wrong," Stoltman recalls. "All my behaviors and the stuff I was doing, like in the house, out of the house, to my parents, siblings, etc., I thought was normal.
"I thought the other kids, doing different things, were the ones that were in the wrong."
As Stoltman became a teenager, his social issues intensified, until "something just clicked in my brain" and he decided to tell his closest friends at school.
"I stood up and took my seven or eight best mates into a room and said, 'Look, I have autism.'
"And they said, "Look, there's no problem at all. We're still going to like you for who you are.'
"And that day is when a weight lifted off my shoulders and I felt normal. Like a normal member of society. I felt just normal around people and they all just treated me the same as them.
"That was the day that changed my life. When I was open about having autism."
READ: Marathon running left him 'totally depleted.' Then he became a strongman
Bulking up
Soon, teenager Stoltman followed his older brother Luke, who was already competing in strongman competitions, to the local gym.
"I was a skinny boy, not much confidence, and Luke said, 'Come on to the gym.' So I went to my local gym and hated every single minute of it. I didn't like the people staring at me. But I kept going and kept on pushing myself and Luke kept on pushing me.
"I knew he was obviously the best in the country, so I was just always wanting to try to get close to him. He was a bigger brother. I was just trying to pip at him, bite at him at every session."
Stoltman may have been skinny, but he wasn't small. And at six foot, eight inches, the young Scotsman had a prodigious appetite, which soon became key for his new found way of life given the need to 'bulk up.'
"Even when I was a younger kid, I was taking four or five sandwiches to school for lunch. A lot of fruit, some sweets as well. And I would have two or three snacks on top of that."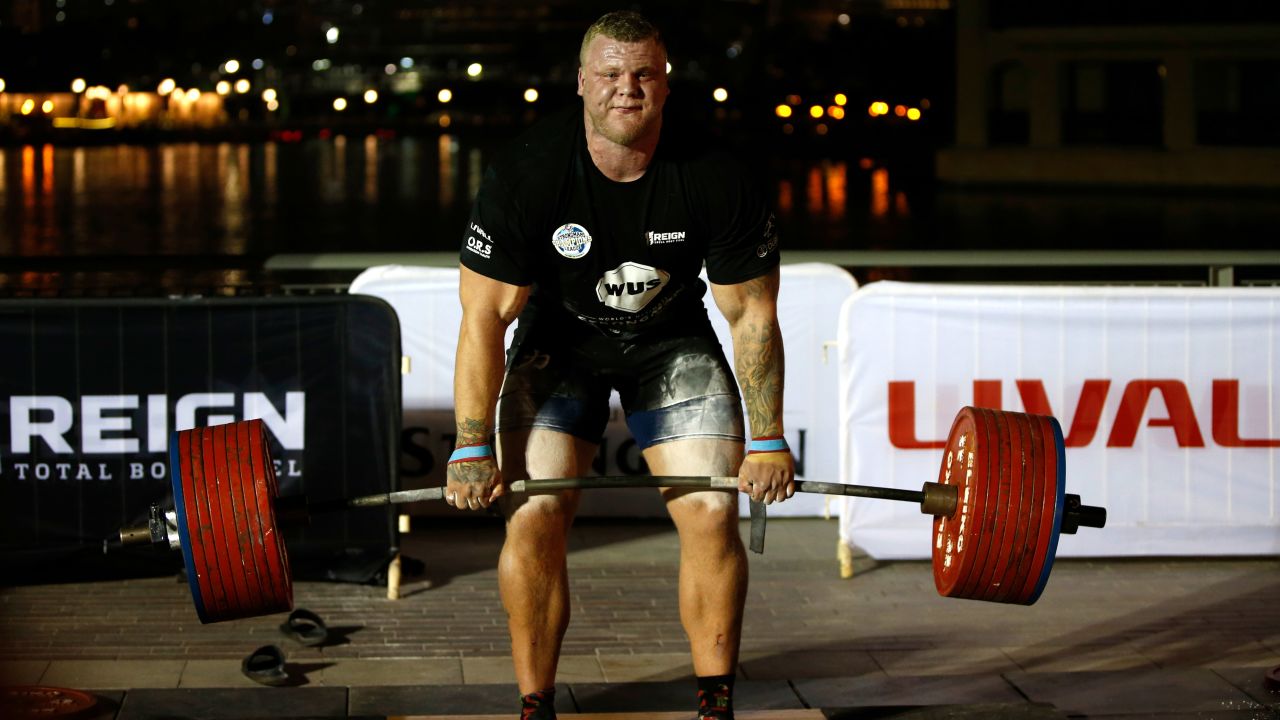 A decade later, in order to prepare his body for the merciless rigors of training and competition, Stoltman typically eats upwards of 10,000 calories a day.
And as he began honing his focus on his ever-increasing strength, Stoltman was finding his autism was proving to be a valuable asset.
"Having autism and [going to] the gym goes hand-in-hand," reflects Stoltman. "When you're in the gym, you need a routine. And obviously, when I found 'Strongman,' it's all routine.
"You're waking up every day. You're eating the same meals every day. You're doing the same things every day. And you're going to the gym at the same time every day."
However, his relentless quest to improve his performance presented challenges.
"Sometimes, if I missed that lift, I'll think about it for 24 hours or not talk to my wife. I'll be in a really bad head space. So there are positives and negatives with it and I still struggle with the negative side of things."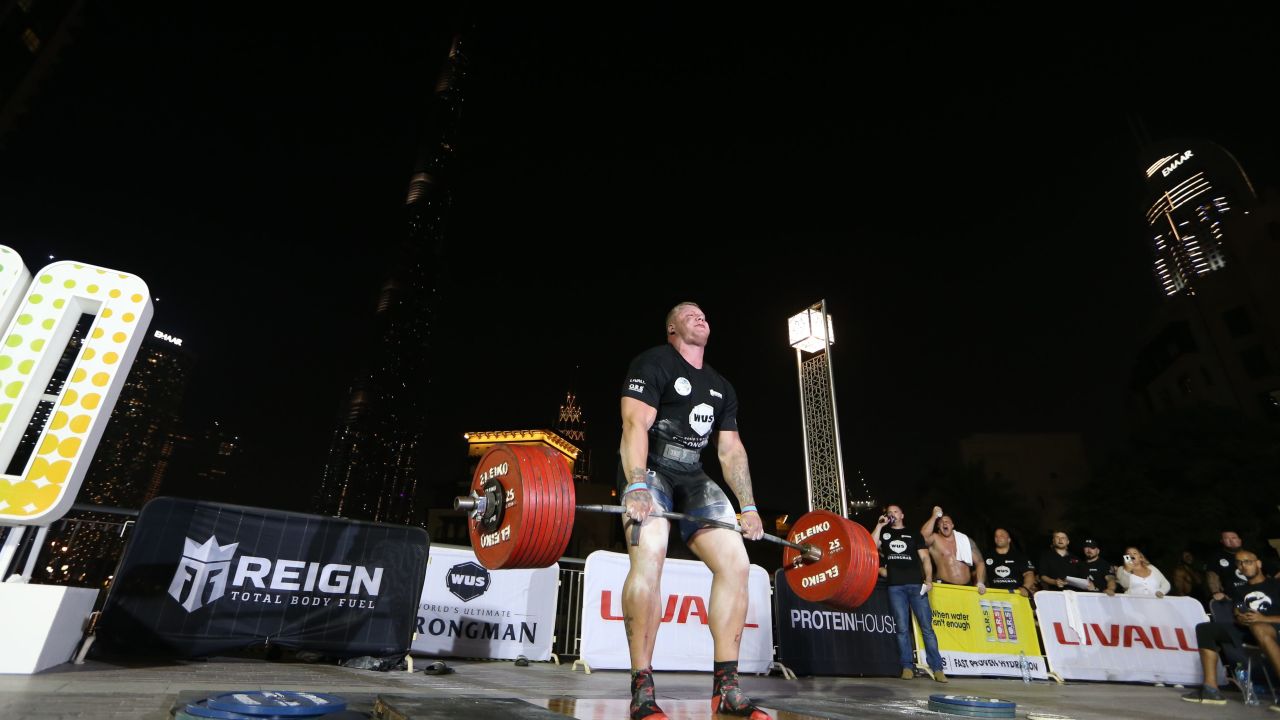 READ: Powerlifter Karenjeet Kaur Bains 'found a love for being strong.' Now she wants to inspire more women to take up strength sports
'Screaming from heaven'
In 2016, Stoltman's mother Sheila succumbed to cancer. His biggest fan, Stoltman made a vow to her before her untimely death.
"I made a promise to my mom before she passed away that I would win 'World's Strongest Man' for her and also be [a] kind gentleman and a man outside of the sport as well."
The nearly 400-pound giant smiles as he ponders how she would have reacted to his victory.
READ: Sam Holness hopes to use autism 'superpower' at the IRONMAN World Championship
"She'd have been screaming and she would have been going absolutely mental," he says. "She would have been screaming from heaven."
Stoltman's rise to the top of the world of strongmen was part of a three-year strategy, a plan he's delivered upon with unerring accuracy.
In 2019, he told the Strongman "Giants Live" tour: "I'll win it in two years' time. I want to get [on the] podium next year, then win it the year after."
Despite the interpersonal, emotional and physical obstacles Stoltman has had to overcome to achieve his goals, his journey has left him with a positive outlook to pass on to other people with autism.
"I always say to young kids and parents of young kids to use it as a superpower. You know, we're different. But now we've got an advantage over people that aren't different. We've got a superpower, they don't."