Hong Kong's streets turn into beauty parlors, karaoke bars and dance halls every Sunday as the city's domestic helpers gather to spend their day off together.
A small group of women, however, carrying helmets and gloves, and swinging bats, head to the cricket pitch. They are the SCC Divas, Hong Kong's first domestic helper cricket team.
Jennifer Alumbro was one of the first players to join the team in 2017 when the Divas were founded by retired umpire and local businessman Animesh Kulkarni and domestic helper Josie Arimas.
"When I started to try out this game I didn't expect that much," Alumbro, who is now the team captain told CNN Sport.
Little did she know that, within the next five years, the Divas would reach Division 1 in Hong Kong and become the backbone of the Philippine national cricket team.
Running a cricket team made up of domestic helpers, however, comes with its own challenges.
Hong Kongers employ over 390,000 migrant domestic helpers or live in maids who do the work of housekeepers, nannies, chefs and caretakers all at once.
They often work over 12-hour days from Monday to Saturday each week, keeping Hong Kong's households running. According to a recent HelperPlace survey, the average monthly salary for a foreign domestic helper in 2021 was HK$5,288 ($678).
Domestic helpers are an essential part of the Hong Kong economy, contributing 3.6% of local GDP based on personal expenditure. That figure is based on the cost of tasks they carry out at local rates, and the value of freed-up time for mothers, according to a report published by the charity Enrich.
Hong Kong law mandates that foreign domestic workers reside with their employers, which leaves them vulnerable to exploitation – and sometimes abuse.
In a survey of 5,023 helpers in 2019, 15% of respondents said they had been physically abused during their employment.
And helpers often live in unsuitable conditions, forced to sleep in cupboards or bathrooms, and are on call 24/7. Quitting, however, is not an option as it could threaten their visa status and ability to support their family.
Alumbro was an education student and a softball star in Iloilo, Western Visayas in the Philippines when she was forced to drop everything and move to Hong Kong to become a domestic helper to support her young daughter and ailing parents.
Like many helpers, Alumbro hasn't seen her family in over two years because of the pandemic – her daughter turned 14 this year.
"It's hard, but I do my best to adjust. And it's not for me, why I'm here," says Alumbro.
Since the outbreak of Covid-19, helpers have often born the brunt of the government's public health measures.
In January 2020, around the time the first Covid case in Hong Kong was identified, the government appealed to domestic helpers to stay home on their one free day to help contain the virus.
Then in May 2021, a single infection of a domestic helper triggered the mass testing of 340,000 domestic helpers in Hong Kong, which has followed China in its pursuit of a zero-Covid strategy.
The government has been criticized for its actions, which have stereotyped helpers as vectors of the virus, but Alumbro believes the Divas can change the image of domestic helpers in Hong Kong for the better.
"When I start playing cricket, I distance myself from the bad or the negative," said Alumbro. "In this way, at least, we lift up the image of the domestic helper."
Kulkarni says the aim of the team has always been to provide domestic helpers with an alternative way to spend their time.
"When it comes down to empowerment of those ladies, I have seen a lot of them are spending time just gathering together in Central or in Wan Chai or something. So the best option is to get involved as a team sport," he says to CNN Sport.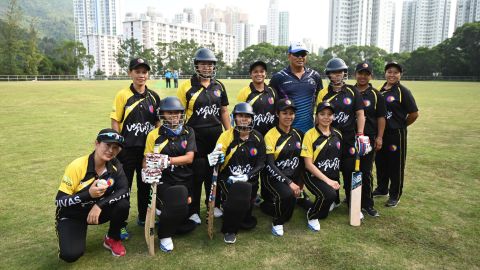 In 2019, the Philippines was accredited by the International Cricket Council. Though not a well known sport in the Philippines, its popularity has increased in recent years not least thanks to the success of the Divas.
Currently, nine out of 11 players in the Philippine National Team are Divas players. The opportunity to play for the national team has stirred up enthusiasm for cricket in the helper community with many new recruits joining the Divas.
A large portion of them have played softball or baseball in the past, making it an easy transition to cricket. The main team is now supported by a development team and a Division 2 team.
"Everyone is looking for us, 'Oh, this is the domestic helper [team], how can they do it? How can they train? Why they win every game?'" says Alumbr, for whom playing in the national team is a dream come true.
As a university student in Iloilo, she was slated to play on the national level but was suddenly forced to drop out of school because of her family commitments.
Now, cricket has given her another shot at realizing her sporting dream.
"When I play [international] cricket, it makes me very happy … so much pride, that my dream is about to begin and that I play for my country, not for myself."
Playing against the Hong Kong Cricket Club (HKCC), the oldest and strongest team in the city, the Divas don't flinch.
For them, it's not about winning or losing, it's about playing the game and building a community. Other domestic helpers often come to show their support on game days, picnicking on the sidelines, offering snacks and refreshments to players on both sides.
Kary Chan, HKCC coach and captain of the Hong Kong national team, says the Divas are changing the face of the sport in the semi-autonomous city.
"It's really helpful because it makes more people know about cricket and also it's really meaning, like not only a Westerner to play, but any job or any nationality can play cricket in Hong Kong too," she told CNN Sport.
On the pitch, everybody's equal, says Alumbro as she prepares for the game.
"We are just helpers here in the foreign country and they are the residents, but in this situation, maybe there is no difference in the level of the game," she says.
Despite losing against HKCC, the Divas already have bigger goals on the horizon.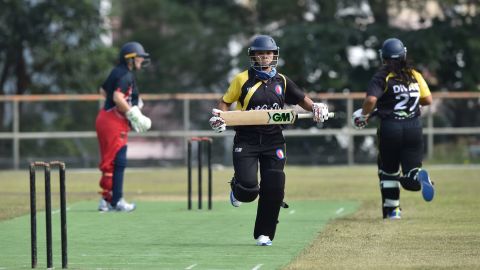 Alumbro hopes to return to the Philippines one day and widen cricket's value and appeal within the country.
She's passionate about teenage mental health and eager to put her years of education studies to use by teaching children.
"Cricket is a very unique sport, not only for the mental, physical, but it also develops good behavior," she says.
Cricket has been a silver lining in her life and she hopes that it can be the same for others.