We all know that cutting energy use is a good thing, but how do you make it appealing to the average person? San Francisco company OhmConnect has a novel approach.
Founded back in 2014 in a basement, OhmConnect provides incentives for its customers to reduce electricity consumption during certain peak-usage times. It targets times when "peaking" power plants are turned on to supplement the grid. These plants tend to have higher carbon emissions than typical facilities, and cutting energy demand reduces the need to switch them on.
Today, OhmConnect serves 180,000 households, operating in California, Texas and Australia. The company sends its customers texts and emails reminding them to take simple actions such as turning off unnecessary lights, setting their thermostats, and curtailing energy use by spending peak-energy times on activities such as family outings, playing board games or walking the dog.
In return for their energy-saving efforts, OhmConnect gives its customers reward points that can be turned into cash, used to enter prize draws, or to buy smart devices such as smart refrigerators, which will cut their energy use. That saves customers money, while also relieving the pressure on the energy grid.
"We make sure your refrigerator can buy you beer," says the company's CEO, Cisco DeVries.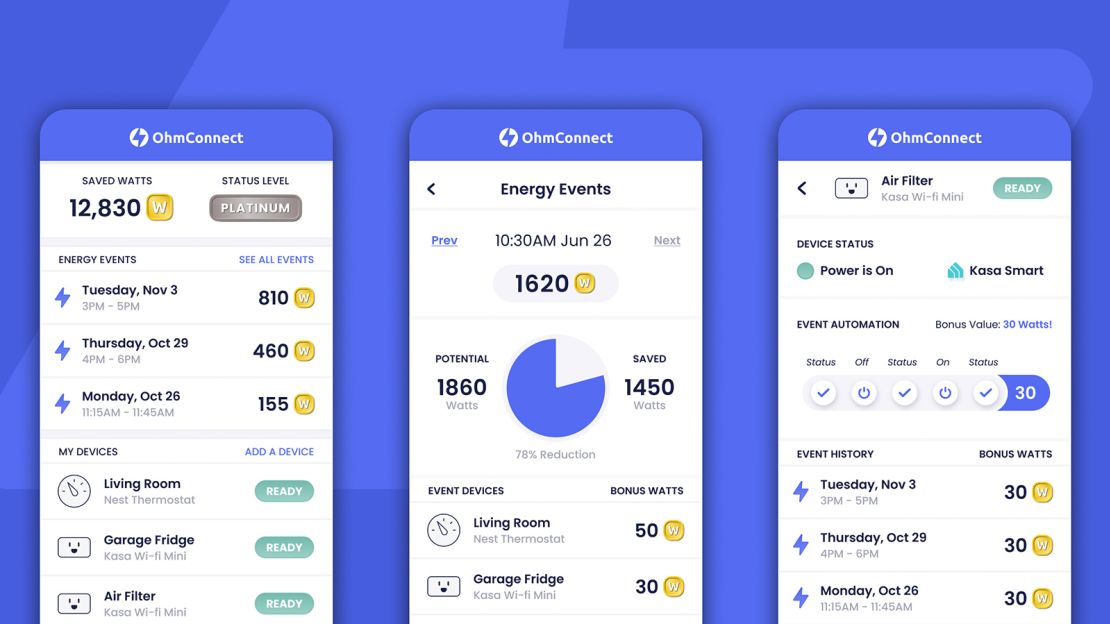 The idea is to include ordinary people in the fight against climate change, and the company says its customers range from people who live in mansions to those who live in trailers. "The great thing about OhmConnect is that it's available to everybody; everybody can participate in this zero-carbon transition, and they can get paid for doing so," DeVries says.
Electricity markets pay OhmConnect for the energy it has saved, just as if the company were a power plant producing energy. It aims to make the reduction of energy as reliable and precise as the production of energy from a coal or gas power plant, creating "the perfect offset to fossil fuel plants," according to DeVries.
Reducing emissions
Since it launched, OhmConnect says it has saved energy roughly equivalent to the annual greenhouse gas emissions from 1,381 passenger vehicles.
"These little differences, they add up to something really powerful, and so I'm excited about how much each individual can do – that we do it together," says DeVries.
In 2020, OhmConnect received $100 million in funding from Sidewalk Infrastructure Partners, which is backed by Google's parent company Alphabet. It plans to use the money to add more customers, and therefore energy savings, creating the largest "virtual powerplant" in North America.
For DeVries, the need for action is pressing. "Climate change is now a crisis that is upon us; it's not something that is going to happen to future generations, it is happening right now," he says. "We are living in it, so we need solutions that work today."