For drivers in western Kazakhstan, it was not a happy new year when January 1 brought a doubling in the price of liquid petroleum gas.
Only a few dozen people took to the streets in the city of Zhanaozen to protest, but within three days their anger was echoed by people across the vast resource-rich central Asian state, fed up with everything from unemployment and inflation to corruption.
The security forces had the upper hand to begin with, vastly outnumbering those who braved arrest and sub-zero temperatures to protest. But by January 4, spontaneous unrest had engulfed Almaty, the largest city in this authoritarian former Soviet state. The government's promises to roll back the price increase and offer other economic support were too little and too late.
Now President Kassym-Jomart Tokayev, who took office in 2019, faces the choice of offering real political dialogue or opting for repression.
Tokayev appears to have been caught off-guard by the rapid spread of the protests. On January 2 he tweeted that "citizens have the right to make public demands to local and central authorities, but this must be done in accordance with the law." Later he said that "demonstrators must be responsible and ready for dialogue," and promised that a commission would "find a mutually acceptable solution to the problem that has arisen in the interests of stability."
But the responses to Tokayev exposed the depth of popular anger. One said: "Every day everything rises in price. I mean groceries and everything else. Impossibly getting more expensive. Please take some action. It's not easy for ordinary people."
Pressure cooker of grievances
The government's repeated – and unfulfilled – pledges of a better economic future have turned Kazakhstan into a pressure cooker of discontent, analysts told CNN. Longstanding grievances about unemployment and low wages – especially in the heavy industries of western Kazakhstan – have been turbocharged by a pandemic-induced recession and grotesque inequality.
"This is a government that is highly detached from the reality of what happens on the ground. It's a country where there are no institutions through which to protest; the only route is on the streets," Paul Stronski of the Carnegie Endowment for International Peace told CNN.
Stronski says authorities have announced many different plans to improve life and crack down on corruption but they are never implemented. "People have been told things will get better but wealth is siphoned off," he said.
The lack of dialogue and the harassment of political opposition has left the government detached from and blind to popular grievances.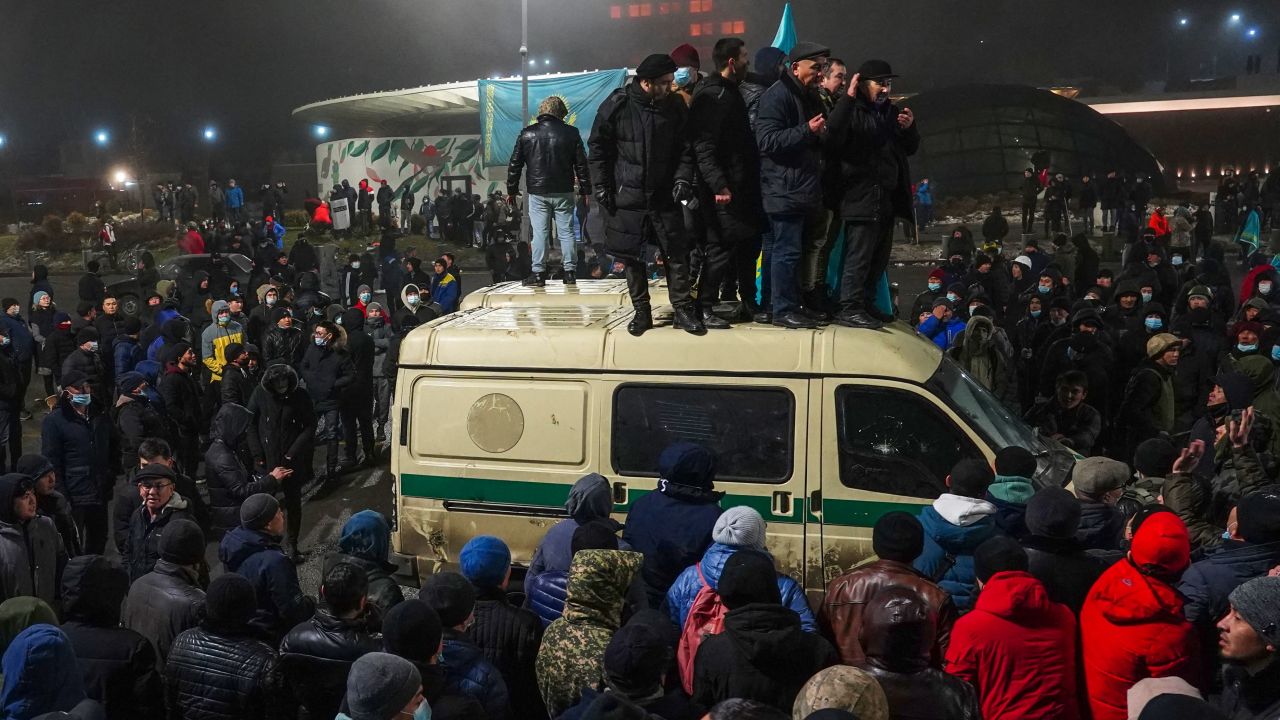 Protests in Kazakhstan are far from unknown. But they've rarely brought about change. Katie Putz of The Diplomat magazine tweeted that "the protests in 2016 and 2019 in KZ were precursors and, for the authorities, missed off-ramps."
Stronski told CNN that authorities have missed both opportunities and warning signs over the past decade, he says, opting for cosmetic over real change.
It's not just bread-and-butter issues that have fired up protest. Increasingly, according to Diana Kudaibergenova of Cambridge University, economic and political grievances have coalesced – driven by endemic corruption and resentment towards an elite seen as stashing billions of dollars in offshore havens.
Marie Struthers of Amnesty International says there's been no outlet for this quiet fury that has gathered pace. "For years, the government has relentlessly persecuted peaceful dissent, leaving the Kazakhstani people in a state of agitation and despair," she wrote Wednesday.