A judge Friday denied a request by the parents of Michigan high school shooting suspect Ethan Crumbley to reduce their bond from $500,000 each, citing among other things their initial failure to turn themselves in.
Attorneys for James and Jennifer Crumbley – charged with four counts of involuntary manslaughter in connection with the deadly November shooting at Oxford High School – had asked the judge to reduce the bond to $100,000 each.
Oakland County Judge Julie Nicholson denied the request after a hearing attended by the couple through video conference, each from separate rooms in jail.
Prosecutors argued the couple were a flight risk, partly citing their December 4 arrest in a Detroit warehouse following a manhunt that began when they failed to show up to court for their initial arraignment.
Nicholson said she found, among other things, the parents had family ties out of state and "did not voluntarily turn themselves in – instead, they were found in an abandoned building in the city of Detroit."
Ethan Crumbley, 15, is accused of opening fire at Oxford High School with a 9mm handgun on November 30, killing four students and injuring six others and one teacher. The attack, some 40 miles north of downtown Detroit, was the deadliest shooting at a US K-12 campus since 2018.
Ethan Crumbley is jailed and charged with one count of terrorism causing death, four counts of first-degree murder, seven counts of assault with intent to murder, and 12 counts of possession of a firearm during the commission of a felony.
Crumbley's parents were charged with manslaughter and have pleaded not guilty. Prosecutors have accused them of giving their son easy access to the gun and disregarding signs that he was a threat.
CNN reached out to their attorney for comment after Friday's hearing. A preliminary hearing is scheduled for February 8.
Madisyn Baldwin, 17; Tate Myre, 16; Hana St. Juliana, 14; and Justin Shilling, 17, died in the shooting, authorities said.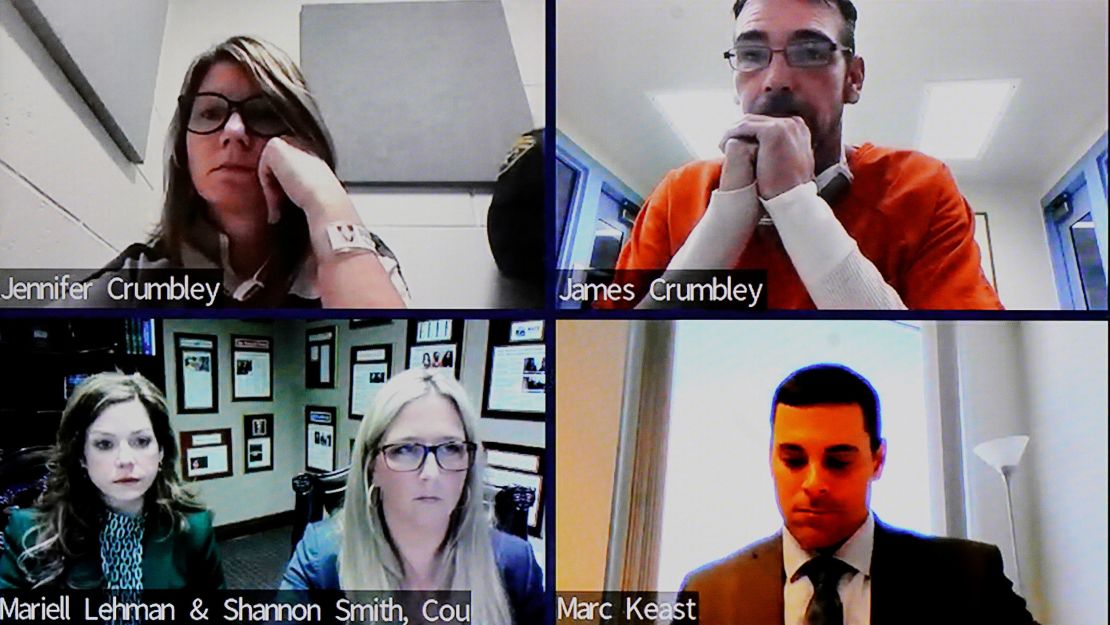 Ethan Crumbley waives preliminary hearing
Earlier Friday, Ethan Crumbley waived his right to a preliminary examination Friday, nudging the case toward trial without prosecutors needing to first persuade a judge they have probable cause to try him.
The teen, wearing an orange jail shirt and a mask, appeared before an Oakland County Judge Nancy Carniak in a video conference and said he understood his decision and his rights.
Prosecutors agreed to the waiver, and Carniak said she would bind the case to court for trial, and a hearing would be held within the next two weeks to assign a judge.
At his arraignment last month, the judge entered a plea of not guilty per a request from Crumbley's attorney.
In a preliminary examination a judge would have had to decide – before moving the case to trial – whether prosecutors had probable cause to show a crime had been committed and that the defendant committed the crime.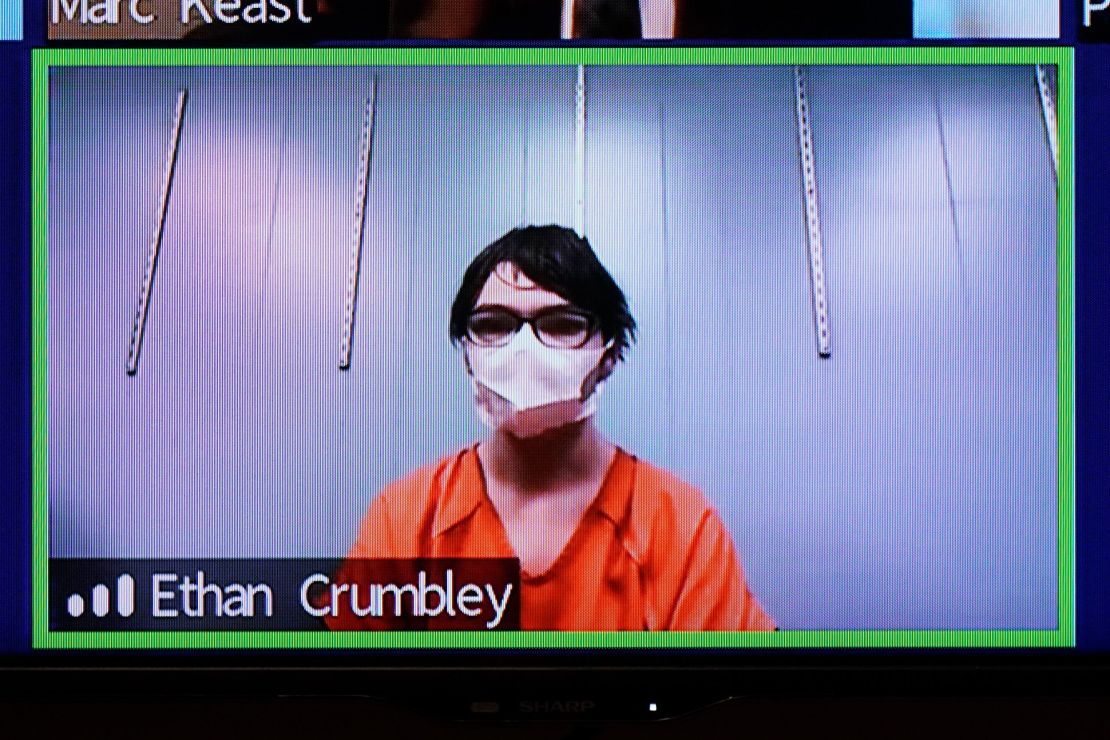 Neither prosecutors nor Crumbley's representatives explained during Friday's proceeding why they wanted to waive the preliminary hearing.
On Friday, Carniak said Crumbley's bail would be addressed in the next two weeks, pursuant to a newly enacted federal statute.
The preliminary hearing initially was postponed last month after prosecutors said they needed more time to examine a large amount of evidence before sharing it with defense attorneys.
Prosecutors outline case, revealing new evidence
Prosecutor Marc Keast told the court Friday the parents were negligent in taking care of concerning issues that came up with their son well before November 30. Their son allegedly texted his mother while his parents were not home, saying he saw demons or ghosts, or that he believed someone was inside the house, Keast said.
He said sometimes Jennifer would not respond for hours to her son's texts.
Evidence was recovered that showed in May 2021, Ethan Crumbley allegedly killed and tortured animals near and in his home, and even kept the severed head of a bird in a jar for over six months, Keast said.
Prosecutors added it appeared the teenager was creating Molotov cocktails at their home.
His notebooks had a lot of concerning content as well, talking about how he wanted to shoot guns, shoot up a school and other dark thoughts, Keast said.
Some of his drawings also included drawings of a gun very similar in appearance to the one used in the shooting, which prosecutors have alleged was an early Christmas present, Keast added.
Crumbley's obsession with guns and what he wanted to do with them was apparent in his notebooks and internet search history, Keast said. He said Crumbley searched online about guns and school shootings so much that he started to get spam advertisements regarding guns and mental health.
He frequently bragged on social media about wanting or having a firearm, and shot a video in August 2021 where the teen was holding James Crumbley's .22-caliber Caltech pistol in one hand and bullets in a magazine in another, where he made a joke about doing a school shooting, Keast said.
"He demonstrated one real passion in life, and that was firearms," Keast told the court. "His parents obviously know what had been directly told to them, but they did not intervene. They did not schedule therapy; they did not investigate what might be in his room or his phone or his browser history."
Both parents could be seen repeatedly shaking their heads while prosecutors outlined their evidence.
A disturbing timeline of events
Oakland County Prosecutor Karen McDonald has said James Crumbley purchased the gun used in the shooting four days prior to the deadly tragedy.
Ethan Crumbley "had total access to this weapon," and the parents "didn't secure (the gun) and they allowed him free access to it," McDonald said during the parents' December 4 arraignment.
One of the parents' attorneys, Shannon Smith, countered during the hearing, saying, "The gun was actually locked."
"When the prosecution is stating that this child had free access to a gun, that is just absolutely not true," Smith said.
McDonald has alleged that the day before the shooting, a teacher at Oxford High School saw Ethan Crumbley searching online for ammunition on his phone.
The teacher notified school officials, who contacted the parents via phone and email, but they did not respond.
Later, Jennifer Crumbley sent her son a text message saying, "LOL I'm not mad at you. You have to learn not to get caught," McDonald said.
On the day of the shooting, another teacher found a drawing on Crumbley's desk that essentially depicted a shooting, McDonald said. It "alarmed her to the point that she took a picture of it on her cell phone," the prosecutor said.
The picture led school officials to hold a meeting with the accused shooter and his parents,
When the parents were called that day, Jennifer asked if James could just call in, and she was told by the school they had called him but only heard "dead air," Keast told the court Friday.
Both parents ultimately showed up at the school. After the school discussed their concern over the teen's drawings, the parents said neither of them could take him home, he continued. Jennifer then allegedly said, "Are we done here?" which is when the school said they had 48 hours to call a therapist, according to Keast's account of events.
The parents resisted the idea of taking their son out of school, McDonald said in December, and he was allowed to return to the classroom.
The shooting happened several hours later, but prosecutors say neither parent went home to check where the gun was.
When they found out about the shooting, James Crumbley called 911 to report the gun missing and Jennifer Crumbley told her son not to do it. Jennifer also texted a coworker around the same time saying she was concerned the teen was responsible, Keast said.
Several hours after the shooting the parents checked into a hotel and started arranging the sale of their horses, McDonald said Friday. They also took out a significant amount of cash and cleared out their son's bank account of over $3,000, as well as buying four cellphones, she said.
McDonald also said there is ample evidence showing the parents either lacked concern or avoided turning themselves altogether on the day they were charged.
When they were ultimately found in the Detroit warehouse, there was clear proof they were hiding from the police and had provisions to stay, McDonald said, and were found with $6,600 in cash, 10 credit cards and some gift cards.
Surveillance cameras captured the violence
Surveillance cameras at the school captured much of the violence, prosecutors have said.
Just before 12:51 p.m. on the day of the shooting, Ethan Crumbley could be seen with a backpack, then a minute or two later, he exited a bathroom without the backpack but with a gun in hand, Keast said during Crumbley's December 1 arraignment.
Crumbley then allegedly began to "methodically and deliberately" walk the hallways and aim a gun at students and fire the weapon, Keast said.
When students began to run away, Crumbley allegedly continued to go down the hallway at a "methodical pace" and shot inside classrooms and at students who hadn't escaped, Keast said.
This continued for another four or five minutes, and Crumbley eventually went to another bathroom, Keast said.
Dozens of terrified students called 911 during the shooting. When deputies arrived, the suspect set down the gun and surrendered, officials have said.
CNN's Aya Elamroussi, Sonia Moghe and Christina Maxouris contributed to this report.