At least 13 people were killed in a blast in western Ghana on Thursday after a motorcycle collided with a vehicle carrying explosives, according to officials.
An additional 59 people were injured in the explosion, according to AFP.
The blast appeared to have completely leveled Apiate, a small town in western Ghana. Kwadwo Bempah, who works in the area and heard the explosion, told CNN that nearly every building there had collapsed, trapping people and animals under rubble.
The dead, he said, were "all around."
"It is a real tragedy for Ghana," Bempah said.
The explosion was initially thought to have killed 17 people, but that number was revised downwards on Friday as more information became available to authorities.
"The death toll number has been revised to 13. I think earlier, various body parts give a different figure but as we consult this morning with Vice President and supervisory delegation, it has revised to 13," Ghanaian Minister for Information Kojo Oppong Nkrumah said.
Police said most of the victims have been rescued and admitted to various hospitals and clinics. No more details were released on their condition.
"The police and other emergency service providers have activated a full emergency recovery exercise," a police statement said. "We urge all to remain calm as we manage this unfortunate situation."
"The police have taken charge of the situation providing security to enable the emergency workers including the Ghana National Fire Service, NADMO and the Ambulance Service to manage the situation," another statement read.
"The public has been advised to move out of the area to nearby towns for their safety while recovery efforts are underway," it added.
The police statement urged nearby towns to open classrooms, churches and other buildings to accommodate surviving victims.
Apiate, Bempah said, is small and residential, with a population of no more than 10,000. "Most of the people are farmers and miners," he said.
In the initial aftermath of the accident, Bempah said the local community stepped in as first responders, pulling people and animals from collapsed debris and rushing the wounded to hospitals before ambulances arrived.
The explosives were being delivered to a nearby mine run by Chirano Gold Mines, according to a press officer for the company, Kwabena Owusu-Ampratwum.
"We are closely monitoring the situation and the rescue efforts," Owusu-Ampratwum said.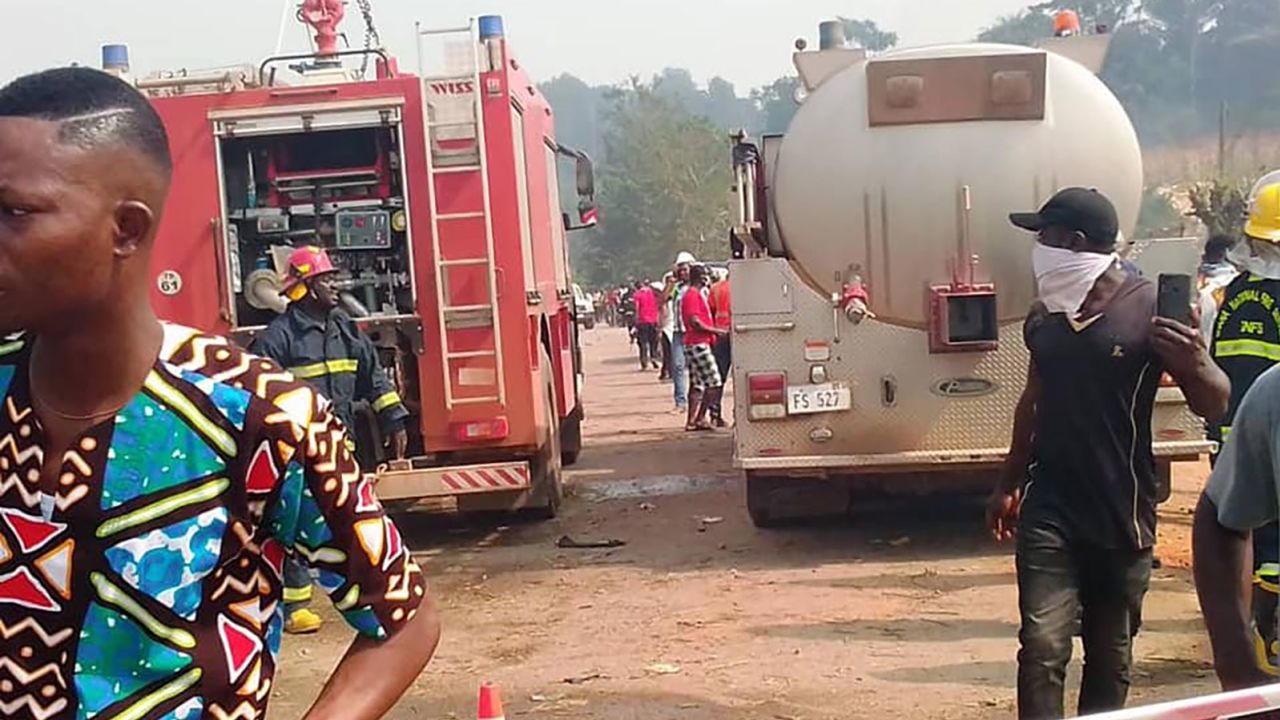 Ghana has witnessed a series of gas explosions in recent years, with one of the worst blasts killing more than 150 people in the capital Accra in 2015. The explosion occurred as hundreds of residents sought shelter at a gas station from heavy rains.
Last October, at least one person was killed and another injured in a gas-related explosion in Accra, local media reported.
In the same month, three people died in another blaze in the country's Ashanti region.
CNN's Taylor Barnes contributed to this report.