Olympic athlete Pita Taufatofua has yet to make contact with his father after the "devastating" tsunami hit Tonga.
The disaster was triggered by Saturday's huge eruption of the underwater Hunga-Tonga-Hunga-Ha'apai volcano and caused "unprecedented" damage to the Pacific nation.
Taufatofua, who became widely recognized after being his country's flagbearer at the Summer and Winter Olympics, is currently in Australia and hasn't yet heard from his father who lived on the main island of Tongatapu.
"I have no idea what has happened to him," he told CNN Sport's Amanda Davies.
"I am optimistic he will be OK, and hopefully, he is out there working in the community. That is probably my guess, but that is just me speculating.
"It is very tough, but I have no choice. In times like this, you've got to stand up. There are people all around the world who are standing up as well, it's not just me, it's many, many thousands of people."
READ: Tonga faces 'unprecedented disaster' as New Zealand warns of further eruptions
Widespread devastation
The "volcanic mushroom plume" extended to cover all of the country's roughly 170 islands – of which 36 are inhabited – impacting the entire population of more than 100,000 people.
Tongan Prime Minster Siaosi Sovaleni said all houses on the island of Mango, where 36 people live, were destroyed during the disaster.
Only two houses remain on Fonoifua island, and extensive damage was reported on Nomuka island, home to 239 people, he said.
Tonga's government on Tuesday confirmed the deaths of three people and several other injuries.
On Wednesday, Taufatofua posted a message on Instagram assuring people that his family home was still standing, but he's still not been able to speak to his father.
In order to help with the relief effort, the taekwondo and cross-country skiing athlete established a GoFundMe fundraising page, which CNN has verified.
The funds will go "towards those most in need" as well as repairs of infrastructure, and schools and hospitals that were damaged.
"We have no choice, we can't run to our rooms and sit there and cry and wish. Now is the time for us to work and help our country," he added.
"We started a GoFundMe page and people have been so generous."
Taufatofua says there are now issues with the "thick layer of ash" across the country as well as water filtration concerns and communication problems.
He has urged people to keep sharing information about the disaster so the world is aware of the tiny nation trying to recover.
"When you are there in Tonga, everything is lush, it's green, it's blue, it's full of life," he said.
"When you look at it now, it looks like a 1910 black and white film and everything is covered in ash. It's not the Tonga you remember."
"If anyone out there has a spare satellite, please send it our way. Our communications were shut down.
"Elon Musk, if you're watching, send Starlink our way, we need help. We need to communicate with our loved ones."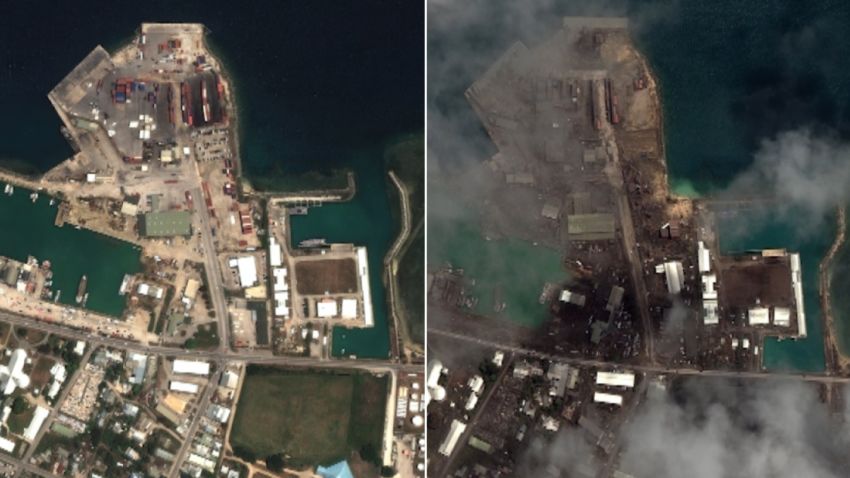 New satellite images show Tonga communities covered in ash
'We are sons of the earth'
Taufatofua had been training for taekwondo as well as attempting to qualify for sprint kayaking for the 2020 Tokyo Games, a sport he was picking up as a nod to his ancestors, as well as for environmental reasons.
He failed to qualify in the sprint kayak, meaning he competed solely in taekwondo.
Despite the widespread damage caused by the tsunami, Taufatofua says he still has respect for Mother Nature and the oceans which play a huge part in Tonganese life.
"Mother Earth is God's greatest creation and it's certainly something that we have to respect," he said.
"So even with a volcano devastating the island, we still have respect for the volcano, for the oceans, for nature. We have no hate or animosity.
"We understand, as Tongans, that we are sons of the earth. From dust we came, from ashes we will eventually return.
"We still have nothing but love for the oceans, it makes no difference."