Editor's Note: Sign up to get this weekly column as a newsletter. We're looking back at the strongest, smartest opinion takes of the week from CNN and other outlets.
When the snow melts in the spring, fields can get so muddy in the plains of Eastern Europe that Russians have a word for it: Rasputitsa, or "the season of bad roads."
Mud hindered Napoleon's 1812 invasion of Russia and Hitler's 1941 blitzkrieg against the Soviet Union, and it could be one of many factors now in the timing of any possible Russian move into Ukraine. If Russian President Vladimir Putin orders his forces to invade, analysts believe it would come before the spring thaw. "The best time to do it is winter because it's going to be a mechanized advance and the mechanized divisions need hard frozen ground," said Tim Marshall.
As the New York Times reported last month, "Some intelligence officials believe the muds of late March in Ukraine could be the country's best defense." But until Putin shows his hand, it's impossible to know what he has in mind, and any action need not involve ground forces at all.
Russian Foreign Minister Sergey Lavrov insisted Friday his country is not planning to attack Ukraine. Whatever happens, "the roughly 100,000 Russian troops stationed near Ukraine constitutes the biggest security crisis in years for Europe and its allies, including the US," wrote Michael Bociurkiw. "The tone of Putin's rhetoric and the trajectory of military deployment leave little doubt over his intentions: to regain control over a wide swath of the former Soviet Union – even to the point of rolling back the footprint of the North Atlantic Treaty Organization (NATO) to the Cold War years."
Are NATO and the US prepared for the consequences of any further move into Ukraine by Russia, which has already seized territory there and backed an insurgency in the eastern part of the country? At a news conference Wednesday marking his first year in office, President Joe Biden warned Putin against an invasion, threatening a strong response by the US and NATO, but waffled over what would happen if Russia made a "minor incursion," in an awkward statement he sought to clarify afterward.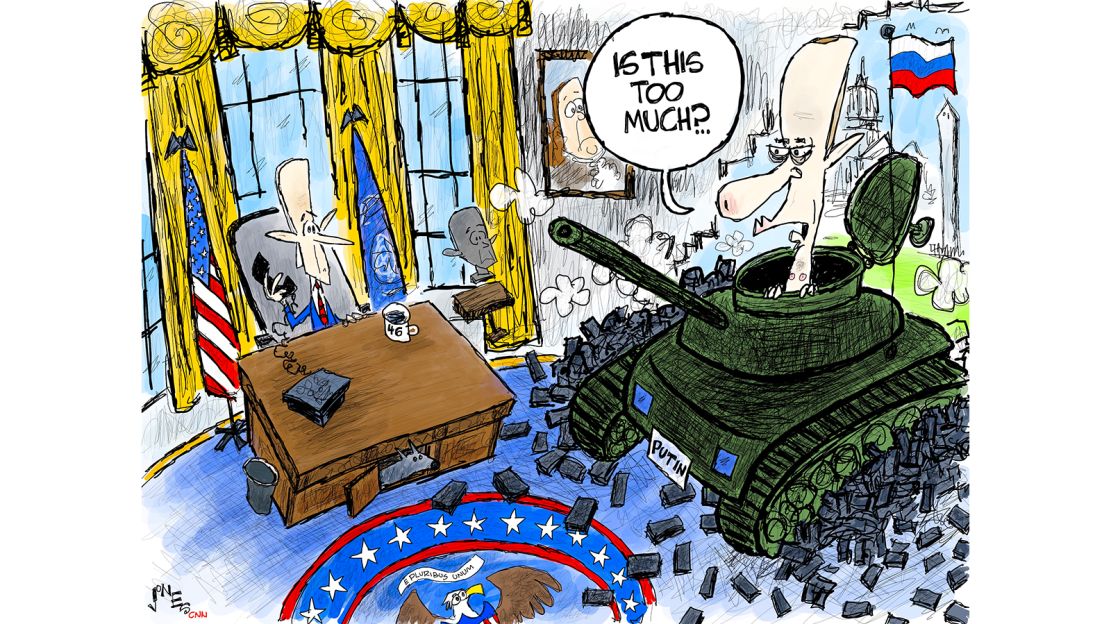 "The Russian dictator has not been subtle or secretive about what he wants. He might as well make the national anthem the Beatles' 'Back in the U.S.S.R.,'" wrote Max Boot, in the Washington Post. "He definitely wants to resurrect the Soviet empire, thereby undoing what he has called 'the greatest geopolitical catastrophe' of the 20th century. And that requires bringing back into the fold the second-largest former Soviet republic (by population) — the independent state of Ukraine." If an attack comes, Boot argued, "we must not flinch from imposing the most draconian sanctions possible."
In the Financial Times, former US Defense Secretary Robert Gates wrote, "Putin's problem is that, as dictators are wont to do, he has overplayed his hand. His aggressive threats against Ukraine have galvanized NATO and reaffirmed its clarity of purpose. His menacing policies have made Ukrainians even more anti-Russian and driven the country further into the arms of the west. Any Russian military action will result in Ukrainian resistance as well as larger NATO military deployments on Russia's western border, potential suspension of the Nord Stream 2 gas pipeline and painful economic sanctions."
Biden makes his case
Biden's one-year anniversary press conference coincided with the Democrats' failure to break a filibuster that blocked a voting rights bill and new polling showing Biden getting the worst rating of any first-year president except for Donald Trump.
But the narrative of a failing presidency is wrong, argued Kirsten Powers. "The fact is, approval ratings are most closely tied to how people feel about their day-to-day lives," she observed. "Americans are understandably fatigued as we enter the third year of the pandemic and, until the US gets back to some semblance of normal, we should expect Biden's approval ratings to reflect that frustration."
Don't blame the President for failing to accomplish on issues like immigration what other recent presidents couldn't do either. "Biden is not a magician; he is president. He can't shout 'abracadabra' and produce 50 Democratic senators who will support every element of his agenda. There aren't 10 GOP senators to pull out of a hat to back common sense and patriotic priorities like protecting voting rights. 'But he didn't end the filibuster for voting rights,' is the complaint. Right, because he doesn't have the votes."
Frida Ghitis wrote, "Biden's big bet is that supply chain troubles and the pandemic will ease before the midterms, lowering inflation and allaying discontent. That, he clearly expects, would lift his approval ratings and the prospects for Democrats…"
"If he's right, if his slumping approval is primarily the result of temporary circumstances and inadequate communications and he can push his legislative plan of action in smaller, somewhat more modest portions, his stepped-up messaging effort might just convince voters to see his presidency through the same pleasantly tinted Ray Bans as Biden does."
The culprit for Biden's woe is Senate Minority Leader Mitch McConnell, in Julian Zelizer's view: "The Kentucky Republican, reprising the playbook he used against former President Barack Obama, is successfully obstructing President Joe Biden's agenda in a way that exposes the divisions within the Democratic Party and leaves the commander in chief looking weak. Much of the press coverage surrounding Biden's performance ignores the elephant in the room—a united Senate Republican Caucus standing in the way of almost everything and using the threat of the filibuster to prevent legislation from passing outside of the reconciliation process."
In the Washington Post, conservative columnist Marc Thiessen labeled Biden's first year "a calamitous failure," but argued the blame didn't lie with "Republican intransigence." Instead, wrote Thiessen, Biden "allowed himself to be captured by his party's progressive wing, which convinced him that he should be a transformational president. Americans didn't vote for a transformational president. They voted for the unity, moderation and compromise that Biden promised but failed to deliver."
Sen. Bernie Sanders said the trouble arises from "two members of the Senate Democratic Caucus, Sens. Joe Manchin of West Virginia and Kyrsten Sinema of Arizona" who failed to support the Build Back Better bill. "For six months, President Biden and many of us have engaged in endless negotiations with these senators. These never-ending conversations, which have gone nowhere, must end. The time for voting must begin."
For more:
Anna Diakun: Biden promised transparency. Has he delivered?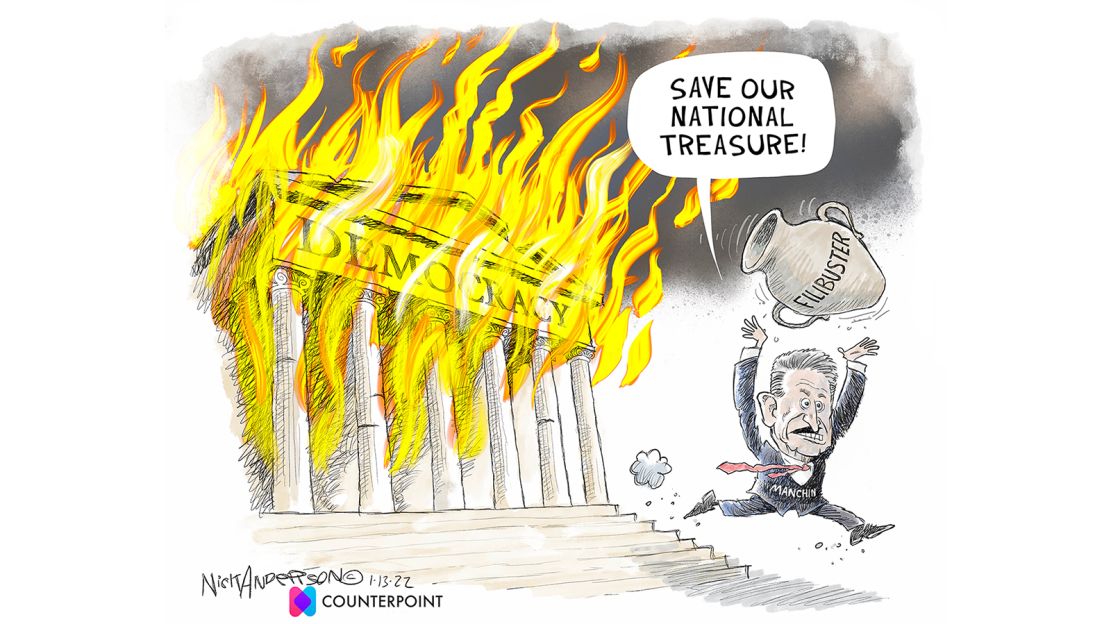 Voting rights bill blocked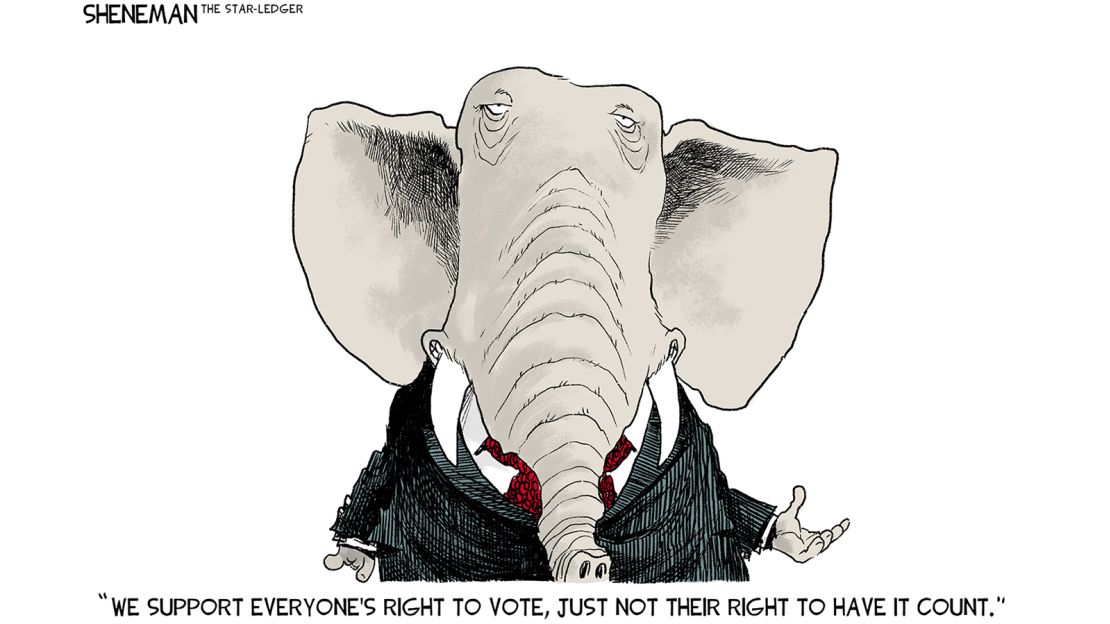 Biden's January 11 speech in Georgia didn't sway the senators who opposed the voting rights bill but it was powerful nonetheless, wrote Peniel E. Joseph. Biden "challenged Republicans by laying down a particularly resonant historical gauntlet. Did the GOP want to be on the side of 'Dr. King or George Wallace?' Wallace, the former governor of Alabama, infamously vowed to defend 'segregation now, segregation tomorrow, segregation forever,' in 1963 as he became the most visible symbol of White supremacy as expressed by elected officials during the civil rights era."
"Biden's speech put front and center how far we have come since the civil rights era and how long the road ahead is. By invoking both civil rights and Civil War era conflicts over racism as integral to 21st-century voting rights, Biden acknowledged that no aspect of America's history on matters of race is separate or divisible from what came before it."
Defeat for Trump
Dealing a blow to former President Donald Trump, the US Supreme Court declined on Wednesday to stop the transfer of presidential documents to the House select committee investigating last January's attack on the US Capitol.
"The speed with which this case moved through the courts validates the committee's urgent approach to its mission, and undercuts the weak executive privilege claims that former President Donald Trump's allies have used to try to hide the truth from the American people," wrote Norman Eisen, Joshua Perry and E. Danya Perry. They called the court's decision "devastating news for [Steve] Bannon, whose criminal prosecution for an even more outrageous blanket assertion of the privilege has already begun."
A day earlier, New York Attorney General Letitia James said her office had uncovered numerous "misleading statements and omissions" in documents provided by the Trump Organization to lenders and insurers, Michael D'Antonio noted.
"Among the most noteworthy examples of these practices cited by James is the treatment by Trump's financial documents of his penthouse in Manhattan. The apartment is large – almost 11,000 square feet – but, according to the state's filing, Trump documents indicated it was 30,000 square feet and thus worth a whopping $327 million. When questioned, former Trump Organization Chief Financial Officer Allen Weisselberg said the figure was an overstatement, 'give or take' $200 million."
Investigators for the House committee are also looking into the abortive effort by Trump supporters to persuade Vice President Mike Pence to accept rival slates of pro-Trump electors in states Trump lost.
Electoral college scholar Robert Alexander wrote that Trump wanted Pence "to use extraconstitutional powers to manipulate the tabulation of electoral votes to secure a second term despite his defeat in the election. One component of this scheme was to send phony electors to cast ballots in closely contested states that were carried by President Joe Biden … What's clear is that lawmakers must act now to prevent a similar occurrence in the 2024 election. There appears to be bipartisan momentum to do so, and the legitimacy of our presidential electoral system depends on it."
Get our free weekly newsletter
Sign up for CNN Opinion's new newsletter.
As if Trump's legal woes weren't enough, he's been contending with a potential rival for the role of "King of Florida," as Jonathan Martin and Maggie Haberman wrote in the New York Times. As Nicole Hemmer observed, Gov. Ron DeSantis "has positioned himself as Trump's natural heir, picking up Trump's trigger-the-libs patois and his conspiracy-driven grievance politics" but the governor won't promise to scrap a potential presidential campaign if Trump declares he is running in 2024.
Virginia's new governor, Glenn Youngkin, represents another possible rival to Trump – but one who has avoided explicitly tying himself to the former president. Yet "evaluating Republican candidates based on how they compare to Trump overlooks the bigger picture," Hemmer wrote. "Regardless of how the candidates sound, they are all part of the same project: empowering a distinctly anti-democratic Republican Party."
Maskless
Justices Neil Gorsuch and Sonia Sotomayor, who sit next to each other on the Supreme Court bench, were united in issuing a statement Wednesday denying reports she had asked him to wear a mask to protect against the spread of Covid-19. "We are warm colleagues and friends," they concluded.
But there was no denying Gorsuch hasn't worn a mask in recent public sessions, and Sotomayor, who has diabetes, a condition that could aggravate the effects of Covid-19, has been participating in court hearings remotely.
Kara Alaimo called Gorsuch's masklessness "a shocking display of male entitlement…"
"There's a very gendered nature to the debate about masking. While plenty of women don't wear masks or support public masking, a study in the academic journal Politics & Gender found an association between masculinity and an aversion to mask wearing." Another study found, "women, on the other hand, tend to be more risk averse on matters related to our health."
Outside the court, more masks are on the way. As Drs. Emmeline Ha and Miriam Bukhsh wrote, "President Joe Biden announced Thursday that his administration would make high-quality masks widely available and free for Americans … If vaccine rollout and the testing shortages have taught us anything, it is that we need to be proactive in ensuring equitable access to these masks. While the administration has noted that the masks will be available at some local pharmacies and community centers, it will be critical to ensure that sufficient supply is available to those who have high risk exposure to the virus."
When the US government last week unveiled a web page enabling people to request free at-home rapid Covid tests, David M. Perry had his doubts. "My experience of new government websites is forever tarnished by the debacle of healthcare.gov's initial crash and burn. Plus, when I logged on, I knew I only had a few minutes between meetings, and I've never met a government website that didn't require two forms of ID, proof of residency and endless forms to fill out. Still, I clicked. Two minutes later, I had an email telling me that the tests would be on their way in a few weeks."
If the tests are indeed delivered successfully throughout the country, it "will reassure us that direct government action in mitigating the pandemic can work. On the other hand, if it does work, it raises the question of why the federal government isn't doing more."
How to fight crime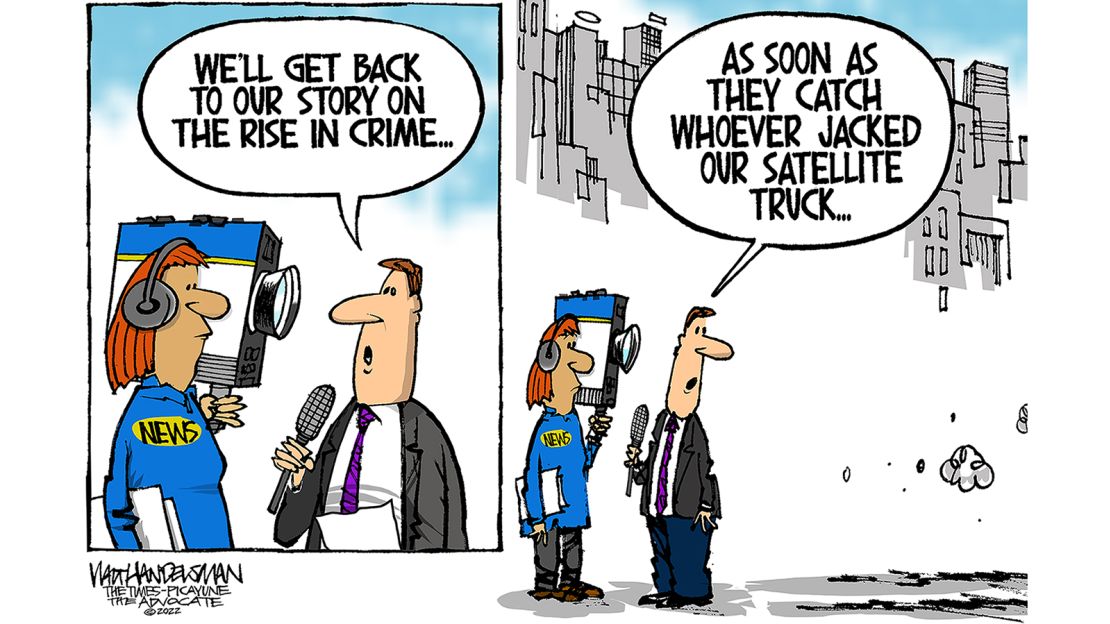 In 2021, more murders took place in Philadelphia than in New York City, even though the population of the Big Apple is five times larger, former Rep. Charlie Dent wrote.
"To watch a local Philadelphia evening news broadcast a few days before Christmas was a thoroughly depressing experience — there was the carjacking of a US congresswoman at gunpoint in south Philadelphia, a dangerous high-speed chase through narrow city streets and a police officer who was shot twice in the shoulder while responding to a robbery," Dent noted.
"The bottom line is that elected officials in major urban centers must address the homicide wave occurring on their watch. Indulging those extreme voices who argue for defunding the police and making law enforcement out as villains must end. It's time to get serious about what is happening on the streets."
As Jill Filipovic commented, "In New York, where new mayor Eric Adams ran on a platform of public safety, the recent subway killing of Michelle Alyssa Go has further galvanized the city and stoked many New Yorkers' deepest anxieties. In Los Angeles, homicides were up 12% in 2021, forcing Mayor Eric Garcetti to answer some tough questions – and declare that 'Los Angeles is not alone in this trend.'"
Filipovic noted that crime rates remain well below what they were in the 1980s and 1990s but the recent increase in homicides should prompt action. "To decrease rates of violent crime, we have to do more than simply police. (And for the record, no, the 'defund the police' movement is not behind rising crime rates. For all the inflamed rhetoric, most police forces were not actually defunded.) We need better gun laws, a more equal society, and certainly better social services for those who are struggling."
Don't miss
Holly Thomas: Joss Whedon just ruined 'Buffy' for me
Jonathan Reiner: If you think that glass of wine is good for you, it's time to reconsider
Jameela Naseri: In a hotel room in Albania, Afghan women await new lives – and watch their homeland collapse
David Miliband: The Afghan economy is a falling house of cards. Here are 5 steps to rebuild it
Peter Bergen: How Aafia Siddiqui became an icon for terrorists
Michael D'Antonio: What's behind the Hillary Clinton '24 talk
Ushma Neill and Lala Tanmoy Das: The obvious way to increase the number of blood donors
Dean Obeidallah: Novak Djokovic would have been better off in the US Supreme Court
AND…
Tonga volcano erupts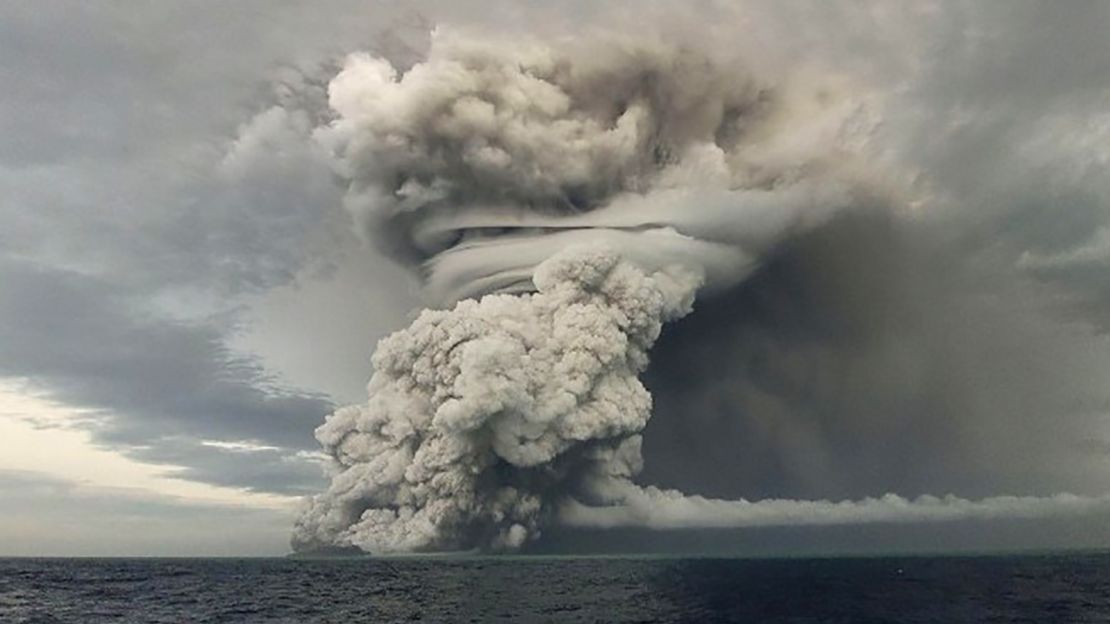 It was a once-in-a-millennium event: a partially underwater volcano erupted, triggering an ash cloud, a tsunami and an epic series of lightning strikes. New Zealand volcanologist Shane Cronin wrote, "The eruption of the Hunga-Tonga-Hunga-Ha'apai volcano on Saturday was so large, it was a spectacle best appreciated from space…"
"It takes roughly 900-1000 years for the Hunga volcano to fill up with magma, which cools and starts to crystallize, producing large amounts of gas pressure inside the magma. As gases start to build up pressure, the magma becomes unstable. Think of it like putting too many bubbles into a champagne bottle – eventually, the bottle will break."
The Tongan prime minister called it an "unprecedented disaster," and there are fears of more eruptions to come.