Editor's Note: Caught in the path of the storm? Use CNN's lite site for low bandwidth.
A weekend nor'easter that's forming off the coast of the Carolinas Friday night will likely quickly strengthen as it begins making its way up the East Coast overnight into Saturday.
The storm is threatening the region with heavy snow and vicious winds, a dangerous combination that could knock out power for many Americans, flood coastal areas and create dangerous travel conditions.
Blizzard warnings Friday were expanded to cover 10 million people across 10 states in coastal counties from New England to Virginia. The zone includes Portland, Maine; Boston and Cape Cod, Massachusetts; the eastern half of New York's Long Island; Atlantic City, New Jersey; and Ocean City, Maryland.
Whiteout conditions will make travel difficult to impossible, the National Weather Service predicts. In a blizzard, snow is joined by winds gusting over 35 mph for more than three hours, creating visibility of less than a quarter mile.
"The heaviest snowfall is likely to fall across a swath extending from the Eastern Shore of Maryland up through most of Maine where 6-12 inches are likely. Parts of coastal New England, where blizzard conditions are forecast, may see between 1-2 feet of snow with locally higher amounts possible, specifically over coastal Massachusetts," the Weather Prediction Center said early Friday.
"Powerful winter storm to produce significant impacts across parts of New England and coastal Mid-Atlantic/Northeast on Saturday," it said.
Bands of heavier snow will set up, too, hitting isolated areas again and again – piling up to 30 inches in some spots. If a band reaches Boston, the city could near the its one-day snowfall record of 23.6 inches, set on February 17, 2003.
Sign up for weather email alerts
The storm forecast also includes:
• Eastern Massachusetts, including Boston, could see between 18 to 24 inches of snow combined with wind gusts up to 70 mph, forecast models show. Two to 4 inches per hour could fall in the city, with conditions due to peak Saturday between 8 a.m. and 5 p.m. Similar snow total and wind predictions are in place for Rhode Island.
• New York City could get 8 to 12 inches of snow with 45 mph gusts, while 14 inches could pile up elsewhere in New York state and in Connecticut, with wind gusts as strong as 55 mph, the CNN meteorologists and the weather service predict. Effects will peak in the nation's most populous city Saturday from 5 a.m. to 4 p.m.
• The Philadelphia area in eastern Pennsylvania is expected to get 4 to 11 inches of snow, with a winter storm warning in place from 7 p.m. Friday to 7 p.m. Saturday. Up to an inch of snow an hour is possible, along with gusts of 35 mph. Similar conditions are expected in the Dover, Delaware, area.
• In Washington, DC, snowfall could be 1 to 3 inches, with higher amounts in some parts and conditions due to peak Friday between 4 and 9 p.m.
• Richmond, Virginia, could get 1 to 3 inches of snow, and the whole state is under a state of emergency. Raleigh, North Carolina, may see 1 to 2 inches of snowfall. Winter weather advisories run from Friday evening to midmorning Saturday in those places.
Winter weather alerts also are in place Friday as far south as Kentucky. And already, more than 2,000 US flights are canceled Saturday, according to FlightAware.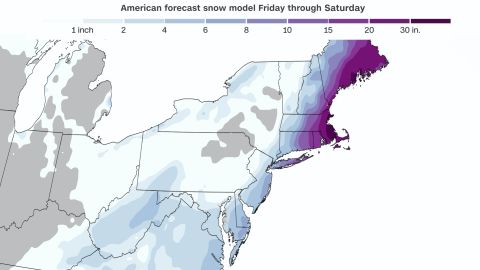 Snow, wind and coastal flooding to slam Northeast
The storm is expected to unleash a double whammy of heavy snowfall and strong winds throughout parts of the Northeast, but the exact impact across the region remains in question.
"This storm is likely to strengthen at a rate, and to an intensity, equivalent to only the most powerful hurricanes, so the high-end potential of this storm cannot be overstated," CNN meteorologist Brandon Miller said. "But with nor'easters, like in real estate, it will all come down to location, location, location."
Extremely cold temperatures are possible, the Weather Prediction Center warned, as is coastal flooding. And the stronger the storm, the greater the coastal surge along the coast will be.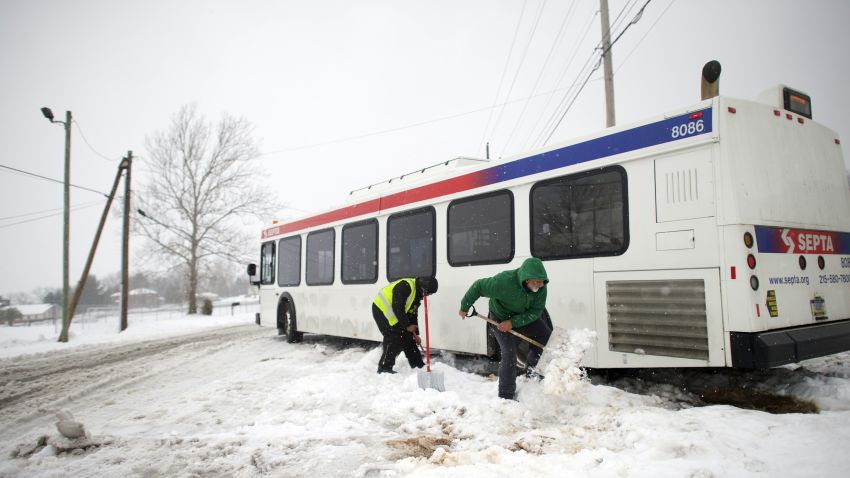 How strong a blizzard's impact may be
"Coastal flooding is a concern thanks to astronomically high tides on Saturday," the weather service office in Boston said. "The combination of strong northeast winds and high seas will bring storm surges that, if coinciding with high tide, would lead to minor or moderate coastal flooding."
The difference in storm timing – even as few as six hours – would make a massive difference in impact on coastal flooding and erosion concerns.
The storm is expected to strengthen through a process called bombogenesis. Also referred to as a bomb cyclone, it happens when a storm drops a certain amount of atmospheric pressure over 24 hours.
'Historic' storm for eastern New England
The National Weather Service said Friday evening there is "high confidence" this will be a "historic major winter storm for eastern New England," with widespread snowfall of one to two feet. Areas including eastern Massachusetts and Rhode Island may see up to three feet of snow with blizzard conditions, with the added possibility of thunder amid the snowfall.
Snowfall rates in those areas could reach two to four inches an hour, the service added. The snow, in addition to powerful winds, will mean "bitterly cold wind chills" Saturday, it said.
Boston is declaring a "snow emergency" on Friday at 9 p.m., Mayor Michelle Wu announced.
"We are expecting as much as 18 to 24 inches of snow and 40- to 50-mph winds. This is likely to be an intense, dangerous storm, with heavy snow, high winds and whiteout conditions."
Peak snowfall is expected on Saturday morning, stopping sometime Sunday, said Wu. The potential for strong winds to line up with high tide means there's also a risk of flooding, she added.
The city's public works department has more than 38,000 tons of salt ready to treat roads and the ability to put more than 800 pieces of snow management equipment on the road with the help of contractors, said Chief of Streets, Transportation and Sanitation Jascha Franklin-Hodge.
This storm "has the potential to be one for the record books," and residents shouldn't expect everything to go back to normal once the snow stops falling, Franklin-Hodge emphasized.
Rhode Island Gov. Daniel McKee said his state is well-equipped to handle the 12 to 18 inches of snow forecast. It has 75,000 pounds of salt to preemptively treat roads tonight, and a blizzard warning is in effect as of Friday morning, he said said Friday at a news conference.
Rhode Island also has 150 plows of its own, plus 350 plows contracted through vendors, Transportation Department Director Peter Alviti Jr. said, who added conditions Saturday are going to get "very intense, very quickly."
State-run Covid-19 vaccination and testing sites will close Saturday, McKee added.
Connecticut Gov. Ned Lamont said the state is ready for this weekend's "wicked snowstorm," adding the state will deploy over 600 snow plows to help clear the snow.
"I'd like to think that we're as ready as we can be," he said Friday afternoon at a news conference.
New Jersey Gov. Phil Murphy declared a state of emergency starting at 5 p.m. Friday. All state offices closed at 3 p.m.
"Our advice to everyone is to be prepared to hunker down once you get home this afternoon and stay home," Murphy said. "Stay home tonight, and stay home tomorrow.
"Whatever you may need to get through a snow day, get it on your way home today so you do not have to venue out," he said, and also asked residents to report power outages and downed power lines.
New York declares state of emergency
New York City could get between eight and 12 inches of snow, with wind gusts over 50 mph, according to CNN meteorologists. But the weather service early Friday said there is a 10% chance the bomb cyclone may dump more than 17 inches of snow there, and also gives a 10% chance of four inches of snow.
New York Gov. Kathy Hochul declared a state of emergency beginning at 8 p.m. Friday night for Long Island, New York City and the Lower Hudson Valley, urging residents to "avoid unnecessary travel." The governor said parts of the state could see anywhere "from six inches to two feet" of snow.
"This is likely to be one of the most significant storms we have seen over the last several years," Suffolk County Executive Steve Bellone said.
As local leaders urged residents to avoid travel, Bellone said they expect "blind out conditions" on the roads, which could also make it difficult for plow operators.
The Metropolitan Transportation Authority – which serves million of people across New York City, Long Island, southeastern New York state and Connecticut – made various adjustments ahead of the storm, including suspending all Long Island Rail Road service Saturday morning and suspending branch line service on all Metro-North train lines.
Amtrak canceled some Saturday services, including all of its high-speed Acela service between Washington, DC and Boston and regional service between Boston and New York, the company said.
The New York City Emergency Management Department issued a hazardous travel advisory for Friday evening through Saturday. Snow is expected to start around that time with more than an inch per hour, acting commissioner Christina Farrell said, and sustained winds will be around 25 to 35 miles per hour, with wind gusts reaching 50 mph.
All vaccine appointments scheduled for Saturday have been rescheduled for Sunday, the city's mayor said.
CNN's Judson Jones, Greg Wallace, Mirna Alsharif, Dave Hennen, Robert Shackelford and Hannah Sarisohn contributed to this report.