Though still in its first season, "Abbott Elementary" has captured the hearts of millions.
The show, a new mockumentary comedy on ABC, follows a group of teachers at an underfunded elementary school in Philadelphia, who are just trying to make things work. Sure, the lights flicker. And the textbooks are so old, pictures of new presidents have to be taped in. And at one point, albeit briefly, the conspiracy theorist janitor steps in to teach.
And yet, the teachers, all in varying stages of their careers, persist.
Created by and starring Quinta Brunson, "Abbott Elementary" has seen record-breaking success. Last week, ABC announced the show had seen the largest growth – ever– for any new comedy debut on the network over 35 days. ABC also said it's the first comedy debut on the network to quadruple its initial same day rating over that same period. With more than 7 million total viewers, Brunson has been credited, multiple times, for reigniting the network comedy.
In short, "Abbott Elementary" is a hit. But the laughs the show brings shouldn't fog the truth the show highlights, real-life teachers say – the messiness and the inequality found in the American education system.
"(Education in the US) is separate, and it's still very, very, very, very, very unequal," said Sheryl Lee Ralph, who plays veteran teacher Barbara Howard, on an episode of "The Takeaway."
"The book that's missing the presidents? Oh, that's real, that happened. You can go to that school right now and see that. The toilet not working, the water fountains with mold in them, shutting down parts of the school, that's real. It happens. That's why we want you to show it. That's why we want you to see."
Teachers see themselves in 'Abbott'
For seven years, Rennea Jackson taught second and third grade at a school in Washington, DC – one she said looked a lot like Abbott Elementary. When she watches the show, she finds herself nodding along. The crazy principal? Yep, she had one of those. The eccentric custodian? Another yes. The random new reading program, forgetting to eat lunch – yes and yes.
Sure, it's funny. And Jackson spends a lot of time laughing at the show, just like anyone else. But she also lived it.
"Teaching is hard as hell, and there are so many failures within the system that people just have to get over," Jackson said. "You wouldn't go to your office and there's no air, or there's no HVAC, and they say 'Oh, you know what, we're just going to keep going and maybe they'll fix it by Memorial Day.' No. But in schools, you have to do that."
"Abbott Elementary" refuses to hold back. In the first episode, Janine, played by Brunson, tries to find a new rug for her classroom after a child pees on the old one. The audience sees all the ways the funding for the rug is denied. Though new rugs are eventually acquired, through some unconventional methods, we see one child curl up on the floor at one point during the episode, using his jacket as a bed. The rug, Janine explains, is softer than his desk, and he doesn't get enough sleep at home.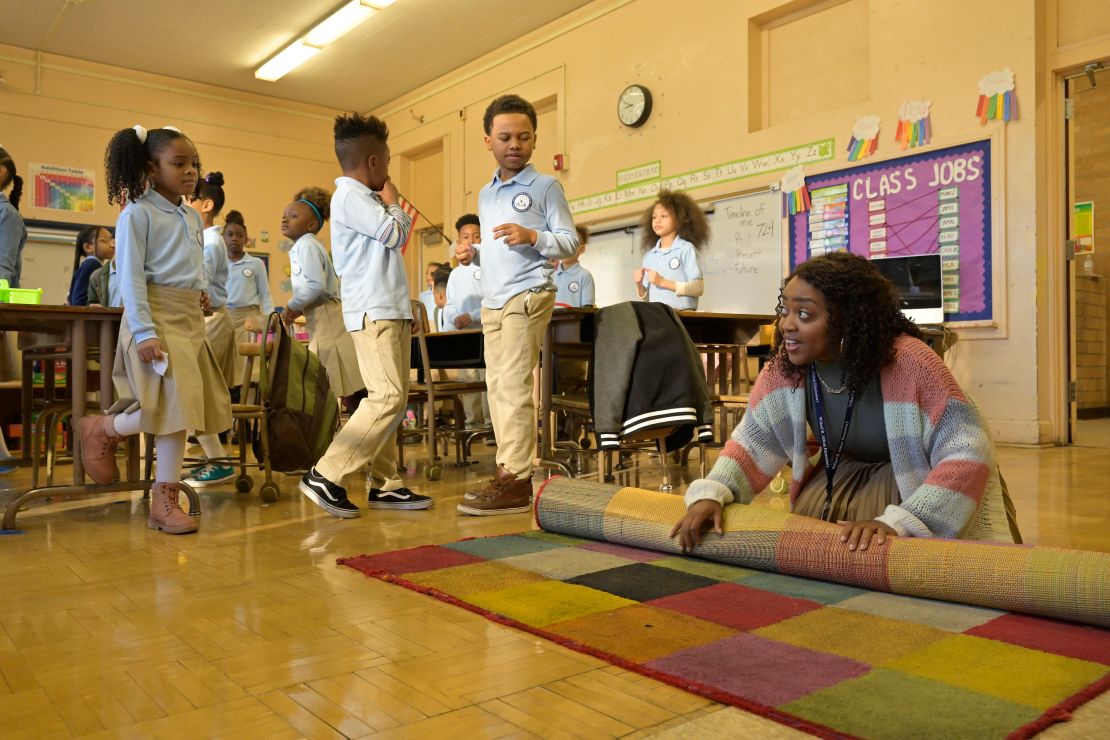 It was a moment that resonated with Ashley Crenshaw, a second grade teacher at a Title I school in Charlotte, North Carolina. Throughout the episode, she heard friends say "it's just a rug, it's just a rug." But it's bigger than the rug, she said.
"Yes, it might seem very small and minute, but we do experience kids that aren't sleeping at home," Crenshaw said, explaining that some students may have things going on at home, or may be experiencing homelessness. "So I might have to make a little nook for them, just to kind of catch 10, 15 minutes."
Kaitlin Edquist is in her first year as a teacher, teaching high school English at a school in Indianapolis. Teachers are constantly trying to do everything, are expected to do everything, she told CNN. But it's just not possible.
"There's definitely been days where I catch myself not having eaten, or didn't drink any water," Edquist told CNN – another moment that's replicated in the show, when Janine passes out after skipping breakfast and lunch.
Teachers haven't always been portrayed well on TV
In the past, television has had a complicated relationship with teachers, and there are very few shows that show teachers in a realistic and positive light.
Actually, "Abbott," might be one of the few, said Mary Dalton, a professor at Wake Forest University who studies the representation of educators in popular culture.
"This is the first female teacher character in a comedy who has been portrayed in a positive light, and who is realistic, like a well-rounded person, in a very long time," Dalton said.
Dalton uses a scene from "Mike & Molly," a CBS sitcom starring Melissa McCarthy, as an example. In that show, there's an episode where McCarthy, whose character teaches fourth grade at a public school, hates her job so much that during a standardized exam, she throws herself out the window.
The moment is meant to be funny, but it reflects an ongoing trend with teachers on TV – when they are shown actually teaching, they're miserable. "A.P. Bio," a sitcom that was just canceled by Peacock in December, is another example – the last thing Glenn Howerton, who plays the main character, wants to do is teach.
The trend is related to the rise of educational policies like No Child Left Behind and Common Core, Dalton said. As these educational policies have risen, so have jokes about teachers and their perceived incompetency.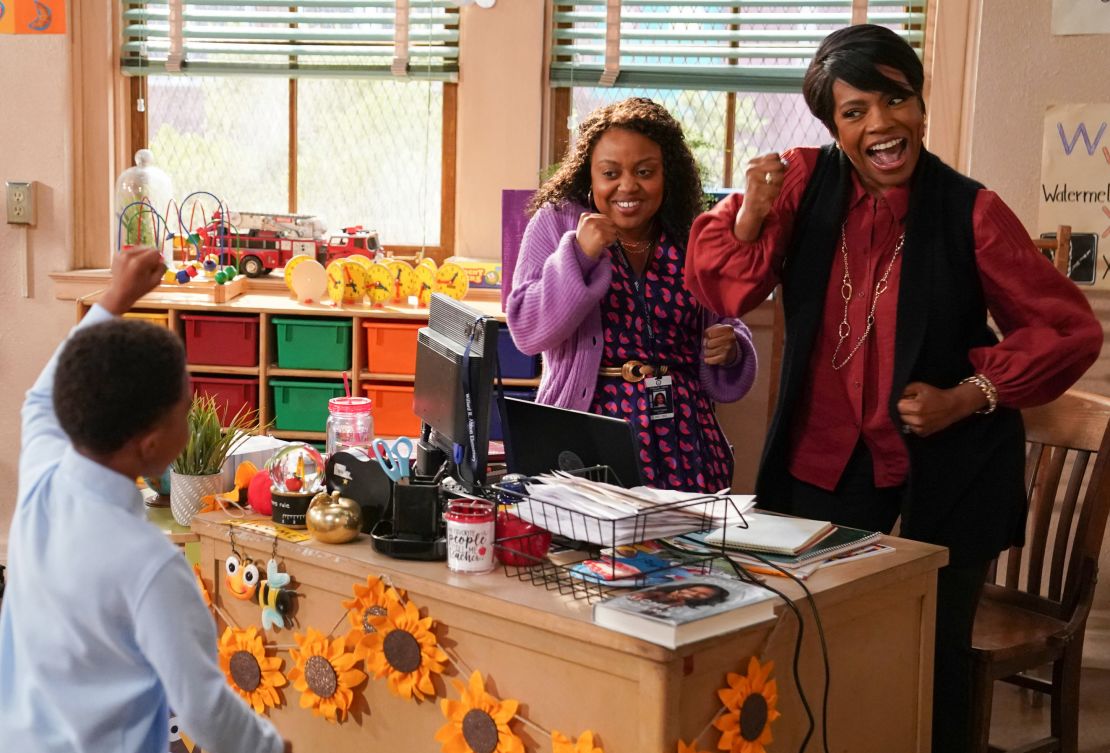 "Educational policies that focus on standardized testing so exclusively, and standardized curriculum, that remove the power of the teacher in the classrooms, are fed by this public perception of teachers as they're depicted in mass media," she explained.
And that's another part of what makes a show like "Abbott Elementary" so successful. It shows teachers as humans, something that Jackson, who used to teach in DC, appreciated.
"It's not this, 'Oh my goodness, they are superheroes, they don't do anything but teach,'" Jackson said. "She made them full people."
But it also stands apart from movies like "Freedom Writers," a 2007 movie about a White teacher who inspires her Black and brown students to academic success.
"She didn't center the White teacher, who comes in and makes everything better. She actually clowns those people," she said, referencing Chris Perfetti's character, who plays a young White teacher at the school.
During Covid, teaching is even harder
"Abbott Elementary" thrives because it finds humor in a sad situation. But for teachers actually working in schools today, the humor has a dark side.
More than 44% of new teachers in both public and private schools leave teaching within just five years of starting, a 2018 from the University of Pennsylvania found.
And that was before Covid-19 struck. Now, there continue to be teacher shortages – some have become so pervasive that school districts have asked parents to step in and teach.
The first episode of "Abbott Elementary," where the janitor has to teach a class, wasn't foreign to Edquist, the teacher in Indianapolis. At her school, even gym coaches have had to substitute for classes that aren't their own. Though some things in "Abbott Elementary" are exaggerated, others simply aren't.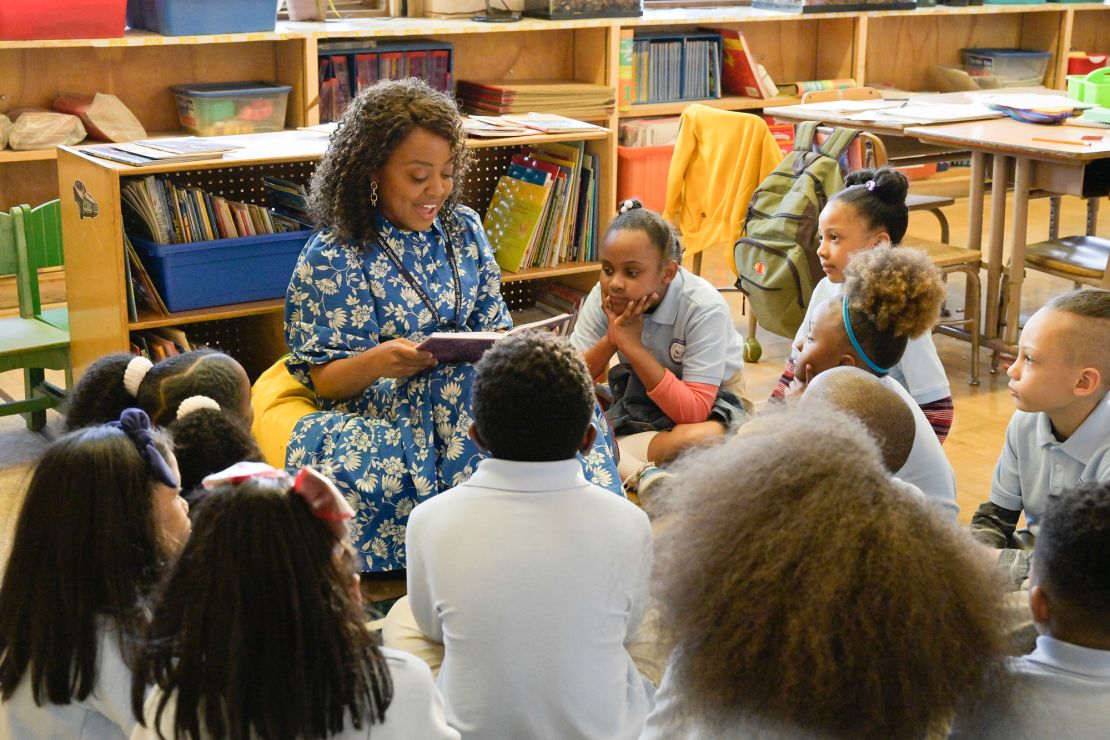 "The energy of the show and the chaos of it is present at any school," Edquist said. "In different ways, but it's present."
Crenshaw, who teaches in Charlotte, agreed. And though she's grateful that "Abbott Elementary" is starting conversations about the little details, she wants to go beyond talking – seeing actual change in teacher pay and school funding.
"'Abbott' brings light to it and makes it funny, but it's a sad truth in there," she said.
Ashley, a teacher in Silver Spring, Maryland, has been teaching for eight years, first in middle school and now as a staff development teacher. None of what's been depicted in "Abbott Elementary" is that new, she said.
"Urban schools and some rural schools have been underfunded forever, it feels like. This isn't new. Teachers have been sounding the alarm for decades, maybe even longer," said Ashley, who asked to go by first name only to not identify her workplace. "And now, are you actually going to do something now that you're hearing the alarm and seeing it on TV? I hope so, but I don't know."
There are students dealing with situations just like in the show, and even worse, Ashley said. And during the pandemic, as people lost jobs, some families may be experiencing food insecurity for the first time or may not have money to buy school supplies.
The situations teachers are facing are difficult. And when you're living it, the circumstances aren't so funny, she said.
That's what Ashley wants audiences to take away from the show – that schools and the education system actually need help. Sure, we can laugh now. But afterward, she hopes the laughs lead to action.