This is the weekly edition of CNN's coronavirus newsletter. Look out for your roundup every Wednesday. If you haven't subscribed yet, sign up here.
Austria will introduce the European Union's strictest Covid-19 vaccine mandate this week, making it compulsory for anyone over the age of 18 to get the shot. While Italy, Greece and other EU countries have introduced mandates for certain groups, like the elderly, health care staff and workers, Austria is the first in the bloc to roll out such sweeping measures.
Political consensus around the Austrian plan had shown signs of unraveling in recent weeks as experts waited for data to see whether available vaccines would be as effective against the new, highly transmissible Omicron variant. Recent studies, including a report published Tuesday by the US Centers for Disease Control and Prevention, have confirmed that vaccines help to prevent severe disease, hospitalization and death, while booster shots increase those protections.
Austria's government has said that while the mandate is a tough step, it is necessary to combat severe disease and get out of the pandemic. "We know that vaccination is the only way to get out of it and to get back to a normal life," Austria's federal minister, Karoline Edtstadler, recently told the BBC.
A return to normal life – or something approaching it – is starting across Europe. From the reopening of restaurants and nightlife to the loosening of quarantine measures and removal of mask mandates, some of the bloc's biggest economies are relaxing their Covid-19 rules in spite of record case numbers, fueled largely by the spread of Omicron. Officials say that they're able to do so because the variant is causing less severe illness and hospitalizations among their highly vaccinated populations.
Britain's Health Secretary Sajid Javid on Monday scrapped an order forcing all frontline medical workers in England to get vaccinated, saying that while vaccination remained "our best line of defense" it was no longer "proportionate" to require it. The U-turn followed England's decision to drop its so-called "Plan B" restrictions, introduced to combat the Omicron variant, as cases plateau.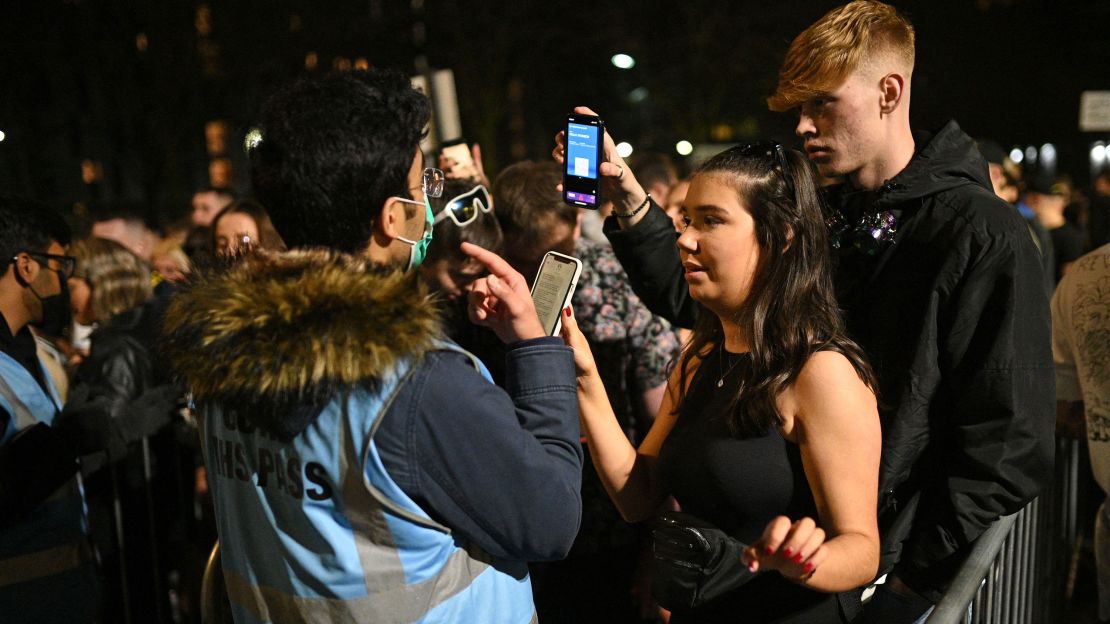 Norway, Denmark and the Netherlands are lifting their remaining Covid rules in spite of surging cases – Denmark has the second-highest infection rate, or seven-day average of new infections, of any nation in the world, according to Our World in Data. Officials in the countries said that the recent spikes hadn't translated to a rise in hospitalizations, with Norway's Prime Minister Gahr Stoere noting: "We're well protected by vaccines." France on Wednesday said it would begin rolling back restrictions as the situation appears to stabilize.
The picture looks very different in America, where mounting hospitalizations and deaths have dashed hopes that Omicron would be kinder to the country than previous waves. Unlike in Western Europe, where leaders are beginning to turn the page on the pandemic, the Covid death rate in the United States is soaring, according to the latest estimates from Our World in Data. Experts are blaming the toll on the country's failure to vaccinate as many people as other rich nations. The US now ranks fourth globally for per capita Covid-19 deaths, according to Johns Hopkins University. The only large European country to exceed the US toll is Poland.
The World Health Organization (WHO) has warned that it is starting to see a worrying increase in deaths in most regions of the world, and that it was premature for any country to give up attempts to halt transmission. "We're concerned that a narrative has taken hold in some countries that because of vaccines, and because of Omicron's high transmissibility and lower severity, preventing transmission is no longer possible, and no longer necessary. Nothing could be further from the truth," WHO chief Tedros Adhanom Ghebreyesus told reporters on Tuesday.
"More transmission means more deaths. We are not calling for any country to return to so-called lockdown. But we are calling on all countries to protect their people using every tool in the toolkit, not vaccines alone. It's premature for any country either to surrender, or to declare victory," he added.
YOU ASKED. WE ANSWERED
Q: Should you wait for an Omicron specific booster?
A: "No," says CNN's Medical Analyst Dr. Leana Wen, adding: "Everyone eligible to receive a booster should do so now."
Here are two key reasons why:
First, there is growing evidence that a third shot of Pfizer or Moderna or a second vaccine following Johnson & Johnson is needed to sustain strong protection against Covid-19. Last month, three large new studies from the CDC found that boosters protect against severe illness and reduce the likelihood of contracting coronavirus.

Second, Omicron-specific vaccines are still in clinical trials. Pfizer and BioNTech announced Tuesday that they're beginning trials for an Omicron-specific Covid-19 vaccine, and Moderna revealed Wednesday that it has entered Phase 2 of its own trial of a vaccine that targets the variant. These trials will take months to complete, and with Omicron still surging, people shouldn't delay their boosters.
READS OF THE WEEK
Pfizer applies to the FDA for a two-dose vaccine for children under 5
Pfizer and its partner, BioNTech, have asked the US Food and Drug Administration to authorize their two-dose Covid-19 vaccine for children aged 6 months to 5 years old, the companies said Tuesday, adding that the move came in response to "the urgent public health need in this population."
The request for emergency authorization comes as the Omicron variant fuels a record rise in pediatric infections. Since the start of the pandemic, at least 11.4 million children have tested positive for Covid-19, the American Academy of Pediatrics reported Monday, with over 3.5 million cases reported in January alone. Children made up 22.8% of the total reported cases for the week ending January 27.
Federal regulators pushed the companies to submit the request even though two child-sized doses of the vaccine did not produce the expected immunity in children aged between 2 and 5 in a clinical trial. Children between 6 months and 2 years old produced an immune response that was comparable to that of teenagers and young adults.
Parents, are you ready to get your young kids vaccinated? Have you been avoiding activities out of fear your children would get Covid-19? What will the vaccine mean for your family? Share your story with us.
A universal vaccine could be the future of the coronavirus fight
Scientists are working to develop a "pan-coronavirus" vaccine – one that offers protection against multiple variants of the coronavirus that causes Covid-19.
The hope is that such a vaccine could pave the way for the development of a universal coronavirus vaccine, which could head off any coronavirus – not only emerging variants that cause Covid-19, but also some common colds and even the menacing threat of novel coronaviruses we haven't identified yet, Jacqueline Howard reports.
But such vaccines are "going to take years to develop," Dr. Anthony Fauci, director of the National Institute of Allergy and Infectious Diseases, said during a White House briefing on Wednesday.
What it's like to fly into Beijing's Olympic "bubble"
The Beijing Winter Olympics is being hosted inside a veritable fortress – known informally as the "bubble" – that takes weeks of careful planning to penetrate. Designed to prevent the spread of Covid, the bubble is the most ambitious quarantine attempted anywhere since the start of the pandemic.
Across China, entire communities have been forced into lockdown over a single Covid case. Any failure to contain cases at the Winter Games could undermine the country's zero-Covid strategy and put the entire nation's health and reputation at risk.
By the time she departed for Beijing, CNN correspondent Selina Wang was fully vaccinated, had tested negative for Covid twice, and had stocked her suitcase with face masks and snacks to eat if she failed a test and was forced to isolate alone for the entire Olympics. Read more about her journey.
TOP TIP
You're ready to swap your old cloth masks for N95s as some experts recommend, but the higher price tag and two little words – "single use" – are giving you pause. How long can you really wear an N95 and still protect yourself and others from Covid-19 risk?
Linsey Marr, a professor of civil and environmental engineering at Virginia Tech, has these tips:
Avoid touching the front outer part of the mask when putting it on. Instead, try to handle it by the edges or straps.

These masks are designed to handle a lot of particles and will continue to work even after they are worn in crowded settings. But if you know you were exposed to someone with Covid, Marr recommends throwing away the mask.

If the mask becomes damp, visibly dirty, bent, creased or otherwise damaged – including from wearing makeup – you need to replace it since these conditions could decrease the mask's effectiveness.
LISTEN TO OUR PODCAST
Our memories may be precious but they aren't necessarily accurate. This week on the Chasing Life podcast, CNN's Chief Medical Correspondent Dr. Sanjay Gupta explores why we forget and what we can do to keep our memories sharp at any age. Listen here.