Editor's Note: Caught in the path of the storm? Use CNN's lite site for low bandwidth.
A deadly storm system plowed across the United States on Thursday bringing tornado threats and dumping wintry precipitation and rain on Americans from the Gulf to Canada.
More than 91 million people were under a winter weather warning or advisory as ice, snow and sleet were falling while the storm pushed through the Midwest into the Northeast. In the South, steady rain fell and residents in some states worried about strong winds and the potential for twisters.
At least three people died in weather-related incidents.
The bad weather prompted airlines in the United States to cancel thousands of flights and made travel on many roadways nerve-wracking. And forecasters said the storm will keep impacting some areas, including the Northeast, through Friday.
The storm has already produced more than 3 feet of snow in one part of New Mexico and more than a foot across several Midwestern states. Some areas of the Chicago metro received as much as 11 inches of snow, according to the National Weather Service snowmap.
CNN affiliate WLS spoke to a Chicago resident whose car got stuck in the snow.
"Yeah, it's frustrating," David Dailey said. "I wish that they would plow and I know we got some rain before the snow and sometimes it's a little harder to salt, but the past couple times we had snow it seems like they haven't been really on top of it."
Meanwhile, an ice storm is delivering dangerous conditions from Arkansas through Ohio.
Many are already suffering that consequence. As of around 8 p.m. ET, there were more than 300,000 customers without power across a massive swath of the United States, according to Poweroutage.us.
The "significant winter storm is expected to impact much of the central and Northeastern U.S. through Friday night," said the National Weather Service's Weather Prediction Center.
In Texas, the storm will test the state's power grid, which suffered catastrophic outages last February. The state said 246 people died – most of them from hypothermia – after a snow and ice storm left thousands of Texans without power for weeks.
Leaders of the state's power grid – Electric Reliability Council of Texas, or ERCOT – said Wednesday they believe they're prepared to handle the high demands during the storm but also warned there may be local outages due to ice on wires or fallen tree limbs.
Gov. Greg Abbott said in a briefing Thursday that the state's power grid has "plenty of power available at this time," calling the weather "one of the most significant icing events that we've had in the state of Texas in at least several decades."
"The power grid is performing very well at this time," he said. "At the expected peak demand, there should be about 10,000 megawatts of extra power capacity. To put that in context, that is about enough extra power to supply about 2 million homes."
About 33,000 Texans were without power Thursday night, according to Poweroutage.us.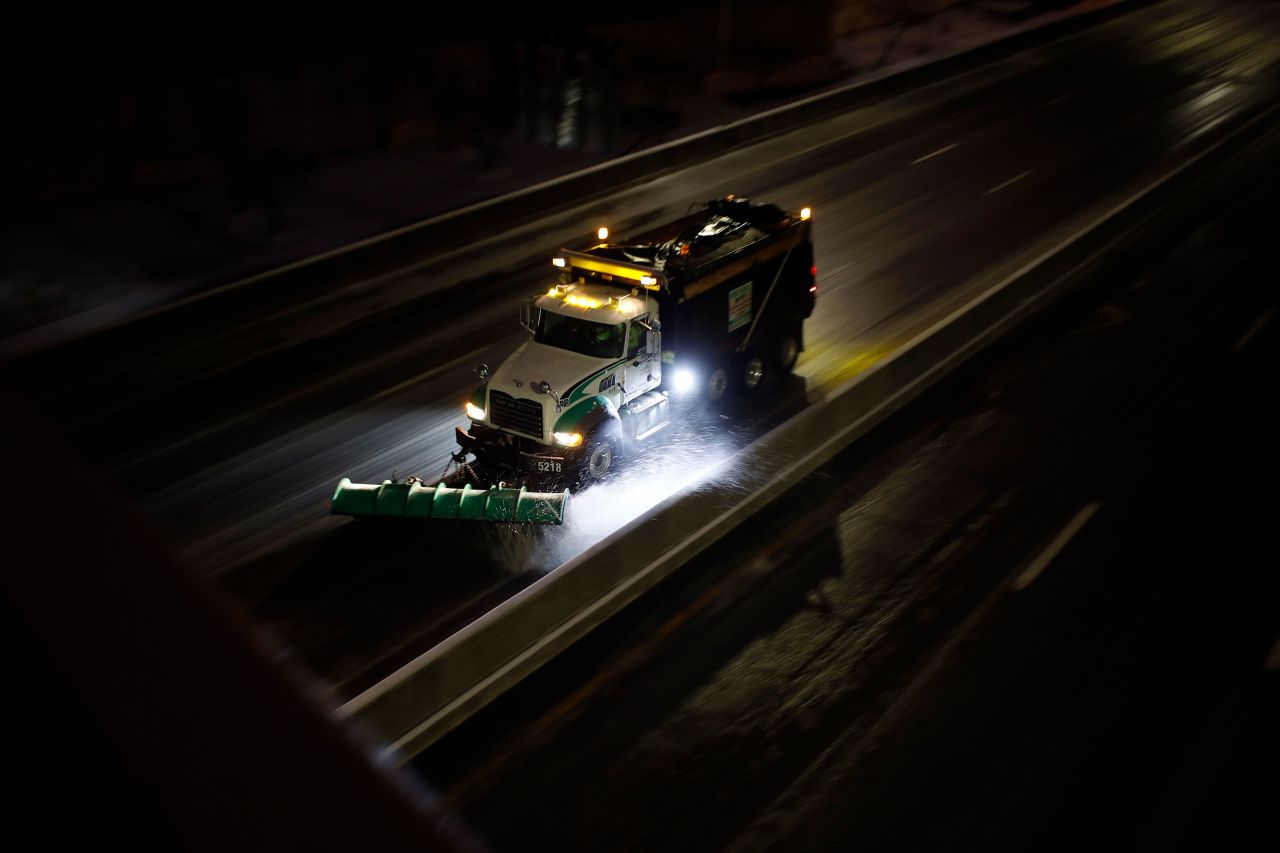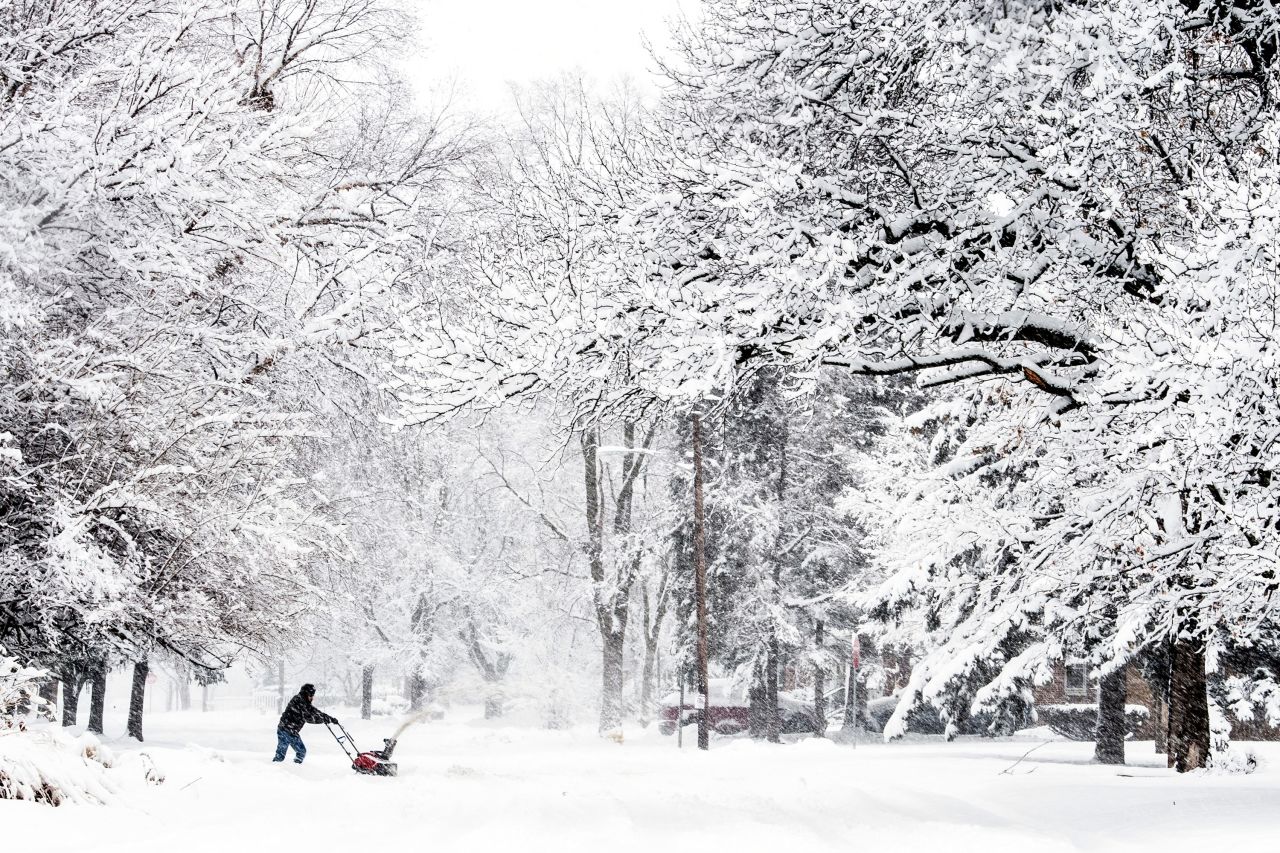 In pictures: Winter storm threatens millions across US
Tornado concerns in the South
Rain was falling across the South, and there were flash flood warnings or flood watches in parts of Alabama, Georgia, South Carolina and Tennessee.
There were also tornado watches in 14 counties in Alabama.
The National Weather Service said a tornado was observed in Elmore County in east central Alabama.
One person died and three people were injured during what the National Weather Service called a "likely tornado" in Hale County, Alabama, county Emergency Management Director Russell Weeden told CNN affiliate WVTM.
Gov. Kay Ivey asked the public to be vigilant Thursday night as severe weather continues to cross the state.
"Folks, please remain weather aware tonight as severe weather continues to track across our state. We are monitoring the storm system on the state level in conjunction with @AlabamaEMA," Ivey wrote in a tweet.
Air travel misery
Airlines canceled more than 6,400 US flights Thursday, according to aviation tracking site FlightAware.
The storm is having significant impacts on American Airlines operations at Dallas-Fort Worth International Airport, the company said.
"Due to conditions at the airport, the remainder of flights bound for DFW this evening have been canceled and we anticipate additional impact through tomorrow morning. We apologize to our customers whose travel plans may be affected," American Airlines spokesperson Gianna Urgo said.
Almost 3,000 US flights have already been canceled for Friday – many of them in the Northeast, where the storm is headed.
What 'several rounds of winter weather' will look like
As the storm system pushes farther east, forecasters say, it will deliver a frigid mix of hazards.
"The system will be prolonged with several rounds of winter weather lasting through Friday for portions of the central U.S. before shifting to the interior Northeast," the weather service said Wednesday.
CNN meteorologists said these cities will be feeling the worst weather effects:
Dallas: Snow and sleet will end Friday afternoon, but temperatures will stay below freezing until Saturday morning. The Dallas Independent School District will be closed Thursday and Friday, officials said.

Houston: Meanwhile, a winter mix and freezing rain is possible for Houston on Thursday night as temperatures drop into the upper 20s.

Louisville, Kentucky: Up to half an inch of ice is expected to form. Plus, about 1 inch of sleet and snow – each – is projected to fall. Peak hours for a mixture of freezing rain, snow and sleet are 7 a.m. Thursday through 1 a.m. Friday.
Travel is already miserable
Perilous travel conditions have caused crashes and road closures. Two people died in weather-related accidents in New Mexico.
One person died at the scene when a vehicle slid off a snow-covered road and flipped over 100 feet down a mountain in Bernalillo County. In Guadalupe County, one man was killed in a chain-reaction crash on Interstate 40.
In Illinois, officials closed parts of several highways after numerous wrecks.
"The combination of the volumes of snow, high winds, and frigid temperatures make travel near impossible in some areas of the state with several highways shutdown from vehicle crashes and jack-knifed semi-trucks," said Kevin Sur, spokesperson for the Illinois Emergency Management Agency.
Correction: A previous version of this story overstated the new February 2 snowfall record for Oklahoma City. The new record is 3 inches.
CNN's Raja Razek, Andy Rose, Judson Jones, Paul P. Murphy, Joe Sutton, Amanda Musa, Jenn Selva, Pete Muntean, Greg Wallace, Rosa Flores and Michelle Watson contributed to this report.