Editor's Note: Kent Sepkowitz is a physician and infection control expert at Memorial Sloan Kettering Cancer Center in New York. The views expressed in this commentary are his own. View more opinion on CNN.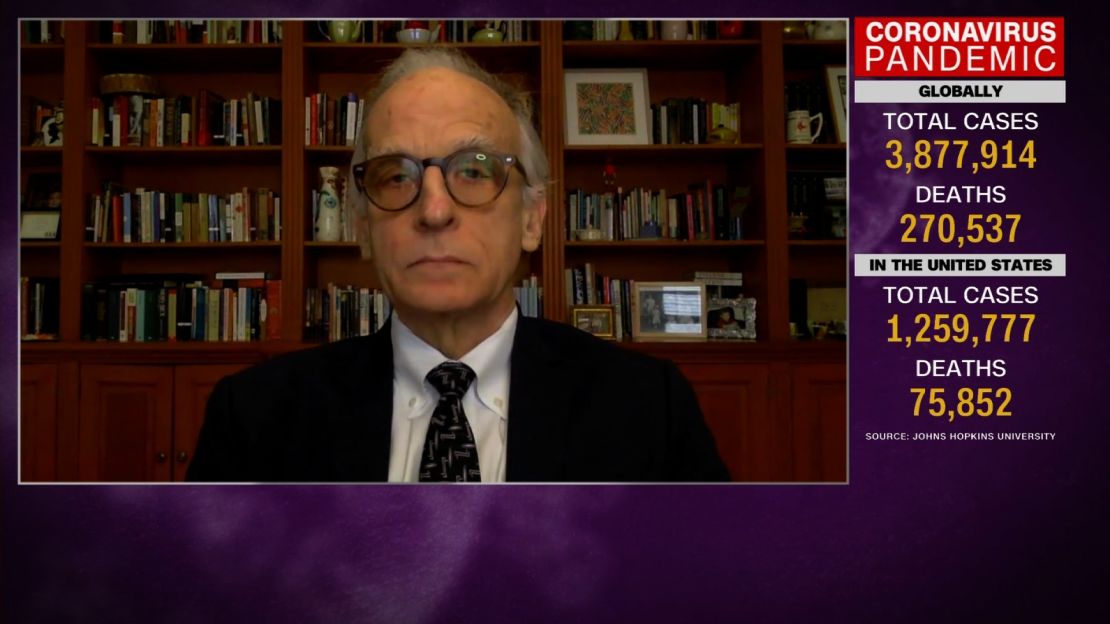 Here we go again: Covid-19 cases are falling in nearly every state, spring is in the air and everyone is getting restless. Some have even gone so far as to let us know they are done with the pandemic or at least ready to move away from the problem.
Though the chaos created by the now-fading Omicron variant was quite frightening, I suspect the turbulence ahead will be worse. During the height of Omicron's surge, many returned to working from home, were careful to don masks when in public and cut down on unnecessary public outings.
Now with something like normalcy within grasp again, the pace and specifics of how best to resume workaday life are under the microscope. Though this should be a time of thankfulness – society did not collapse despite the record-breaking charge of the rampaging virus – it rather has created a serious predicament for the public health leaders tasked with moving the country forward.
The problem is simple: Though the public has learned many things about viruses, epidemiology and the human immune system over the past two years, many still seem unwilling to accept that what works for today's facts may not work for tomorrow's. Any shift in guidance or perspective is considered weak and waffling, playing politics or flat-out betrayal.
Experts know that right now, in many areas, peeling back the precautions is safe, if done cautiously, which is why we are seeing mask mandates easing in many states, including New York. These actions can help the public gain confidence and provide useful information should another variant of concern emerge.
But public health leaders also know that if another variant of concern arises, it will necessitate yet another reversal of guidelines – an action that will likely be viewed not as evidence of admirable responsiveness but rather as evidence of a flailing and mostly useless public health voice.
Put simply, while rolling back precautionary policies makes sense right now as Covid-19 cases decline and stabilize, it must be stressed that the only way it is safe to return to normal life is with a contingency plan for masking back up if the next variant of concern warrants it.
Consider the much-reviled move by the Centers for Disease Control and Prevention in the summer of 2021 when, after an outbreak of Covid-19 cases among vaccinated persons in Provincetown, Massachusetts, experts quickly realized the then-new variant known as Delta was evading the immunity induced by the mRNA vaccines. Even more alarmingly, it was clear that vaccinated people could themselves spread the infection.
Given the new facts, a scheduled easing of mask mandates was not enacted. And the CDC received wide criticism – despite its decision being logical – as if it was a bunch of woolly-headed bumblers, a characterization from which it has not recovered.
Perhaps at the core of the fraying of trust is the continued confusion between advice given for individual health and advice given for public health. Comparing, for example, risk from eating raw cookie dough or undercooked chicken to the risk introduced by not wearing a mask or taking the vaccine – "my body, my choice," as these new, thoughtless risk-takers like to argue – fails to consider an enormous difference: Sure, public health guidelines care about you, at least a little, but they really care about those around you, both those you know and those you don't.
So remember: Undercooked chicken is not contagious. If you want to take the risk, go for it. Go ahead and skydive all you want as well, perhaps while eating raw cookie dough. Your body, your choice.
Yes, masks and distancing and vaccines effectively do protect a person's own health. But the CDC has to worry about that guy over there working the cash register and your friend's frail grandmother and your friend's frail grandmother's health aide.
Stated more bluntly, by our current understanding of SARS-CoV2 transmission, every one of the nearly 920,000 Americans who have died from Covid-19 acquired the infection from another person, who had caught the infection from another person and so on in a long, tangled but incontrovertible chain of contagion that stretches back more than two years.
Get our free weekly newsletter
Sign up for CNN Opinion's new newsletter.
Yet none of these fatal transmissions was intended. And that is the point: to prevent unintended transmission of a potentially lethal disease requires work, such as wearing a mask, avoiding crowds, taking the vaccine. All of these are unpopular and disruptive – but clearly effective. They save lives, even if you are one of the lucky ones whose life doesn't need saving.
Accepting personal risk, however brave or stupid, has nothing to do with how to respond to a pandemic infectious disease. Creepily enough, your decision not to mask or be vaccinated may affect a stranger living in a town far, far away. It turns out that, in the words of an old ad jingle, we actually all are connected.