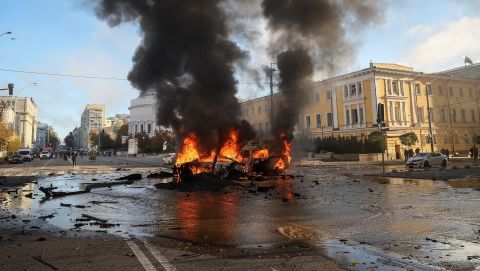 In pictures: Russia invades Ukraine
Updated 1006 GMT (1806 HKT) October 11, 2022
After months of military buildup and brinkmanship, Russia launched an unprecedented assault on Ukraine in late February.
Explosions rang through a number of Ukrainian cities, including the capital Kyiv, in a broad invasion that began before dawn on February 24.
But 100 days later, the invasion has not been the military success Moscow hoped. The bulk of fighting has now moved to the east after failed Russian advances in central Ukraine.
Meanwhile, millions of refugees have fled Ukraine to neighboring countries.
The United States, the European Union and other Western allies have been rolling out sanctions in response to Russia's actions. Many people around the world have also been rallying in support of Ukraine.
Russia had been tightening its military grip around Ukraine since last year, amassing tens of thousands of soldiers, as well as equipment and artillery, on its neighbor's doorstep. The escalation in the years-long conflict has triggered the greatest security crisis in Europe since the Cold War, and it has also sparked an intense showdown between Western powers and Moscow.
Editor's note: This gallery contains graphic images. Viewer discretion is advised.