Moscow and Kyiv, Ukraine
CNN
—
Russia has launched an unprecedented military assault on Ukraine by land, air and sea that has already left dozens dead, prompting Western leaders to condemn Moscow and vow unity with Kyiv.
Ukrainian ministers said the Kremlin had begun a "full-scale invasion" of their country, and the fighting appears to be some of the worst conventional warfare Europe has seen since World War II and the conflicts in the Balkans in the 1990s. Markets across the globe plunged.
Attacks and explosions have been reported throughout Ukraine, including in the capital, Kyiv, where air sirens rang out Thursday morning and afternoon. Russian forces appeared to be encircling the city and looked poised to invade, Ukraine's deputy interior minister told CNN.
Officials in the country believe Russia's plan is to overthrow the Ukrainian leadership and install a pro-Russian government.
In a video statement late Thursday, Ukrainian President Volodymr Zelensky said he believes "enemy sabotage groups" had entered Kyiv and that he was their No. 1 target. His family, he said, was the second target.
"They want to destroy Ukraine politically by destroying the head of state," he said, adding he was staying in the government quarter.
Ukraine's democratically elected government remains intact, but has declared state of emergency that will begin Friday.
In an emotional speech Thursday afternoon, Zelensky called on world leaders for support, warning that if Ukraine doesn't get help now, "war will come knocking at your door tomorrow."
According to preliminary figures, 137 Ukrainian solders have been killed since the invasion began early Thursday, Zelensky said, with another 316 soldiers wounded.
In a declaration signed late Thursday, Zelensky ordered a general military mobilization "in order to ensure the defense of the state, maintaining combat and mobilization readiness of the Armed Forces of Ukraine and other military formations." At the same time, the country barred male citizens between the ages of 18 and 60 from leaving the country, according to the State Border Guard Service.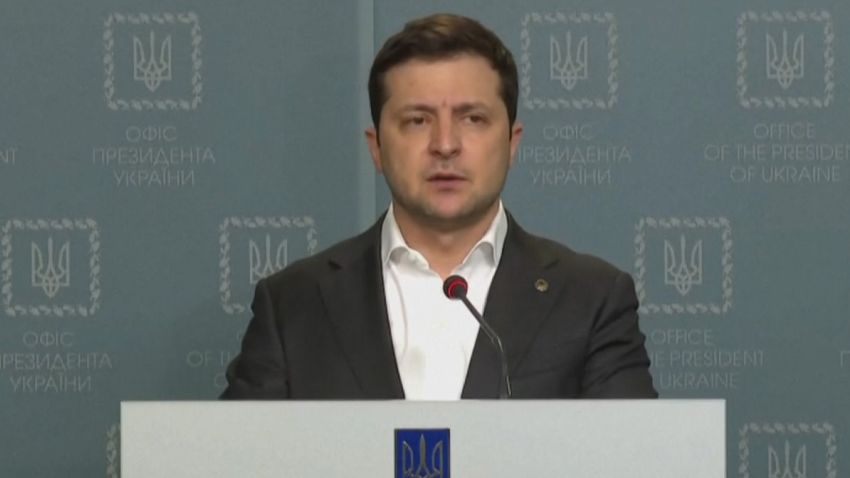 'This morning has gone down in history': Ukrainian president addresses nation amid Russian invasion
Western leaders were united in their swift and strong condemnation of Russia's military action.
US President Joe Biden said Thursday that Russian President Vladimir Putin had "committed an assault on the very principles that uphold the global peace."
"Now the entire world sees clearly what Putin and his Kremlin allies are really all about," Biden said
Biden announced a raft of new sanctions to punish Moscow, some of which limit Russia's ability to do business using important global currencies such as the dollar and the euro and target Russian banks that together hold around $1 trillion in assets.
"Putin chose this war. And now he and his country will bear the consequences," said Biden.