Editor's Note: Frida Ghitis, (@fridaghitis) a former CNN producer and correspondent, is a world affairs columnist. She is a frequent opinion contributor to CNN, a contributing columnist to The Washington Post and a columnist for World Politics Review. The views expressed in this commentary are her own. View more opinion on CNN.
It is obvious, we will be. It is obvious, we will be free.
The Ukrainian people have found the answer to Shakespeare's question, "To be or not to be," President Volodymyr Zelensky told the United Kingdom's House of Commons in a livestreamed address on Tuesday. "It is obvious, we will be. It is obvious, we will be free." Echoing Winston Churchill, Zelensky vowed Ukrainians will never give up, will never surrender. He asked the West to do more to help in this life-and-death plight, which, he maintained, is a battle for Europe, for democracy.
Not long ago, Zelensky's words would have seemed moving, but perhaps without much consequence. But much has changed since the war began. The world has discovered Volodymyr Zelensky.
The speech, like Zelensky's countless social media messages, Zoom meetings and phone calls, in the almost two weeks since Russia's President Vladimir Putin sent his troops to invade Ukraine, brought the familiar image – the boyish-faced president with the stubble of war, wearing his olive green T-shirt. His stirring message was also, above all, an appeal to conscience and bravery, a blend of inspiration and exhortation, lofty ideals and, notably, concrete requests.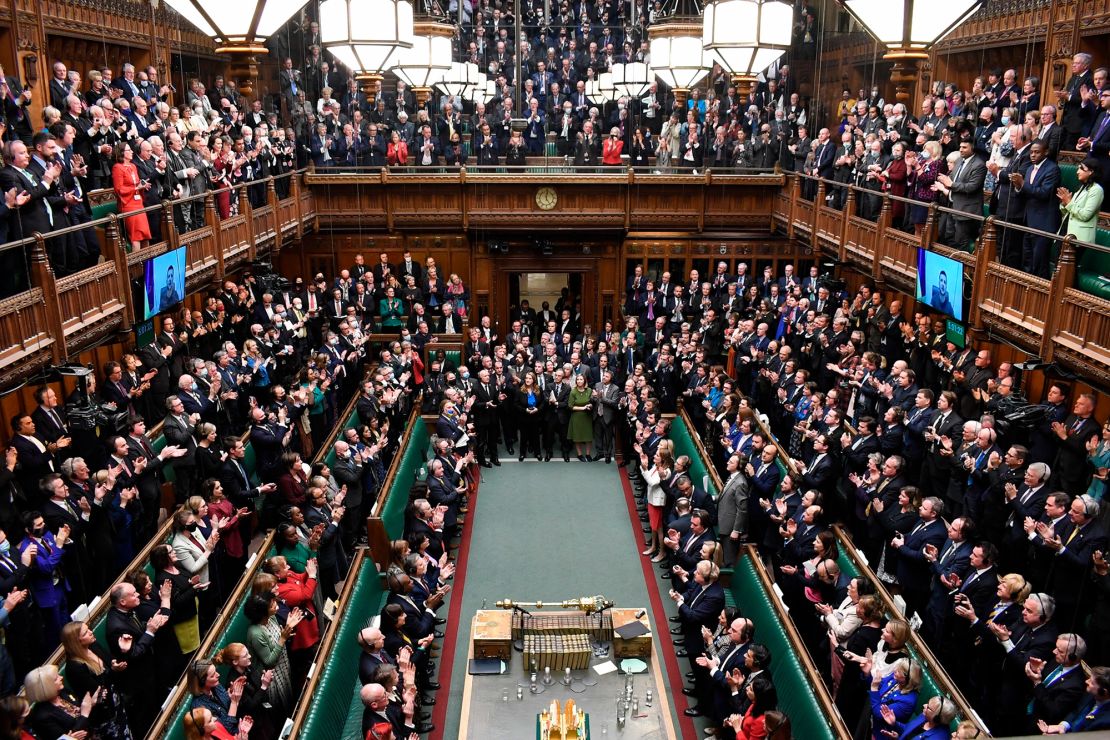 In the weeks before Putin launched the war, many doubted Zelensky was up to the challenge. After all, he had been an entertainer until 2019. He's failing, some said, he's "in over his head." The side-by-side comparisons of military might showed Russia had thousands more tanks, airplanes and hundreds of thousands more troops. The gap seemed insurmountable, the war's outcome a foregone conclusion. But Ukraine, as it turns out, had a secret weapon, an immeasurably powerful one.
It was none other than Zelensky.
When Zelensky declined help to leave the country, declaring "I need ammunition, not a ride," the world caught its collective breath. The Ukrainian president's courage was awe-inducing. He appeared destined to become a martyr in a cause that looked doomed, at least in the short term.
Weeks later, Zelensky has proven to be much more than an inspirational figure. He has achieved far more than anyone had reason to expect. He is not just rallying Ukrainians. He has also rallied the international community at all levels, speaking to word leaders, legislators, community groups and everyday citizens, day after day. Zelensky has articulated the meaning of this war in terms that make it relevant to all the world's democracies. He has turned the cause into one that world leaders feel compelled to support, that private businesses fear to ignore, in which individuals across the globe yearn to help.
In just the past few days, McDonald's, IKEA and Nike have joined the corporate exodus, shuttering operations in Russia. Zelensky has spoken with presidents and prime ministers; with Joe Biden, with Emmanuel Macron of France, Scott Morrison of Australia, Neftali Bennett of Israel and many others, while his Facebook videos are watched by millions across the globe.
Sure, Ukraine hasn't received everything Zelensky has asked for. His frustration with NATO's refusal to set up a no-fly zone over Ukraine is palpable. But the mobilization he spurred is unprecedented. He – with Putin's help – convinced Europe, the US and their democratic allies to impose some of the fastest, harshest economic sanctions the world has seen. In a world where materialism usually reigns, he has persuaded countless consumers that paying more for fuel is worth the sacrifice.
His appeals to conscience have produced not just a weapons arsenal for Ukraine and stiff sanctions against Russia, but also a pause of Apple sales, Netflix, MasterCard and others in Russia; the departure of oil companies, the booking of tens of thousands of Airbnb rooms by people looking for a way to send money to Ukraine.
Zelensky has mastered the tools of communications to send Ukraine's poignant message to the world, crafting the narrative of this conflict in a way that is credible, transcendent and understandable. Backed by the images of Russia's vicious attack, Zelensky makes the historic, moral, strategic and tactical case for Ukraine's defense.
The Ukrainian president, who everyone now knows used to be a comedian, has become a household name, a familiar face across the world, as he had been for years in Ukrainian homes.
When he told the European Parliament, "We desire to see our children alive," the translator could barely contain his tears. In another speech, streamed live to crowds in European capitals, he exhorted, "If we fail, you will fail, so please don't be silent." Crowds heard him in Vienna, Frankfurt, Tbilisi, and many other cities. In Prague's Wenceslas Square, epicenter of the famed – successful – Velvet Revolution, thousands cheered.
The bright yellow and blue of the Ukraine flag is now visible on lapels, and in windows and demonstrations across the world. But it's more than symbolic. His message is producing action.
Zelensky, who is Jewish and lost many relatives in the Holocaust, has put Ukraine's plight in historical context, warning that, like fascist leaders of the 20th century, an aggressor will not stop. "We will come first. You will come second," he told ABC News, "because the more this beast will eat, he wants more and more."
He has waxed poetic, calling this a fight of "light over darkness," but he has remained pragmatic, focused on results.
He moves seamlessly from idealistic appeals to conscience to urgent demands to bolster Ukraine's arsenal, drilling down into to the tactical nitty-gritty. When he met via Zoom with members of the US Congress, Zelensky explained Ukraine needs Russian-made fighter jets. Senate Majority Leader Chuck Schumer said, "I will do all I can" to help make it happen.
Addressing the world's top leadership, he and his team asked for and obtained Javelin anti-tank missiles and Stinger surface-to-air missiles. They have asked for and obtained an end to US purchases of oil and gas from Russia. Biden announced the decision on Tuesday, no doubt hoping he won't pay too high a political price as Americans pay more to fill their tanks. At least so far, Americans appear willing to sacrifice to help Ukraine defend its freedom and democracy. The Stingers and the Javelins – which Zelensky had asked for in the famous phone call with President Donald Trump in 2019 – have been arriving in their thousands. They are already destroying Russian tanks and shooting down Russian fighter jets.
Ukraine's secret weapon, its president, has fortified a military that seemed destined to fail. The war is about two weeks old and, as some of us predicted, it is not going according to Russia's plans.
Get our free weekly newsletter
Sign up for CNN Opinion's new newsletter.
Still, the conflict continues, Russia's brutality increasing. Many possible scenarios come to mind. But even if Russia wins in the short term, even if it manages to take control of the city of Kyiv and depose the government, the courage and patriotism Zelensky has stirred, the support he has marshaled, mean an occupying force will face relentless resistance at home and continuing backing from beyond its borders. As Zelensky told the UK House of Commons on Tuesday, Ukrainians are determined "to be" and prepared to "continue fighting for our land, whatever the costs." He is a weapon like no other.